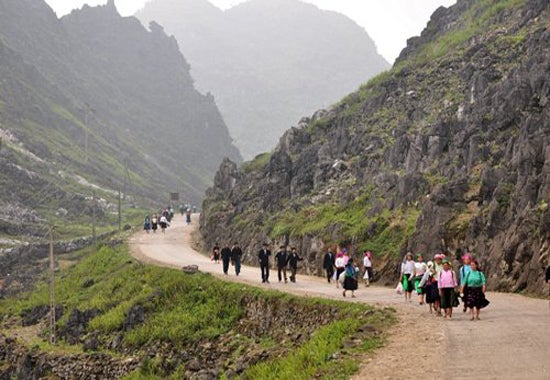 Those who have visited the hill tribe markets in northern mountainous region of Vietnam would never forget the special impressions of the markets in the area.
For a very long time, the weekly markets of ethnic minority groups in Vietnam have become an indispensable activity in the life of ethnic peoples. Besides trading the market is also a cultural activity for the ethnic groups.
Almost every district has a market day on a specified date of the month (on the lunar calendar) such as Quang Uyen market on 1st, 6th, 11th, 16th...Lung Phin market on the dates of the Tiger and the Monkey. Each time when the market day comes the streams of people from villages in the mountains and valleys flock to the market and make it a bustling place. The markets in the highlands have become the lifestyle of local people.
Coming to a district visitors would feel the special of each market, such as the colorful brocade clothes of H'mong people in Ha Giang, the iron knives and agricultural tools in Cao Bang markets or the buffaloes and dogs in Si Ma Cai. Joining the market-goers one would feel the beauty and attractions hidden behind, it's not prominent and sophisticated but simple and rustic. Goods at the markets are the labor and hardworking products of highland people. Furthermore, these products also reflect the "breath of life", the traditional culture of each ethnic group, such as working tools (knives, hoes in Quang Uyen), traditional musical instruments (H'mong flutes)...
People go to market with different purposes, to buy and sell products, to meet friends...All have made a particular beauty of the hill tribe markets. Young girls wear the traditional colorful costumes with charming smiles on their faces, the H'mong boys play music and dance, many of them have become husbands and wives from the markets, they fell in love from the sounds of music and dances and the market days have become an expected time for young people.
In the old days when the traffic was difficult, people went to market on horseback or on foot, many had to walk overnight to go to market, people came to buy food for the whole week, now everything is much easier, from road condition, transportation and food, people can go shopping at cities but never miss a weekend market.
As the quality of life improves, the weekend markets also change, but the traditional beauty, the cultural identity of all ethnic groups are still very well preserved in the markets.
Some special hill tribe markets in north Vietnam travelers cannot miss:
Can Cau market in Si Ma Cai
Located about 100 km from Lao Cai city, the narrow road is not easy to go with sharp curves and steep slopes. But it is the hard way that makes visitors more excited. Most people to Can Cau market are Flower H'mong and Dzay. Can Cau market opens on Saturday mornings. From early morning crowds of people in colorful clothes hurry to the bustling market by all means of transport, along with them are herds of cows, buffaloes, dogs...Although Can Cau is not as famous as the nearby Bac Ha market it still retains the characteristics of an authentic hill tribe market, not as touristy as the market in Bac Ha. Visitors to Can Cau market will also have a chance to enjoy local dishes such as Thang Co soup, Pho with different taste.
Muong Hum market in Lao Cai
Muong Hum market opens on Sunday every week. This is the busiest day in the mountainous district Bat Xat of Lao Cai province, the market is located in a small valley just beside a stream, surrounded by sheer mountains, the Sunday market is a place to meet, exchange and purchase goods as well as a festival for ethnic people from Ha Nhi, H'mong, Dzay, Red Dzao...On market day the most attractive sight is the ground beside the stream where the horses are waiting with the hair of all colors, every now and then the neighing sounds can be heard all over the place making the painting of mountains and forest more lively, the stone bridges are busy with people walking up and down with horses. Inside the market is very noisy, the young boys and girls come here not only for trading but also to have fun, find partners and everyone wear their most beautiful clothes. Goods are displayed on the sheets of cloth on the ground, in the plastic bags or in the rattan baskets.
Dao San market in Lai Chau
Dao San market is in Phong Tho district, about 60 km from Lai Chau town. Dao San market comes every six days, the market is located at an elevation of 1500m, this is a typical highland market in Lai Chau and northwest Vietnam. From dawn, on the paths hidden in the mist are the sounds of footsteps, horses and motorbikes, the mountains seem awake with groups of young people from Ha Nhi, Dzao, Black Thai, H'mong all heading to the market. Dao San is not merely a market where people buy and sell products from the forests as well as traditional crafts...The special thing in this market is the "market culture", this is where the cultural values of ethnic groups reveal, people go to market like in a festival or New Year, visitors can see H'mong boys walking by a horse with a flute on one hand and a radio set on the other hand, singing the folk songs in H'mong language and perform a flute dance, the Dzao women with their babies on the back walking and weaving brocade at the same time. Coming to Dao San market visitors can also admire the beauty of the mountains and forests, sparkling waterfalls, terraced rice fields, streams, suspension bridges, villages hidden in the cloud along the winding mountain road.
Tra Linh market in Cao Bang
Tra Linh market is located in Hung Quoc township, Cao Bang province. Tra Linh market opens every five days on 4th, 9th, 14th, 19th, 24th and 29th of lunar months, the market is held on a large open ground in Hung Quoc commune. Tra Linh market is divided into three zones, one to sell local produce such as brocade, embroidery, clothes, vegetables, one zone to sell food and household tools and one zone for the cattle including cows, horses, this is really the unique feature of Tra Linh market.
On market day, from 4 am, around the paths, groups of people carrying goods and animals walking to market, each day about 60-70 buffaloes are sold, a male buffalo may cost 40 million Vietnam Dong (1800 US$) while a calf is worth 15-20 million VND, a beautiful female buffalo may cost up to 30 million. Tra Linh market attracts a lot of traders from other provinces, some of them come here to look for strong calves and train to be fighters to participate in buffalo fighting festivals, it is also where people exchange experience on how to choose and breed a buffalo, learn about market prices...Tra Linh market is a special cultural activity of ethnic people in the northern border areas.
Xin Man market in Ha Giang
Xin Man market is also known as Coc Pai market, for a long time Xin Man market has become an indispensable cultural activity of H'mong people in Ha Giang. The market is located right in the centre of town and is held every Sunday morning. Perhaps the most interesting thing after a long and dangerous journey to Xin Man is the food zone with unique dishes, what could be more enjoyable than to taste the pork barbecue by a cup of corn wine in the cool weather of a highland region!. Like other markets in the remote north, Xin Man market sells agricultural products such as corn, rice, soya bean grown by the hands of local people. The market is rather simple with the feeling of a remote place, some people come to market with a pig or dog in hand, some bring chili, pepper and roots, some come to market just to enjoy a bowl of Thang Co or a cup of corn wine...
Ta Sin Thang market in Tua Chua district, Dien Bien province
Ta Sin Thang market opens every six days on the dates of the Mouse and the Horse on lunar calendar, this is the place to exchange, trade goods, agricultural products of ethnic minorities in 5 communes of Tua Chua district. Ta Sin Thang market bears the typical features of ethnic minority groups in the northwest highland. The products for sale in the market are mostly local agricultural produce such as fruits, vegetables, young bamboo shoots, sweet potatoes, mushrooms, pigs, chickens...in addition there are traditional handicraft items like brocade, colored thread, dyes and other stuff made from very strong and beautiful fabrics. Like any other market in the northwest the pans of Thang Co soup can be seen at every corner and especially the famous Mong Pe wine made from corn. Besides the wine, Shan Tuyet tea is also a specialty of Ta Sin Thang market, this region is home to nearly 4000 ancient trees of Shan Tuyet tea, the cool climate makes the tea strong with very special taste.
Did you enjoy this story? Let me know in the comments and visit our site northwest Vietnam tours for more information on planning a trip to Vietnam and enjoy this beautiful destination.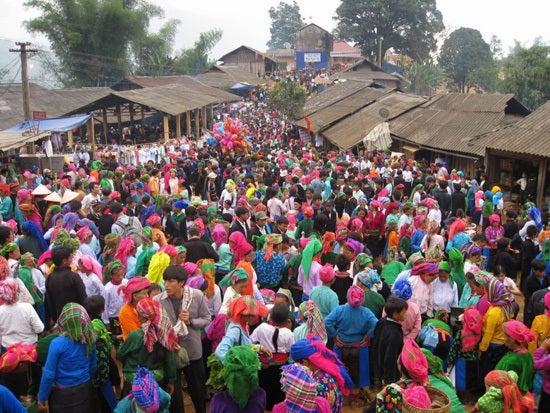 Popular in the Community