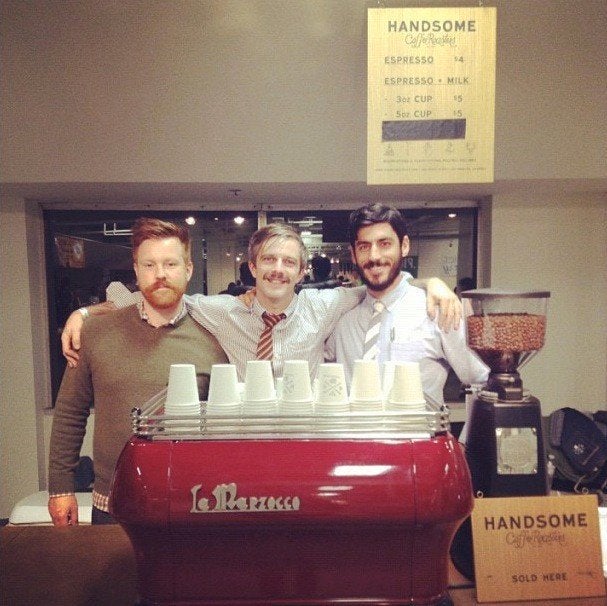 What do red velvet ding-dongs, bacon-banana macarons, raspberry-habanero jam, DIY headbands, gingerbread donuts, all-natural smoked tuna cat food flakes, moustaches, octopi, and octopi with moustaches (excuse me while I catch my breath...) have in common?
All of these glorious things, many of which we didn't even know existed in this world, could be found at the 5th annual Unique LA holiday boutique. The event took over the California Market Center penthouse in downtown Los Angeles this past weekend.
From 11 a.m. until 6 p.m. on both Saturday and Sunday, attendees sipped on assorted spiked drinks for free, tasted bites of decadent and unique treats, made DIY headbands courtesy of New Dress A Day's Marisa Lynch, purchased gifts for virtually everyone on their lists, and gathered samples of packaged snacks.
Much of the day also consisted of envious glares cast upon those lucky enough to snag one of The Donut Snob's sold-out gourmet donuts in flavors such as salted caramel, campfire s'mores, bacon, and gingerbread. Only people who pre-ordered were able to ensure that they got their craveable treats.
However, there were many more desserts to choose from, including many flavors of rice pudding, brittle, hot sauce, macarons, cookies, pies, puddings, cakes and chocolates... to name a few.
Although most edible, wearable, drinkable or otherwise just plain cool items sold by the LA-based vendors were not cheap, they were worth their price for their sheer novelty and for the fact that they were crafted by local small business owners and entrepreneurs.
Unique LA advocates buying locally when shopping for gifts this holiday season, or even just shopping for yourself... perhaps simply because you happen to think that the baby onesie with the half-eaten felt corn dog on it is just plain cute, or maybe that the ring with a black and red turntable on it is the perfect accessory to the outfit you are currently wearing.
Regarding this year's product trends, ironic moustaches or bacon were infused into practically everything. From light scupltures, necklaces and potholders to aprons, t-shirts and donuts, these widely embraced symbols of modern culture were ubiquitous. Octopus prints on everything from "organic, sustainable, urban" children's clothing to business cards, as well as jewelry in the shape of the state of California were also amusingly popular trends this year.
Other edible highlights included expertly crafted goods from Simmering Sugar, P.O.P. Candy (especially for their spicy brittles), Deuvo (excellent pralines), Jenkins Jellies (fiery chili pepper jelly!), Friandise Pastries (gourmet ding-dongs), Laura Ann's Jams (raspberry-habanero jam), and Lemon Bird Handmade Jams & Pickles (for other creative flavor combinations).
Other vendor highlights included Paper Moon Gallery (handmade origami light decorations), Glass Cathedrals (tiny works of art), Flea Market Girl (bargain accessories) and many, many others.
Unique LA lived up to its name once again, and was undoubtedly the epitome of a hipster holiday, in all its glory.
Related
Popular in the Community