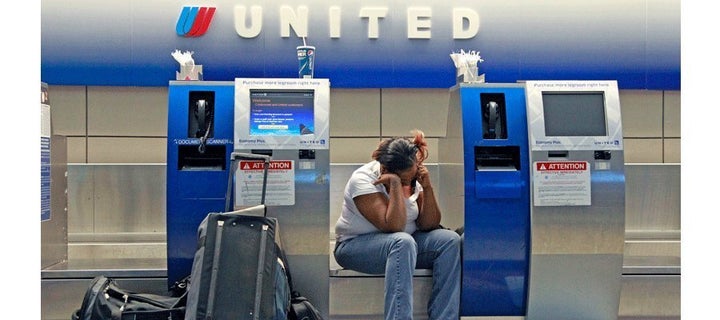 By HERBERT G. McCANN, Associated Press
CHICAGO - It could take several days for thousands of stranded travelers to get home after a United Airlines computer system shut down for several hours, leading to widespread cancelations Friday night.
The unspecified "network connectivity" problem was fixed and flights resumed early Saturday, but the airline said delays could persist throughout the weekend. Also, with flights nearly full, there was little room for passengers whose flights had been cancelled to rebook.
"There's literally nowhere to put them," airline analyst Robert Mann said. "There are already very few empty seats on the flights that operate."
United's planes were an average of 86.8 percent full in May.
To try to alleviate the congestion, the airline allowed passengers with tickets on Saturday flights to cancel or delay their travel to a later date without charge. Luckily, Saturday is one of the lighter travel days.
The outage started about 7:15 p.m. CDT Friday and lasted for about five hours. Long lines of passengers formed at airports in San Francisco, Los Angeles, Denver and Chicago. Some passengers ended up spending the night at airports or found hotel rooms in the cities where they were stranded.
United said its flight departures, airport processing and reservation system, including its website, were affected by the outage.
United didn't say how many passengers or flights were affected. But Los Angeles International Airport spokeswoman Nancy Castles said the outage affected about 2,500 people at that airport alone. Courtney Mickalonis, spokeswoman for Dulles International Airport in Washington, said officials there handed out blankets to about 300 passengers stranded overnight.
Nina and Mark Whitford of Brockville, Ontario, ended up in Chicago while on a layover on their flight home from Minneapolis. They said they were headed to a hotel to spend the night and were dismayed when an airline worker told them they would have to mail in their hotel receipt to get reimbursed.
Others on their flight had rented cars to complete their trip to Canada, said Nina Whitford, 35. But after two hours of waiting, they still didn't have their baggage.
"Some people were sleeping and some people were getting very angry because no one was giving us any answers," she said.
Ron Schaffer, an Apple Inc. engineer, was trying to connect with a flight to Grand Junction, Colo., after flying into Denver from Orlando, Fla.
"A hundred yards of kiosks, and every one of them closed," he said, adding there were no flights listed on monitors.
"Workers were trying to answer questions. They have no ability to do anything manually. They can't check baggage. You can't get baggage. You are really stuck."
Some Continental Airlines passengers also were affected by the outage.
United and Continental merged in May 2010. They still operate as separate airlines but are slowly integrating systems.
United spokesman Charles Hobart said Saturday morning that Continental was able to dispatch flights normally, but some of its airport kiosks were affected. He would not comment on the total number of cancelations or passengers affected, saying the airline was still updating its information.
Naveena and Vidya Maddali's Continental flight from Seattle into O'Hare International Airport arrived on time at 5:30 a.m. Saturday, but their connecting United flight to Saginaw, Mich., was delayed repeatedly and then cancelled about 8 a.m. The software engineers had been trying to make it to Michigan for a high school graduation party that started at noon, but the earliest flight they could rebook on left at 1 p.m. With the time difference between states, there was no way they'd make the party.
"The whole purpose of the trip got ruined because of the delays," said Naveena Maddali, 27.
Her husband said he wished the connecting flight had been cancelled sooner because if they had rented a car immediately, they could have made the party.
Airlines today place greater reliance on computers than a decade ago. Most passengers are now asked to check-in online, at airport kiosks or via their mobile phones. When the system crashes, the problems are just that much greater.
"They're infrequent, but the fact that they happen at all is puzzling. These are mission critical," Mann said. "The idea that they would fail is troubling."
While the airlines have sleek, modern check-in kiosks at the airports, the underlying reservation system behind them dates back to the 1980s, Mann said. Many airlines that went through bankruptcies in the past decade, including United, didn't invest in new systems.
When the system fails, flight plans and dispatch operations must all be done on paper.
"There are fewer and fewer people at airlines who are familiar with or able to operate with a manual system," Mann said.
At the San Francisco International Airport, hundreds of passengers stood shoulder-to-shoulder.
Still, some people took the delays in stride.
Steve Cole, 51, of Bloxwich, England, was at the San Francisco airport waiting for a flight to Las Vegas.
"These are the things you have to expect when you're on holiday." Cole said. "I'm missing a night of gambling," he added with a grin.
___
Associated Press writers Scott Mayerowitz in New York, Barbara Rodriguez in Chicago, John S. Marshall in San Francisco and Denise Petski in Los Angeles and photographers Rick Bower in Denver and Charles Rex Arbogast in Chicago contributed to this report.
Related