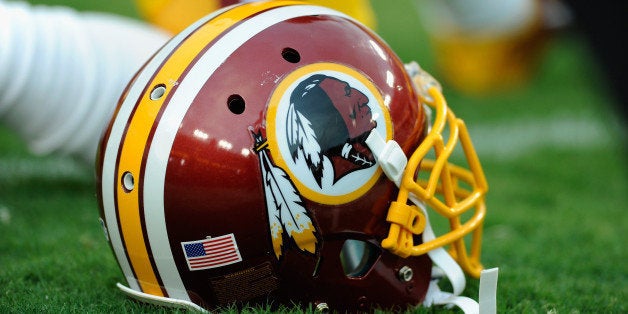 Add the United Church of Christ to the list of organizations that want the District of Columbia's professional football team to drop its controversial name. The church approved a resolution Monday calling on the team to change its name and asking its members to boycott the Washington team's games and merchandise until it stops using the word "Redskins."
"The use of the term 'Redskins' for the team mascot and nickname of the Washington football team is offensive and causes direct harmful effects to the public health and well-being of the Native American population," Rev. Linda Jaramillo said in a statement announcing the decision.
"This movement has been coming for a long time," Jaramillo, a UCC national officer, told The Huffington Post.
The "heartfelt, emotional" vote at the biennial meeting of the UCC's national decision-making body in Cleveland followed the testimony of a Native American member who was "deeply troubled by the demeaning caricatures of her brothers and sisters," Jaramillo said. Pointing to the church's past activism in the civil rights movement and other social justice causes, Jaramillo said fighting discrimination "is in our DNA," and that watching the team make money off of a stereotype the church sees as degrading is "more than we can bear."
The UCC, which has more than a million members across the United States, first passed a resolution condemning Native American mascots at all levels of sports in 1991.
Last year, the UCC's Central Atlantic Conference, which includes member churches in D.C., approved a resolution targeting the city's NFL team, starting a conversation that culminated in Monday's vote by the national leadership body.
Leaders from the Change The Mascot campaign, a joint effort of the Oneida Indian Nation of New York and the National Congress of American Indians, applauded the UCC resolution in a statement.
"We are honored to partner with the United Church of Christ in their effort to help relegate this offensive and outdated slur to the dustbin of history," the campaign said. "An honorable organization with a historic track record of standing up for civil rights, the UCC has an important role to play in helping to bring this issue to the forefront of social consciousness and making a change for the good of all."
The Cleveland-based UCC is also planning action aimed at MLB's Cleveland Indians. Its members plan to hand-deliver a petition on Tuesday that will ask the franchise to stop using its Chief Wahoo logo and "Indians" name.

Calling all HuffPost superfans!
Sign up for membership to become a founding member and help shape HuffPost's next chapter