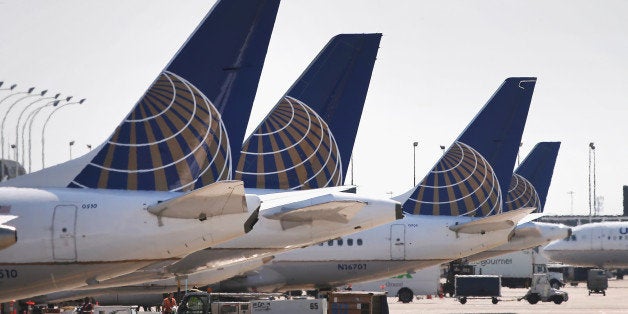 Your food scraps could soon be powering your next flight.
United Airlines announced Tuesday that it is investing $30 million in Fulcrum BioEnergy, a California-based company that converts household waste into renewable jet fuel. That means fuel made from food scraps, farm waste and animal fat will be mixed in with traditional fuel. It marks the first time that an American airline will run passenger flights on this technology, The New York Times reports.
The environmental benefits could be huge: Fulcrum anticipates its alternative fuel can reduce an airline's greenhouse gas emissions by 80 percent. And it believes it can do this while remaining competitive with traditional fuel companies: CEO E. James Macias told the Times its biofuel could cost "a lot less than" $1 a gallon.
The carbon footprint of flying is pretty serious: Airlines are responsible for around 3 percent of the country's total CO2 emissions. When that's broken down more, it means a round-trip flight from New York to San Francisco produces about 3 tons of CO2 per person. Americans also generate on average nearly double the amount of CO2 that Europeans do.
Food waste is also a major problem, and it's getting worse. The American Chemistry Council recently found that each American household throws away $640 worth of food each year. And food represents one-fifth of landfill waste and contributes significantly to methane, a greenhouse gas, according to the Environmental Protection Agency.
An EPA finding last month concluded that airlines' emissions posed a significant health risk, and by 2016 the Obama administration may adopt environmental standards outlined by the United Nations' International Civil Aviation Organization, Reuters reports. Still, the requirement is likely to only apply to planes certified in and after 2020.
United first invested in greener fuel two years ago, when it made a deal with AltAir Fuels to buy 15 million gallons of the producer's biofuels, made from nonedible natural oils and farm waste, over a period of three years.
Around five flights between Los Angeles and San Francisco will run on AltAir biofuel every day, starting later this summer. After two weeks, the fuel will become part of the airline's general supply. United expects to receive Fulcrum biofuel as early as 2018, spokeswoman Mary Ryan told The Huffington Post.
United and Fulcrum also plan to run up to five locations near United's airport hubs that could produce as much as 180 million gallons of fuel a year.
This article has been updated with comment from United Airlines.
Related