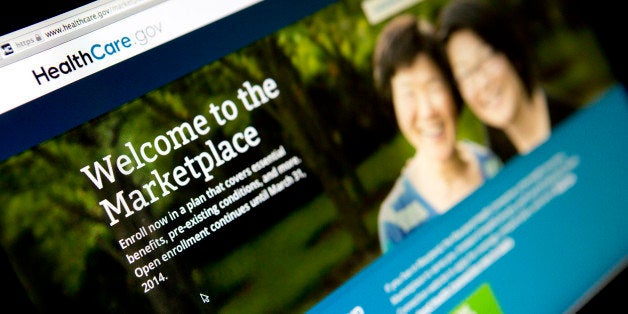 WASHINGTON -- A major government overhaul of a health care system collides with a massive IT project, ending in a glitchpocalypse that needs to be fully unwound in order to make the system stable. In the United States, that's the reality faced by those tasked with righting the SS Healthcare.gov.
Over in the United Kingdom, however, it's old hat, as NPR's Elise Hu found out when she interviewed Mike Bracken, executive director of digital for the U.K. government. Bracken tells Hu that what Americans are enduring right now with the Obamacare website "feels a bit like 'Groundhog Day'" to him. Not long ago, a costly and broken digital upgrade for Britain's National Health Service was causing similar headaches. But out of all that mess came a needed fix -- not just to the project, but to the way the U.K. government approaches digital services. Per Hu:
Instead of writing behemoth, long-term contracts with a long list of specifications for outside contractors, Parliament greenlighted the creation of the Government Digital Service, a "go-team" of 300 technologists who began streamlining 90 percent of the most common transactions the British people have with government. It appointed Bracken, a tech industry veteran, as the first ever executive director of digital -- a Cabinet-level position.

Two years later, gov.uk is a single, simple platform connecting the hundreds of British agencies and allowing people to pay taxes, register for student loans, renew passports and more. Doing technology this way is saving British taxpayers at least $20 million a year, according to government estimates.
In a lengthy interview with Bracken (which you can read and/or listen to here), he describes precisely why the U.K. government's efforts in the digital space were falling short of digital innovation outside of government, and what needed to be done to correct this:
We were getting too bogged down in long-term multiyear procurements. We were trying to predict the future in a digital world that's changing rapidly. Because we were trying to buy things with five, eight, 10-year cycles, we just couldn't possibly keep pace with what was happening. Also we weren't getting good values as a result of that. We were trying to outsource the whole thing into a certain contract type and weren't really in control of that. And the final thing is, you weren't able to react to user need. Users' needs change. Because we were locked into these big timelines and because we were costing a lot of money, we couldn't react to users' needs and actually to changing policy needs.
All of that, Bracken said, led to an "inertia at the center of government," at a time when a younger, Internet savvy generation was growing more used to one-stop shopping and streamlined systems to solve complicated problems. Fixing all of this required the U.K. government to "really unpick some learned behavior."
As Hu reports, Parliament responded to this crisis by creating the Government Digital Service. Government Digital Service was tasked with streamlining "nearly all public services across agencies." Three hundred technologists were hired to work at the agency, led by Bracken. Among the fruits of the efforts is the new inter-agency website, Gov.uk:
Bracken said his hope is that the Healthcare.gov snafu inspires a similar big-ticket change in the way the U.S. government approaches and deploys technology. Although the new website saves U.K. taxpayers, Bracken said money's not the point. "We don't go in the government digital services to save money. We go to create great services and saving money is the byproduct of doing that."
And that's sort of the rub, isn't it? To use a big digital failure as the springboard for massive improvements in government services in the digital space, there has to be, at the very least, a broad consensus among all parties that creating great government services is a virtue. As it stands, we lack this sort of agreement -- "nothing the government does ever works" is basically part of the GOP's larger brand. All of which means that we probably won't really benefit from Healthcare.gov's teachable moment, and we'll continue to lag behind other, more innovative, governing bodies.
Calling all HuffPost superfans!
Sign up for membership to become a founding member and help shape HuffPost's next chapter
BEFORE YOU GO
PHOTO GALLERY
Lies And Distortions Of The Health Care Debate