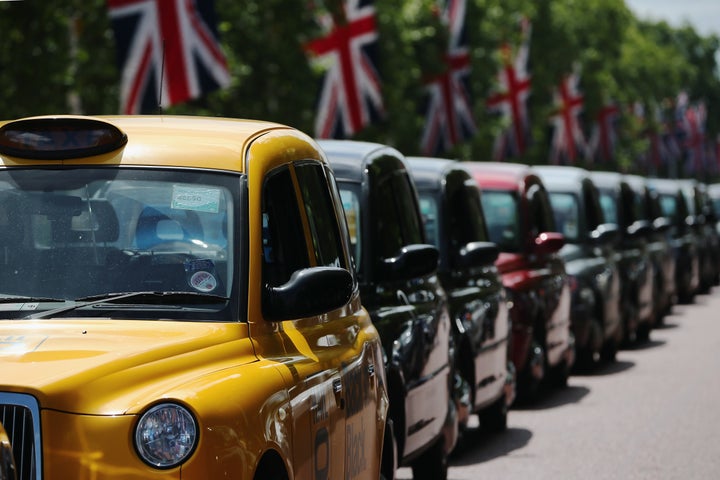 The United Kingdom is now the latest front in taxi groups' war against Uber.
GMB, a powerful union representing professional drivers, said Wednesday that it planned to take legal action against the ride-hailing service for its refusal to provide basic employee benefits to drivers, whom the company classifies as independent contractors.
The group called on Uber to pay drivers the national minimum wage -- 6.50 pounds, or about $10.18 for people 21 and up -- and provide paid vacation time. GMB also insisted that Uber enforce rest breaks and cap a driver's number of billable hours to avoid safety concerns due to exhaustion. The union also wants Uber to create a system in which drivers can contest complaints or accusations of inappropriate behavior that, until now, have led to suspension or account deactivation -- effectively firing them.
"We believe that it's clear from the way Uber operates that it owes the same responsibilities towards its drivers as any other employer does to its workers," Leigh Day, the lawyer representing GMB, said in a statement. "In particular, its drivers should not be denied the right to minimum wage and paid leave."
So far, Uber has been sued by taxi unions or associations in almost every major city it has entered, including Boston, Chicago, New York and Seattle.
"Operators like Uber must understand that they have an ethical and social policy that matches societies' expectations of fair and honest treatment," Steve Garelick, the secretary of GMB Professional Drivers Branch, said in a statement. "For far too long the public have considered drivers as almost 'ghosts.'"
GMB's demands echo a June ruling by the California Labor Commissioner's Office, which found that the company owed money for costs incurred by an Uber driver while shuttling around customers in the car she owned. Uber -- which could lose up to $209 million if forced to reclassify its California drivers as employees -- is appealing the decision.
"One of the main reasons drivers use Uber is because they love being their own boss," Uber spokeswoman Trina Smith told The Huffington Post in an email. "As employees, drivers would drive set shifts, earn a fixed hourly wage, and lose the ability to drive elsewhere as well as the personal flexibility they most value."
Britain is far from Uber's only battle.
Last week, the firm -- which, eying a $50 billion valuation, is the second-most valuable startup in the world -- called a truce with New York City Mayor Bill de Blasio after a vicious public spat over a proposed cap on the number of Uber drivers allowed to register in the city.
In April, Uber sued the city of Houston to block the release of public records that would, among other details, reveal the number of drivers it has licensed there. The company argued that such information would give its competitors an edge.
In France last month, Uber suspended its service uberPOP after protests by taxi drivers, who claim the company is undercutting their business, turned violent in Paris. The service was temporarily blocked in Germany in March and in Spain last December. After a woman accused one its drivers of rape last December, the city of New Delhi banned Uber.
Popular in the Community