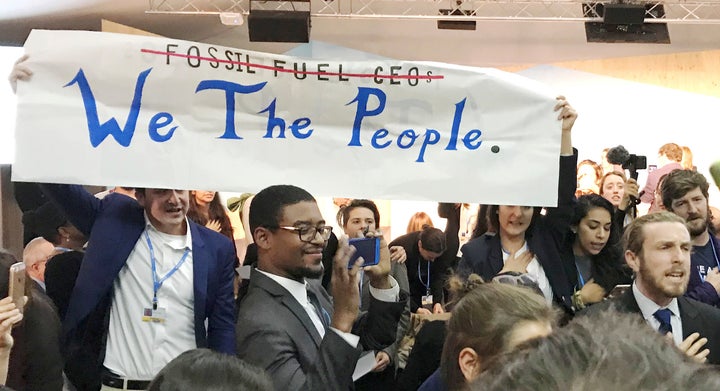 BONN, Germany ― The American delegation to the United Nations climate talks has not held any press conferences, though White House energy and environment adviser George Banks will occasionally venture out to the snack bar beneath the U.S. delegates' office.
"I understand the importance and prioritization of climate mitigation for a lot of people," he told HuffPost. "I think the administration has more pressing priorities when it comes to economic growth and energy security."
To say his position is unpopular here in Bonn during the U.N. Climate Change Conference would be an understatement. On Tuesday war-torn Syria became the latest country to sign the 2015 pact, which means the U.S. is now the only country in the U.N. that has said it will not participate in the collective effort to reduce emissions.
But another group of Americans is also here in Bonn to offer a counterweight to the Trump administration ― an alternate delegation that includes state and local leaders who say they are committed to the climate action Washington has shelved.
The alternate delegation was out in force on Monday, as Banks prepared to preside over a panel on cleaner uses of fossil fuels. Minutes before the panel began, Oregon Gov. Kate Brown (D) and Washington Gov. Jay Inslee (D) strode into the room and delivered a statement to the press.
The Trump administration's position "is a sideshow," Inslee said. "It is a blip."
Then as panelist Barry Worthington, executive director of the U.S. Energy Association, told the crowd that the world will be "using fossil fuels and nuclear for some time to come," half the audience stood up and protested. "So you claim to be an American, but we see right through your greed," they sang, before walking out of the room.
Dyanna Jaye of Virginia was among the protesters. "These people do not speak for us," she told HuffPost. "We need to keep fossil fuels in the ground."
Monday's walkout was yet another symbol of how dramatically the U.S. presence at the annual climate summit has changed. In previous years, the government funded an official pavilion to showcase its climate action, among booths from dozens of other countries. The Trump administration declined to sponsor a pavilion this year, so former New York City Mayor Michael Bloomberg is footing the bill for the U.S. Climate Action Center, a sprawling series of inflatable domes just outside the main conference area.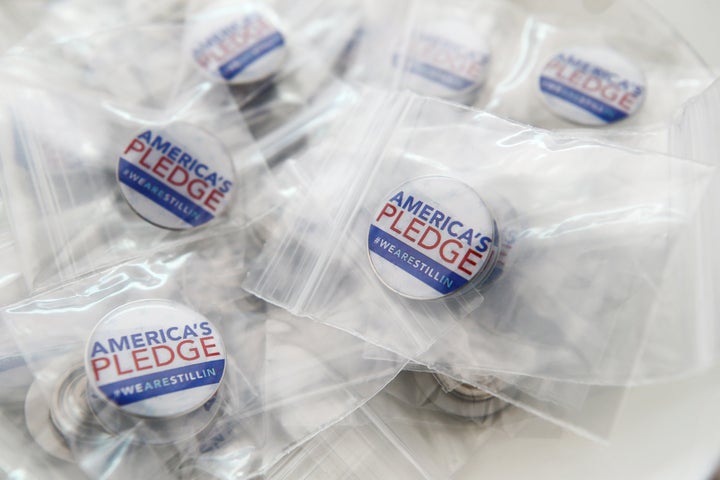 At a packed launch event Saturday, Bloomberg said he had gathered support for the Paris pact from public officials and leaders who represent some 130 million Americans, and he suggested their alternate delegation is just as relevant to the climate talks as the official U.S. negotiating team.
"If Washington won't lead, mayors, governors and civil society will," Bloomberg said. ("Well, I represent 300-something million Americans," Banks countered in an interview.)
During a day of panels, mayors from Pennsylvania, Louisiana and Iowa took the stage alongside Walmart Senior Vice President for Global Sustainability Laura Phillips, who said her company is about a quarter of the way to its goal of getting all its power from renewable energy.
"We found that it's been very good for our business," she said.
The attention the unofficial U.S. delegation received has overshadowed the near-silent American negotiators.
"The United States is playing a very minor and inactive role this time," said Ken Berlin, who has attended three previous negotiations as head of the Climate Reality Project, a group former Vice President Al Gore founded. During the Obama administration, Berlin said, the official American delegation was larger and highly visible, working to bring other countries on board in the climate negotiations.
With the U.S. delegation stepping back, some U.N. brass are looking to the unofficial American delegates. Christiana Figueres, the former executive secretary of the U.N. Framework Convention on Climate Change, moderated a discussion on Monday that featured Inslee, Oregon's Brown, Virginia Gov. Terry McAuliffe (D), California Gov. Jerry Brown (D) and former California Gov. Arnold Schwarzenegger (R).
Schwarzenegger, the sole Republican, wore a green tie and told the crowd that Trump's plan to revive coal is "like bringing back Blockbuster."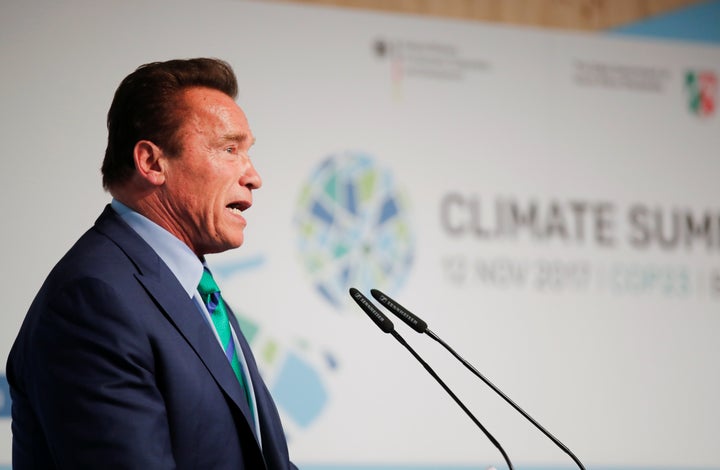 Figueres asked the panelists how they plan to deal with a "hostile national environment."
McAuliffe pointed to upcoming congressional elections as a chance for voters to pick Democrats who could potentially oust Trump's Environmental Protection Agency administrator, Scott Pruitt, and other prominent climate change skeptics.
California Gov. Brown said his state is already tightening its emissions standards and investing heavily in electric vehicles ― though he conceded other countries might have to take the lead for the next few years. "The rest of the world is going to carry the ball while we're temporarily in America off to the sidelines," he said.
It's too early to tell if governors can achieve what Washington won't, Figueres told HuffPost, adding that she doesn't think "it's impossible."
One of the major achievements of the Paris agreement was bringing both the United States and China together in a shared commitment to addressing emissions. But now, the two countries have diverged.
Chinese environmental researcher Nellie Wang came to Bonn from Beijing to speak about low-carbon urban development at her government's pavilion. She said she stopped by the U.S. Climate Action Center "to find out what is America's commitment without Trump's commitment."
Wang said Bloomberg's public commitment to climate is impressive, but her country's leaders are taking a centralized approach. "They are developing a concrete plan, step by step."
Members of the U.S. alternate delegation hope their presence shows there is still a shared commitment to action in the U.S. ― with or without central leadership.
"I wanted people to understand that America is not crazy," McAuliffe said.