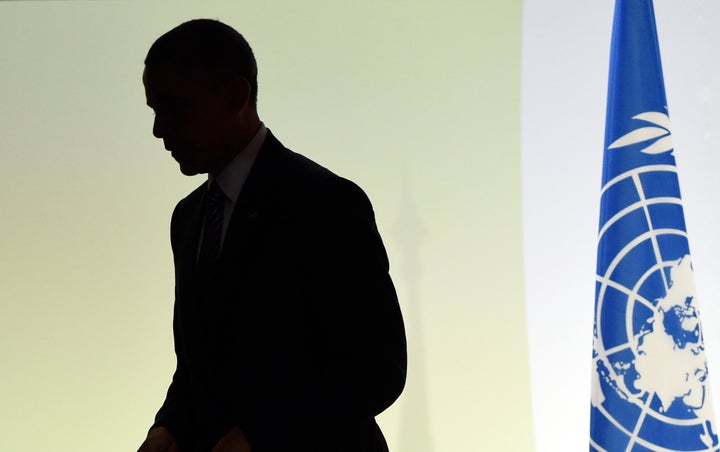 Reform advocates have their fingers crossed that next month's special session of the United Nations General Assembly will kickstart a fundamental rethinking of the global approach to illicit drugs. It's going to be the highest-level meeting on the issue in nearly 20 years.
Over the course of three days, member states and other entities will work to draft a consensus document that could guide global drug policy until at least 2019, when the UN is set to consider broader reforms to long-standing drug treaties.
A coalition of more than 225 U.S. and international non-governmental organizations published a letter on Thursday urging President Barack Obama to use what's been dubbed UNGASS 2016 to steer drug policy away from its historic reliance on prohibition and incarceration.
The groups criticize America's current approach to the global drug trade as "short-term" and say it overlooks "crucial reforms ... while failing to address new realities."
It's hypocritical, the letter argues, for the U.S. to still oppose drug legalization worldwide -- albeit consistent with those UN drug treaties -- when a growing number of U.S. states are legalizing marijuana.
"With respect to the administration, there are certainly some good stances and a lot of good work that the U.S. delegation is doing and that [the government] is funding and supporting in other countries," Dave Borden, founder and executive director of StoptheDrugWar.org, told The Huffington Post. "But overall, our foreign policy on drugs has not shifted that much."
StoptheDrugWar.org is one of the signatories to the letter, and Borden helped spearhead the effort.
Among its key concerns, the coalition calls for the U.S. to prioritize human rights over drug enforcement. That would mean, for example, taking a stand against the death penalty for drug offenses, a punishment that is handed down with disturbing regularity in Southeast Asia and the Middle East. Iran is scheduled to execute 100 prisoners for drug-related offenses in the coming weeks, adding to its already grisly total.
The letter also encourages the U.S. to confront racial disparities in drug enforcement, protect the cultural traditions of indigenous peoples and evaluate the effect of international drug policies on youth.
More broadly, the coalition wants the U.S. government to shift its approach from law enforcement to harm reduction globally, even as similar moves are already happening at home. The groups urge the U.S. to advocate for syringe exchanges to prevent the spread of blood-borne diseases and to invest more in sustainable alternatives to illicit crop cultivation. They also lay out a set of criminal justice reforms -- to promote alternatives to incarceration, decriminalize drug possession, change harsh drug sentencing schemes and address surging rates of female incarceration.
The UN special session should not think small, said Borden.
"The idea of this UNGASS in the view of the countries that requested it -- Mexico, Colombia and Guatemala -- was that the world needs to talk about the big problems that the current system is causing: the violence and other instability that the illegal drug trade causes them," he said. "It's time to talk about alternatives."
In a statement to HuffPost, Mario Moreno Zepeda, spokesman for the White House Office of National Drug Control Policy, defended the president's domestic and foreign efforts, but didn't comment on the specifics of the letter.
"The international community has increasingly focused on public health approaches to drug policy," said Moreno Zepeda. "The UNGASS provides an important opportunity for countries to develop and implement science- and evidence-based drug policy reform efforts such as promoting evidence-based prevention, public health interventions including medication assisted treatment, and criminal justice reform -- including alternatives to incarceration, and strengthening cooperation against transnational crime and violence prevention."
Over the past few years, world leaders have grown increasingly receptive to the idea of decriminalizing and even legalizing drugs, though the majority have only spoken out after leaving office. In 2014, former UN Secretary-General Kofi Annan and the former presidents of Brazil, Chile, Colombia, Mexico, Poland, Portugal and Switzerland published a report arguing that the current approach has led to massive health and social problems, while increasing the very crimes and violence that drug warriors cited to justify their tactics.
But real reform won't happen without more support from current leaders.
Based on its stance outlined in preliminary documents, however, there's little reason to believe the U.S. delegation plans to push for radical change. An overarching theme remains to "promote a society free of drug abuse."
Still, there have been signs that the old hardline orthodoxy is beginning to crack. Earlier this week, William Brownfield, assistant U.S. secretary of state for international narcotics and law enforcement affairs, said that nations might appropriately reach different decisions on decriminalizing drugs, so long as the goal is reducing drug abuse. It's unclear how this position will factor in at UNGASS, if it does at all.
U.S. policymakers are finally coming to terms with the failed war on drugs at home, said Borden, who has been pushing reform for more than two decades. Now he said it's time to apply this better-late-than-never wisdom to our foreign policy.
"Most of us here in the United States have learned some lessons about where we've gone wrong on drug policy and criminal justice, so we have something to say about it," Borden said. "Other countries can learn from what we've learned, even if we're somewhat early in the process of changing things."
The story has been updated with comment from the White House Office of National Drug Control Policy.
Popular in the Community