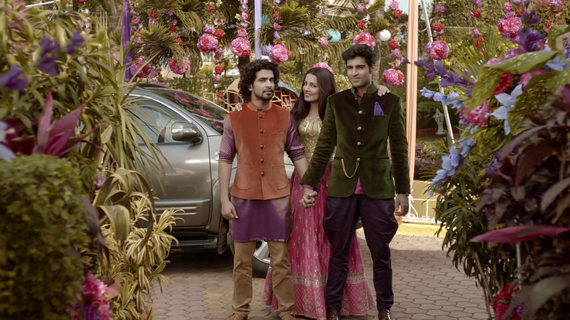 At a UN press launch in Mumbai today, the United Nations Human Rights Office unveiled its latest weapon in the fight against homophobia: a Bollywood-style pop video called "The Welcome." The two-and-a-half-minute clip is the latest attempt by the UN Free & Equal campaign to challenge negative stereotypes of lesbian, gay, bisexual, transgender and intersex people around the world. It's the first time the United Nations has produced a Bollywood-style music video and marks the Free & Equal campaign's first foray into India.
"The Welcome" tells the story of a young man who brings his boyfriend home to meet his family for the first time. UN equality champion and Bollywood actress Celina Jaitly stars in the video and makes her singing debut on the video's maddeningly infectious soundtrack -- an updated version of a Bollywood classic from the 1970s, rearranged and remixed by Neeraj Shridhar of the band Bombay Vikings. The clip's dance moves were choreographed by Longi -- the legendary choreographer of Slumdog Millionaire -- who worked on the project pro bono, as did the entire cast.
Even if several critically acclaimed Indian films have dealt with the theme of homosexuality, gay characters remain rare in Bollywood -- especially in hit movies and music videos. According to Celina Jaitly, when gay people are portrayed, it is too often a caricature. "Either it is making fun of gay people or it is extremely serious, related only to HIV," she says. "We have to move away from stereotypes and present a more accurate image of the LGBT community. We need to show that it is an inherent trait in everyone to love someone of their choice, and that we must all accept and welcome that without prejudice."
While "The Welcome" dwells on attitudes toward gay relationships -- and does so in a decidedly middle-class setting -- today's launch also highlights the need to address stigma and discrimination affecting other members of India's LGBT community -- including third-gender and transgender people. Earlier this month, the country's Supreme Court handed down a landmark ruling that legally recognizes a third gender and confirmed that discrimination on the the grounds of gender identity breaches anti-discrimination grounds enshrined in the Constitution. Last year the same court (albeit a different panel of judges) triggered unprecedented public debate -- and protests across India and around the world -- when it upheld the constitutionality of a 150-year-old provision of the Indian penal code that criminalizes same-sex relationships. That ruling is now being challenged by a consortium of lawyers and activists who will return to court later this week in a bid to have the case reheard.
The new UN video is being promoted online and on TV, and the soundtrack is being played on radio stations across India as a hook to discuss the campaign and the issues it raises. It's a novel approach to human-rights advocacy for an organization that typically relies on more traditional methods to get its point across. But for the UN Human Rights Office "The Welcome" provides a chance to pitch a simple message of acceptance to a potential audience of millions of people. "It's all about getting conversations going," says Celina Jaitly. "If you can get people talking about these issues, the battle is already half-won."