A United Nations expert on poverty delivered a scathing report about America's high levels of inequality and the dire state of its social safety net on Friday.
"The way in which those in the bottom 20 percent exist is in dramatic contrast to the wealth in the country ― and is being further exacerbated by current trends," Philip Alston, the U.N. special rapporteur on extreme poverty and human rights, said at a press conference during which he delivered his findings from a two-week trip through some of the poorer regions of the United States.
"If you want to talk about the American dream, a child born into poverty has almost no chance of getting out of poverty in today's United States, statistically," he added.
While poverty has always existed in the U.S., one of the richest countries in the world, the current policies proposed by the Trump administration and the Republican-led Congress would dramatically worsen conditions for low-income Americans, Alston said.
"The proposed tax reform package stakes out America's bid to become the most unequal society in the world," he said in a related statement. "[It] will greatly increase the already high levels of wealth and income inequality between the richest one percent and the poorest 50 percent of Americans."
As for the Trump administration's proposed welfare reforms, Alston said at the presser: "The social safety net that currently exists in terms of the social welfare system is riddled with holes. It is a very partial, poorly funded and certainly far from comprehensive approach. But if the cuts anticipated are made, it will essentially be blown apart."
"The proposed tax reform package stakes out America's bid to become the most unequal society in the world."
Alston's fact-finding mission had taken him through some of the poorer areas of Alabama, California, Georgia, West Virginia, Washington, D.C., and Puerto Rico. He spoke to officials, community groups and low-income residents in places like Los Angeles' Skid Row, where many homeless individuals live, and neighborhoods in the South's Black Belt, where some families must live with open sewage in their yards.
What the expert found overall was that in a country with one of the highest rates of income inequality in the developed world, low-income residents are often marginalized, with little support from government and few opportunities to climb out of poverty.
The U.N. special rapporteur called out a laundry list of factors that contribute to keeping 1 in 8 Americans ― or 40 million people ― in poverty, including an unreliable health care system, voter disenfranchisement and a criminal justice system that penalizes the poor.
Many people who have disabilities or health issues can't easily obtain or hold down jobs, he noted, yet the American health care system doesn't always step in to help the most vulnerable groups. For instance, Medicaid ― the primary health coverage program for low-income Americans ― is not required to provide dental care and in many states covers only dental emergencies or extractions.
"Dental work is something most of us don't think about. People living in poverty … [if] their teeth rot, they apply for jobs and are told, 'We don't want people like you,'" he said at the press conference, speaking of experiences that some low-income Americans he met in West Virginia shared with him. "It's sort of unthinkable in a civilized society that we don't consider that to be a fundamental need."
"The result is a huge disenfranchisement of the people hit the hardest by the political system," he said. "Poor people have no chance of having their voices heard, of influencing public policy."
"The American Dream is rapidly becoming the American Illusion."
As for the American criminal justice system, the U.N. expert denounced it for essentially criminalizing the lives of the poor. He noted that homeless individuals are often fined for simply sitting or sleeping on the streets, even though many have nowhere else to go. He pointed out how the bail system works to jail people who simply can't afford to pay bond.
What's worse, many Americans ― including political leaders ― blame the poor for their troubles. For instance, Alston remarked that while U.S. politicians tend to talk about people on welfare needing to get jobs, they don't fund robust training programs to help prepare Americans for changes in the economy.
"What I've seen in the U.S. is the dominance of twin narratives: that the rich are enterprising, altruistic, hard-working, and the poor are losers, scammers, who are trying to profit from the system," Alston said. "That framing of the issues is put forth by politicians to justify massive tax reductions, transfers to the rich, and massive cuts for the poor."
In terms of any response from President Donald Trump, Alston said, "I'm hoping for a tweet."
Before You Go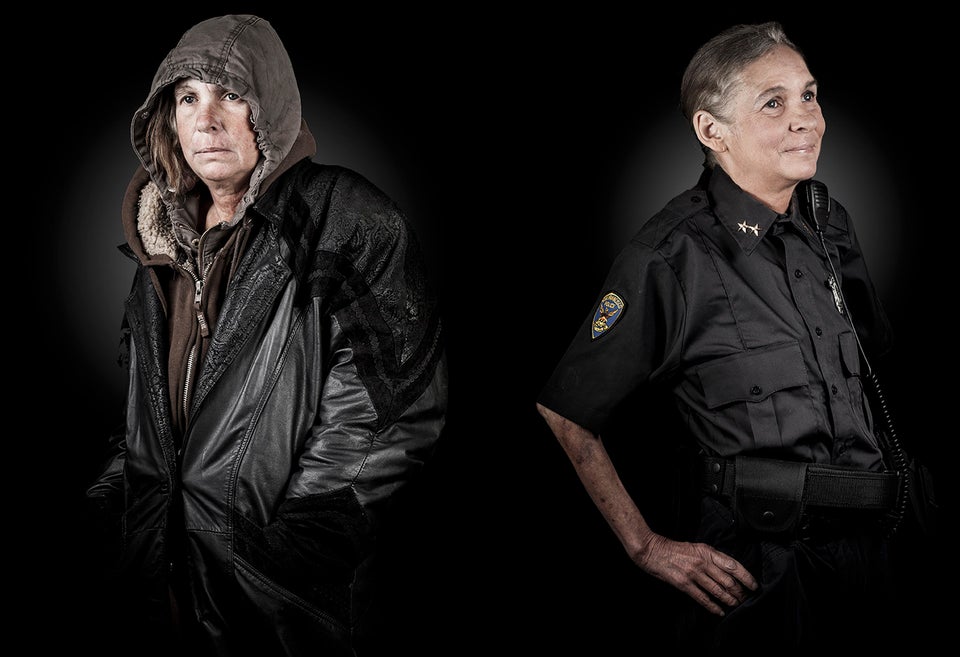 Homeless people as they imagine themselves
Popular in the Community