The United Nations is addressing an issue that stigmatizes and causes discrimination against millions of children around the globe every day: mental health.
According to a 2012 study by UNICEF, about 20 percent of adolescents worldwide experience a mental health problem. The study notes that if the problem goes unaddressed -- as it does in many developing regions of the world where mental health services are unavailable or underfunded -- it can have long-term negative affects on the individual.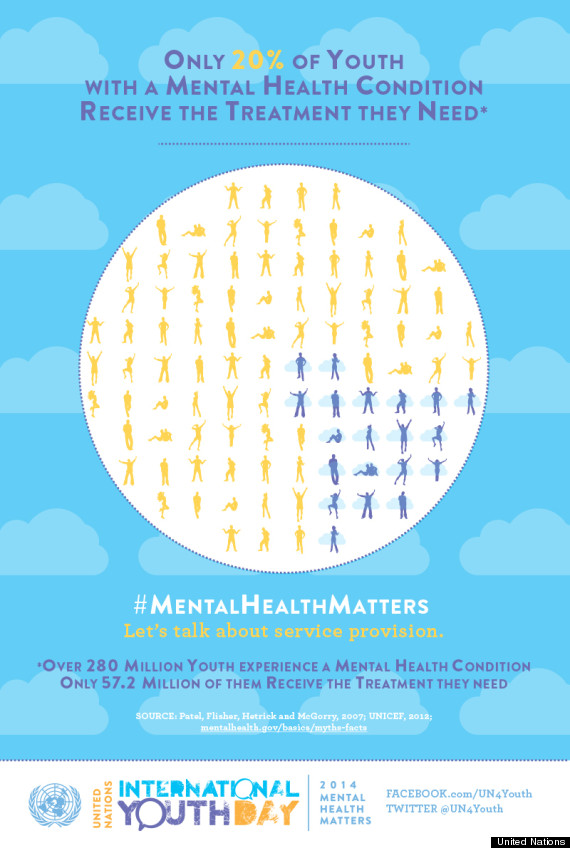 "The barriers can be overwhelming, particularly in countries where the issue of mental health is ignored and there is a lack of investment in mental health services," U.N. Secretary-General Ban Ki-moon said in a statement. "Too often, owing to neglect and irrational fear, persons with mental health conditions are marginalized not only from having a role in the design and implementation of development policies and programs, but even from basic care."
Secretary-General Ban Ki-moon notes that neglecting to address and provide services to youth living with mental health issues results in youth being more vulnerable to poverty, violence and social exclusion. Adolescents who've been subjected to juvenile justice systems, experienced homelessness or lived through conflict situations are more susceptible to mental health issues, according to Ban Ki-moon.
While the U.N. points to particularly vulnerable youth in the developing world, adolescents in the U.S. face some of the same challenges while accessing mental health care. According to the National Center for Children in Poverty, a lack of adequate insurance coverage, stable living conditions and trained specialists are leading causes for adolescents living with unaddressed mental health conditions in the U.S. Limited confidentiality legislation also plays a role, the organization states, as only 20 states and Washington, D.C., give minors explicit authority to consent to outpatient mental health services.
Are you an adolescent in need of help? Learn more about resources you can access in the U.S. here.
REAL LIFE. REAL NEWS. REAL VOICES.
Help us tell more of the stories that matter from voices that too often remain unheard.
BEFORE YOU GO
PHOTO GALLERY
Common Mental Health Myths