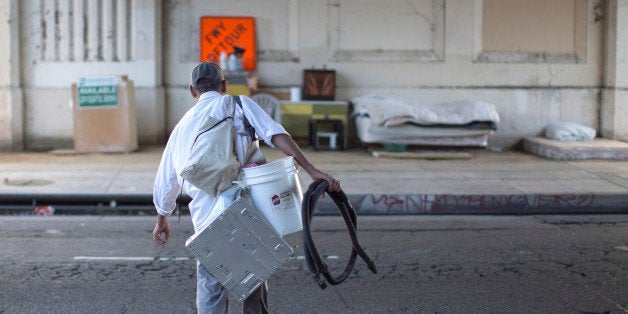 The U.S. Department of Housing and Urban Development released its Annual Homeless Assessment Report to Congress (AHAR) earlier this week. The findings were decidedly mixed. While homelessness decreased in 33 states, it increased in 17 others. The overall trend over the past year was flat: a 2% decrease in homelessness compared to 2014. The report claims that since 2007, the number of people experiencing homelessness on a given night has decreased by 82,550 people, or 11%. This is important because it represents the lives of tens of thousands of our family members, friends, and neighbors who are no longer living on the streets or in shelters. It also points to the effectiveness of life-saving interventions such as Housing First, Critical Time Intervention, Trauma-Informed Care, and health care for people experiencing homelessness.
The point-in-time counts are inherently limited, representing a literal, head-by-head, bed-by-bed count of people who are homeless on a given night in January of each year. While useful in helping us monitor trends over time, it should not be understood as an actual estimate of the number of people who experience homelessness each year, or over a lifetime. Those numbers are much, much higher. The AHAR report does not describe the extent of homelessness, but instead establishes a floor--the minimum number of people we know for certain to be homeless on a specific night each year.
Furthermore, it is difficult to count people experiencing homelessness, and therefore difficult to know with confidence whether we are indeed moving the needle. A recent national survey of 900 homeless service providers from all 50 states found that 85% reported an increase in family homelessness over the past two years.
With these limitations in mind, let us revisit the timeline on which we find ourselves. If the point-in-time counts are even remotely accurate, we have reduced homelessness by 11% over the past 8 years. At that pace, it will take us approximately 54 years to complete the work of eradicating homelessness. That means by 2069--when I am 98 years old (thanks to all of the medical advances that will occur between now and then)--we will see no more homelessness on the American landscape. 2069 will be nearly 100 years after we began to see the emergence of contemporary homelessness. An entire century of homelessness.
It does not have to be this way.
Efforts at eradicating polio and small pox in the United States and globally can serve as an example. These have been ambitious, well-funded public health efforts that were prioritized at the federal, state, and local levels. We can also look to the Marshall Plan that rebuilt Europe after World War II. It was a full court press, funded by an American investment of $130 billion in today's dollars. We committed ourselves to these ambitious efforts not just because it was the right thing to do, but also because it was in our national interest to do so.
Homeless service providers, advocates, people experiencing homelessness, and our colleagues in federal, state, and local government have spent far too long trying to subdivide a pie that is too small to meet the need. The result is that we end up arguing about definitions, program eligibility, count methodologies, and how to target an inadequate number of housing units and supportive services. We pit one subpopulation against another, making difficult decisions about whether it is a higher priority to provide for chronically homeless individuals, families with young children, veterans, or youth living on the streets.
Rather than nibbling around the edges of a massive public health catastrophe, we now need a Marshall Plan to End Homelessness. We need all hands on deck--government, the faith community, the corporate sector, non-profit housing and service organizations, philanthropy, and, perhaps most importantly, people who have themselves been homeless. We know much of what works to end homelessness. What we have now is a scaling problem. We need a massive infusion of funding at all levels to implement the full range of housing and supports necessary to end homelessness for all.
The DeBlasio Administration in New York City recently announced such an effort, dedicating $2.6 billion to provide 15,000 units of housing and wrap-around services. 15,000 units are not sufficient to end homelessness in New York, but they will certainly make a dent. We will closely follow the New York initiative to learn from their experience, and we challenge other Mayors, City Councilors, State Legislators, Senators and Representatives, and Presidents to dedicate similar large-scale resources. We must come together and commit ourselves to do better than a 2% annual reduction in homelessness.
Our society is only as healthy as our most vulnerable citizens. We are only as strong as the safety net we provide for our poor, sick, and homeless brothers and sisters. We are only as good as our moral commitment to provide housing, services, and social connection for those who have slipped through the cracks.
Calling all HuffPost superfans!
Sign up for membership to become a founding member and help shape HuffPost's next chapter