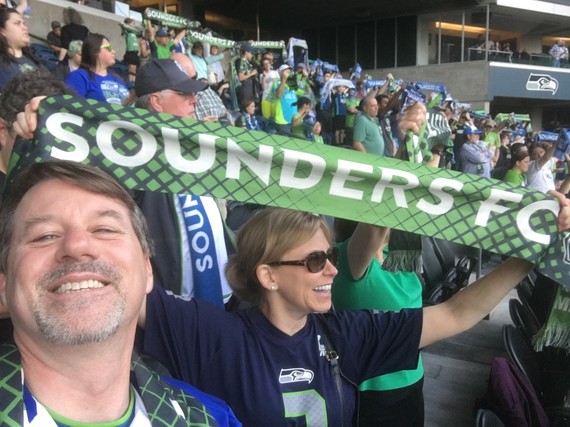 For devoted soccer fans like me, the later winter months are a time filled with anticipation and excitement.
In the coming weeks, my soccer club, the defending MLS Cup champion Seattle Sounders, will once again take to the pitch, as fans across the Emerald City buzz with speculative chatter. Will Clint Dempsey return to form? Will the Sounders successfully defend their title?
Anything could happen, for sure. But while the fate of the Sounders' 2017 season has yet to be determined, a soccer campaign of another sort has already scored success across the Atlantic.
It's called Africa United and it combines two of the things I enjoy most.
Launched last year in coordination with one of the continent's most important sporting events--the biennial African Nations Championships--Africa United is a platform that harnesses the power of Africa's most beloved sport to promote universal access to immunization. This effort is particularly important given that one in five African children still lack access to lifesaving vaccines, and vaccine-preventable diseases remain the leading cause of childhood mortality on the continent. Led by Gavi, the World Bank, the CDC Foundation and others, Africa United's innovative advocacy campaign brings many of Africa's greatest national stars to the fore on social media.
Head over to Twitter and you'll see Uganda Crane's goalkeeper Denis Onyango championing immunization, with the #EveryShotCounts hashtag. Or check out YouTube, where Anthony Laffor of Liberia shares an impassioned message that being a "father first, footballer second" means getting your child vaccinated.
I can say proudly that I am a self-identified father first, global health advocate second, and soccer fan third--and Africa United embodies most that I hold dear. It's a campaign that represents the kind of smart advocacy needed to engage everyday African families to increase demand for immunization--the linchpin of our efforts to expand immunization. What's more, Africa United deploys powerful figures from the community to sound the message as millions watch along.
If you pause to look beyond the Sounders' bright green jerseys past and present, you'll see talented young men from Nigeria, DRC, Uganda, Ghana, and Cameroon. Look beyond those athletes, and an even deeper message emerges. Not only is a soccer a game that requires the energy and investment of communities across the globe, so too do our efforts to bring lifesaving vaccines to all.
Just as Heads of State from across Africa signaled this week as they formally endorsed the historic Addis Declaration on Immunization at the 28th African Union Summit, in order to save lives, we must be united--one goal at a time.
Please join me in demonstrating your support for immunization by checking out Africa United on Facebook, Twitter, YouTube, and Instagram, and tweeting #EveryShotCounts, #CAN2017, and #WeAreAfricaUnited.
Calling all HuffPost superfans!
Sign up for membership to become a founding member and help shape HuffPost's next chapter