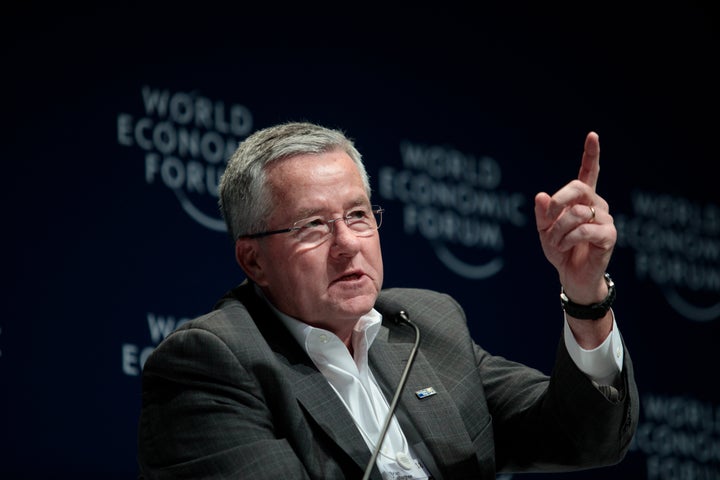 Brian Gallagher, the longtime chief executive of United Way Worldwide, announced his resignation on Tuesday.
The CEO was facing waves of criticism after HuffPost first reported on allegations of sexual harassment and retaliation at the organization in November.
Gallagher said he'd long planned on stepping down from the post, which he has held for 19 years, but the allegations of misconduct sped up the timeline.
"We were actively working toward a transition for me sometime later in 2021 at the conclusion of the CEO search process," he wrote in a statement announcing his resignation. "But, I and the board think it's best for United Way if I step down as CEO sooner."
Gallagher said he would formally leave his role on March 1. He began his career at United Way in 1981.
The statement was sent out to local United Ways around the country. Many of these organizations ― independent nonprofits that pay dues to the Worldwide office ― had been clamoring for a leadership change.
"Loss of confidence in Brian Gallagher's leadership had already been a feeling shared by many [local United Ways]," reads a letter sent to the Worldwide office on behalf of the leaders of 33 local United Ways last week.
The local chapters were upset over an inquiry that United Way Worldwide had launched in response to allegations made by three former employees. These women had filed separate federal complaints at the Equal Employment Opportunity Commission, alleging that they were either fired or forced out after speaking up about sexual misconduct. (Read the full story here.) Those claims were followed by more allegations of a sexist culture reported in Business Insider, and still more women coming forward after that.
When the investigation was finally released on Feb. 2, however, locals were disheartened. Though United Way Worldwide announced it was in the clear from any claims of wrongdoing, the press release it sent out hardly backed up the assertion.
None of the women who had made these claims had been approached by investigators. And the so-called inquiry was very limited, as HuffPost reported last week.
"The communication read as a very corporate response," read the letter from the 33 locals.
"To accept the conclusion that United Way Worldwide bears no fault or responsibility, you would have to believe that a number of former employees got together, created an untrue story and gave up their jobs (in some cases)/risked them (in other cases) and decided to drag United Way Worldwide through the public mud. That seems like a lot of effort if you are happy and feel valued in your job," the letter added.
"When women have a chance to share their stories, powerful men are held accountable."
In his resignation note, Gallagher again touted the results of the investigation. "At United Way Worldwide we dealt with allegations of misconduct. When these allegations were first made, the organization thoroughly investigated them," he said. "Then they were made public, which led to the independent board investigation. In both cases, there was no merit found to any of the allegations. There is no evidence of a toxic or hostile culture."
In addition to the three women who filed EEOC claims against United Way Worldwide, in early January more than 20 former employees of the organization sent a letter to its board saying that it had a problem on its hands with harassment and discrimination.
"Each of us has either witnessed, experienced or been made aware of various levels of discrimination, harassment and/or retaliation for reporting such issues while employed at UWW," the women wrote.
"I'm thankful for the change in leadership so United Way can continue the good work that they do," said Lisa Bowman, who was fired by Gallagher a little over a year ago after speaking up about the misconduct of a male executive. Her charges of retaliation are still pending at the EEOC.
"We are grateful for Brian's four decades of leadership and service in the name of the United Way mission. Brian has always said that a great United Way leader is one who puts community interests first, their organization next, and their own interests last," said Juliette Tuakli, chair of United Way Worldwide's board of trustees, in a statement provided to Business Insider. "Brian embodied that standard." She said the board will appoint an interim CEO while it searches for a replacement.
Gallagher isn't the first United Way CEO to leave under a cloud. In 1992, CEO William Aramony was forced out amid a sex and financial scandal far more explosive. "The case was a humiliation for the United Way," The New York Times wrote in Aramony's obituary in 2011.
The disgraced CEO had stolen hundreds of thousands of dollars from the organization, spending some of the money on a young woman 42 years younger than him, starting when she was 17. Those costs included flights on the Concorde, vacations around the world and "even a fax machine to send love notes."
He was indicted and jailed, along with two other executives. Gallagher was working at a local United Way at the time.
The lawyer brought in to clean up the mess, Charles Kolb, told HuffPost earlier this week that he'd worked hard in the wake of that scandal to usher in a new culture of transparency at the nonprofit.
"I read all of this and thought, 'There they go again. Don't they get it?'" Kolb said of the recent reports in HuffPost.
He worked at the side of then-CEO Elaine Chao, who later became the secretary of transportation in the Trump administration. Chao had also been brought in, from a top position at the Peace Corps, to clean up the organization. "To show that a new era of responsibility and integrity had begun, she cut her own salary by half, and declined all perks and special benefits," according to the nonprofit's website.
In addition to the retaliation charges, Gallagher was also facing difficulties with the business of the nonprofit. In January, the organization announced layoffs and pay cuts at headquarters. United Way Worldwide blamed the cutbacks on COVID-19.
But the larger issue was actually more existential, involving how the nonprofit is structured: United Way has long relied on donations from employees at large companies to fundraise. The locals and the Worldwide office direct that money toward their choice of charity. The internet disrupted all that.
These days, you can give to your choice of charity with a click ― no middle man necessary. Gallagher was struggling to adapt. A deal with cloud computing giant Salesforce was largely seen as a costly failure.
The idea that an organization decides how to spend your money is also out of fashion, as these days most donors choose how their money gets spent.
It was a problem the organization knew was coming back in the 1990s, Kolb said.
As news of Gallagher's resignation spread Tuesday, former employees told HuffPost they were in shock. The CEO, who earned more than $1 million in 2019 ― far more than any of his predecessors — wielded considerable power and fear over the network.
"I thought he was untouchable," said one former employee, still wary of speaking out against the influential nonprofit.
Ana Avendaño, United Way's former vice president for labor participation, was speechless when first hearing the news Tuesday afternoon.
In a complaint she filed against the nonprofit last year, Avendaño alleged she was fired after Richard Trumka, the president of the AFL-CIO, complained to Gallagher about her work on sexual harassment within the labor movement. (More on that here.)
Last summer, she settled those claims with the nonprofit and signed a nondisclosure agreement, which prevents her from talking about the issue in detail.
She recently asked the United Way Worldwide board to release her from that NDA, but has so far been rebuffed.
"When women have a chance to share their stories, powerful men are held accountable," Avendaño told HuffPost Tuesday. "And the systems that have kept so many of us silent, invisible, and subject to abuse start to crumble."
Popular in the Community