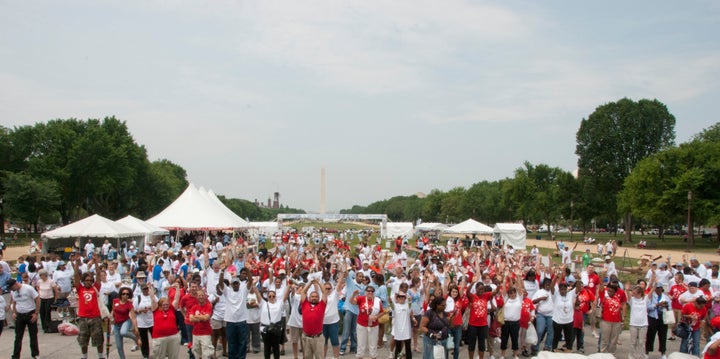 United Way Worldwide officially launched a three-year initiative to recruit 1 million volunteers to promote literacy among children on Tuesday, as part of its annual Day of Action events.
More than 1,000 participants gathered on the National Mall in Washington to fill backpacks with summer reading books for underprivileged elementary school students. The event was joined by 200 smaller volunteer gatherings in communities across the country.
"What's really important to us is this research that shows that if we can get kids reading proficiently after the third grade, it changes the trajectory and long-term outcomes for education," United Way president and CEO Brian Gallagher told The Huffington Post. "Getting more and more people involved and helping kids earlier and earlier is the main aspect of today's event."
Studies have shown that students from low-income families tend to lose on average two months of reading proficiency through the summer months, while those from middle-class families retain their proficiency levels or improve during summer vacation, Gallagher noted.
United Way is a nonprofit network led by volunteers that aims to address key issues from local to global levels. In 2008, the organization announced a goal to reduce the high school dropout rate by 50 percent by 2018, "and if you're going to do that, you're going to have to start early," Gallagher said.
In addition to a total 150,000 summer reading books, the backpacks include tip sheets for parents and caregivers, offering advice on how to make reading fun and engaging for children. The 50,000 backpacks will be distributed across the country through local partners like YMCAs and Boys & Girls Clubs.
"You have to get caring adults back in kids' lives," Gallagher said. "This is to get visibility to recruit 1 million volunteer readers, tutors and mentors across the country."
Contributors and sponsors of the event include Target, the Annie E. Casey Foundation and Disney Publishing, who donated the books.

REAL LIFE. REAL NEWS. REAL VOICES.
Help us tell more of the stories that matter from voices that too often remain unheard.