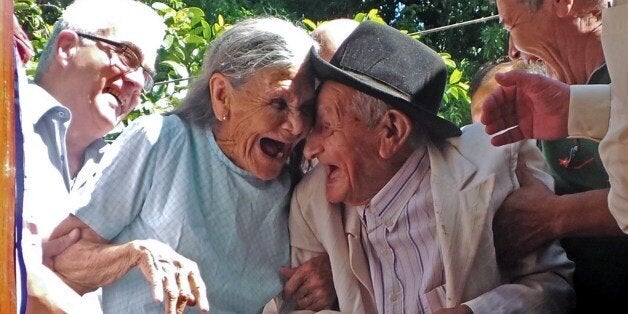 It's quite an accomplishment to live to 100, but a survey of centenarians revealed it's your attitude that can get you there. UnitedHealthCare released its 10th annual 100 @ 100 survey today, with clues to what helped centenarians live so long.
The survey asked 100 centenarians about their views on health, aging and keeping a positive attitude, as well as other topics.
A sunny outlook is said to be one of the key factors in living a long healthy life, according to the survey. One in four seniors surveyed said staying positive is critical for longevity, with just over six in 10 saying they overall are positive people.
Diet and exercise, unsurprisingly, also were thought to be factors. Twenty-one percent of centenarians said a healthy diet was key while 10 percent said exercise, above all, is important. Various research has backed up the virtues of a positive attitude. A 2012 Yale University found that seniors with a positive attitude were over 40 percent more likely to bounce back from disability than those who were negative. Yet another Yale University study found that older people with positive views on aging can live up to 7.5 years longer than those who view aging negatively.
Besides staying positive, nearly half of the centenarians said they stay active by taking a walk or going for a hike at least once a week, while many others reported a variety of wellness habits including stress-busting activities like meditation, as well as lifting weights. Spending time with family was also important, with 90 percent saying that spending time with loved ones makes them happy.
"The survey reaffirmed that being and feeling healthy isn't just physical -– and that's a lesson that seems to come with age," Rhonda Randall, UnitedHealthcare's chief medical officer told The Huffington Post in an email. "The centenarians tell us that mental, emotional and social health are linked when it comes to healthy aging and feeling young."
To celebrate the 10th anniversary of the survey, UnitedHealthcare also invited 100 10-year-olds to take the survey as well. When asked to describe being 100, the kids came up with adjectives like "calm" and "peaceful." Some of them even said they looked forward to how different the world would be, with better technology, in another 90 years.
But the most striking part of the study was this: Despite being aged in the triple digits, 52 percent of the centenarians said they felt younger than their age and 60 percent said they didn't feel old at all. Amazing.
Just goes to show, age is nothing more than a mindset.
Related
Popular in the Community