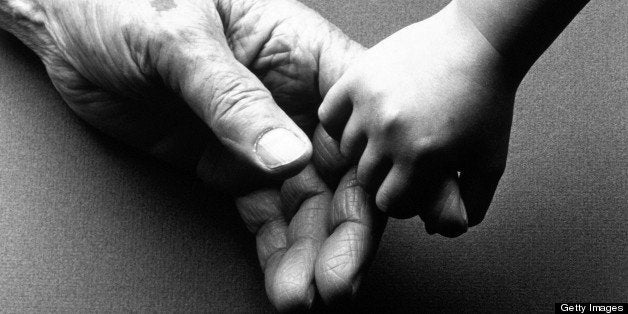 In his fiscal year 2014 budget request, President Obama included proposals for funding a number of grant programs supporting high-quality early learning. We need older Americans to voice their support for these important requests. Here's why.
Despite the growing accumulation of research showing that high-quality early education and care is essential to one's ultimate success in life, some remain unconvinced. Yet the facts are clear. Today, entering kindergarten without quality early education is like starting a race an hour behind everyone else, making it very difficult to catch up.
Sean F. Reardon, a professor of education and sociology at Stanford University found that the achievement gap between rich and poor students has grown steadily over the past half-century. After studying standardized test scores over the past 50 years, he found that the gap in test scores between higher income and lower income children is about 40 percent larger now than it was 30 years ago. He suggests that early childhood intervention may be a reasonable way to begin to bridge the gap.
Study after study has shown that children who are exposed to quality early education derive benefits that are long-lasting. As early-education pioneer Maria Montessori wrote, "The most important period of life is not the age of university studies, but the first one, the period from birth to the age of six."
Wealthy parents believe in the value of education and willingly invest a great deal in early education opportunities. They obviously know the secrets to success. Why then, in the midst of budget talks and deficit reduction, are we so ready to cut some of the very programs -- like Head Start -- that could help close the education gap? And why would we put our nation's economic and social future in jeopardy?
It's time for action. Time to tell our political leaders that education must be America's number one priority. It's a stark win-or-lose proposition. If we invest in early education now, everyone benefits. If we don't, America falls farther behind in the global marketplace.
In his fiscal 2014 budget, President Obama has made historic requests for early childhood investments. Among the highlights are a series of grants that would boost funding for preschool. The President recommends $75 billion over the next 10 years for Preschool for All grants. These grants would be funded by a federal-state funding partnership. A cigarette tax would generate the federal amount. In addition, a home visiting program which provides critical support to parents of at-risk children would receive an additional $15 billion over the next decade.
With regard to Head Start, the President proposes boosting investment in the program by $1.4 billion. The money would expand Early Head Start and create Early Head Start-Child Care Partnerships to increase the supply of high-quality early care and development for children birth through age three.
The president's early education proposals -- there are a number of others, as well -- will help keep America safe and secure by ensuring our children are ready to tackle the complex issues that will confront us in the future.
We believe that older Americans should lead the way in pushing Congress to fund the President's proposal.
What does early education have to do with older adults?
We can begin with self-interest. The well-being of our nation's children and our own grandchildren will have a huge impact on our quality of living. If our children emerge from our education system ill-prepared for the work world, we will suffer along with them, because we will be dependent upon them.
But surely self-interest pales in comparison to the legacy we owe America's young. We have inherited a great country, and have enjoyed the fruits of past generations' labor and investments. We owe it to our youth to give them every advantage to inherit an America that is better and stronger than the one we inherited.
As older adults, we have a unique and powerful voice that legislators listen to. We must use that voice to ensure children are a priority in this budget, and every one in the future.
We must show we care through active engagement. Here are just a few, simple suggestions:
• Write and call our legislators, asking them to support early learning initiatives
• Volunteer in pre-schools and elementary, middle and high schools
• Encourage our peers to volunteer with youth programs or mentor a young person
• Hold events or take part in activities that bring generations together for their mutual benefit
We have the time, talent and skills we need to make a difference. And we have an activist past that we can call on for new ideas and new ways to challenge our legislators. It's time. Let's do it.
Together, Dr. Bateson and Dr. Lombardi serve as National Honorary Co-Chairs of Generations United's Seniors4Kids initiative.
Calling all HuffPost superfans!
Sign up for membership to become a founding member and help shape HuffPost's next chapter