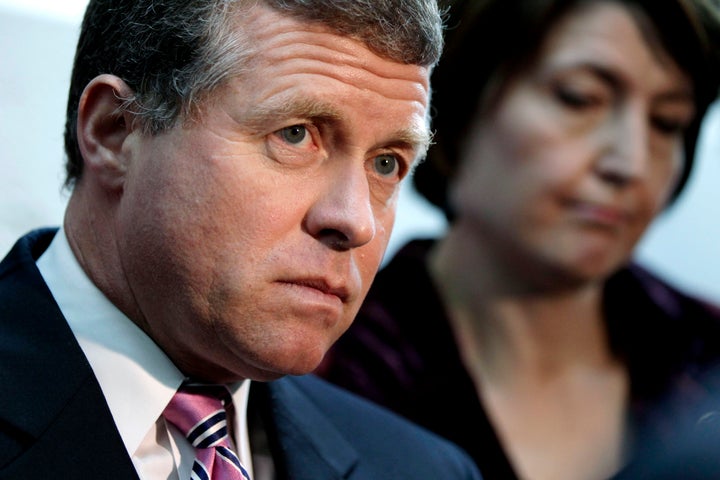 WASHINGTON -- Two Republican House members signed a bill on Friday that would allow same-sex couples equal rights as heterosexual ones for immigration purposes, making the legislation bipartisan -- although with only small levels of GOP support -- in both chambers.
Reps. Charlie Dent (R-Pa.) and Richard Hanna (R-N.Y.) joined Sen. Susan Collins (R-Maine) and 145 Democratic lawmakers in support of the bill, called the Uniting American Families Act. Dent, Hanna and Collins are the only Republican cosponsors of the bill. All three were endorsed by Log Cabin Republicans, a group of gay supporters of the GOP, in their most recent campaigns.
Hanna explained his move in a Tuesday statement to HuffPost as a pro-business decision.
"Our laws force some couples to live apart rather than in the country of their choice, pressuring Americans to take their talent, innovation, and wealth elsewhere," Hanna said. "Businesses large and small in New York, many of them multinational corporations, are struggling to keep some of their best workers in the United States ... We can keep jobs, dollars and talent right here in the United States by simply allowing financially and emotionally committed couples to live together in the same country."
Shawn Millan, a spokesman for Dent, gave the same reason for support in a statement, saying "business leaders have consistently told Congressman Dent that they are losing talented workers because the existing immigration laws threaten to break up committed couples."
The Uniting American Families Act was introduced in April 2011 by Rep. Jerrold Nadler (D-N.Y.). It could help as many as 40,000 binational same-sex couples who hope to petition for their partner for legal immigration, according to a study from the Williams Institute at UCLA. Those couples have nearly 25,000 children in total, the same report found.
Because of the Defense of Marriage Act, or DOMA, those couples are not afforded the same rights as opposite-sex couples to petition for green cards for their spouses, even if they are also legally married in their state. That can mean couples are separated for at least six months -- or longer, if one partner is in the United States without authorization -- while they wait for another visa to temporarily return to the country.
Nadler said in a statement to HuffPost that he was "very happy to welcome Congressmen Hanna and Dent as the newest cosponsors" of the bill.
"This issue is, of course, not a Democratic or Republican issue," he said. "Our goal is simply to reform our immigration code to allow committed gay and lesbian families to stay together. UAFA is about supporting strong and stable families. Period."
Advocates for the bill hope to see it passed as part of comprehensive immigration reform, but if that cannot happen to be passed on its own. The Congressional Hispanic Caucus called in its principles for immigration reform released in November for binational same-sex couples to be included as Congress works to fix the immigration system.
Collins told HuffPost last week that she is committed to the bill's passage in whatever form is most likely to get through both chambers.
"Either way, I'd like to see it passed, whichever way is the easier route," she said. "I'm not sure which way is the easier route."
Steve Ralls, spokesman for Immigration Equality, said Monday that support from Dent and Hanna is a positive step. The group advocates for equal treatment in immigration matters for same-sex couples.
"Lawmakers on both sides of the political aisle understand that ending the separation of LGBT binational couples benefits families, communities and businesses," he said in an email. "As lawmakers begin to look at reforming our immigration system, support from GOP lawmakers like Dent and Hanna will be key in ensuring that reform effort includes LGBT families, too."
CORRECTION: This article has been edited to correct the name of the Williams Institute at UCLA. An earlier version called it the Wilson Institute.
Support HuffPost
The Stakes Have Never Been Higher
Popular in the Community