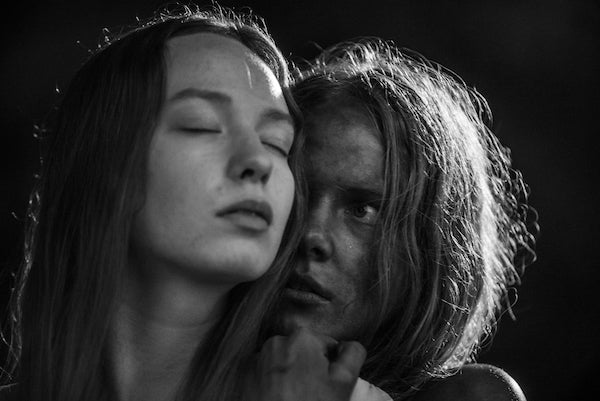 Yes, it's been more than a week since the NYC festival with a conscience — a phoenix built out of the ashes of 9/11 — has come to an end, but the 16th edition of the Tribeca Film Festival is still occupying a great big place in my heart. Following are a few personal reasons why.
This haunting, stunning film by Estonian auteur Rainer Sarnet is based on a novel by Andrus Kivirähk, and as its tagline goes it is a "mixture of magic, black humor and romantic love." Shot entirely in awe-inspiring black and white by Mart Taniel, who predictably walked away with the international Best Cinematography award at TFF, 'November' takes us on a journey through a world that is both in the past but also very current, magical and very grounded, spiritual but believing in the pagan. The best thing a film can do for me is to make me yearn to find out more about a culture and watch more of the filmmaker's films and this work of art, its stunning actors and the tales told definitely lit that fire for me.
Of course, it didn't hurt that the Estonian Consul-General Eva-Maria Liimets generously invited me, along with the cast and crew of 'November' to lunch at their Consulate in NYC. There, I felt inspired by the pride they all felt in the project and also excited to sit with possible future Oscar nominees — fingers and toes crossed. Sitting next to actors Rea Lest and Jörden Liik at lunch, getting to interview them along with Sarnet gave me insight into a world I know so little about and yet, when simply explored as I did with a little bit of incentive, appears so humanly close to mine. 'November' and its crew have opened the door for more Estonian adventures to come and I feel proud to have spent a few hours in the presence of their film, and them.
As always, I believe a great project needs to have strong roots. The Tribeca Film Festival continues to prosper and find new heights from which to shout about wondrous independent cinema because it possesses behind it an organization like TFI, dedicated to aiding filmmakers achieve their goals. And when great independent cinema is helped, we all end up benefiting.
This year, there were nine projects in the TFF line-up that have gone through the grants programs at TFI and through the Institute's networking sessions at Tribeca All Access. They included David Byars' 'No Man's Land', originally titled 'Malheur', co-produced by Morgan Spurlock and which I featured in this TFI piece in 2016.
There were also programs organized by TFI such as 'Our City, My Story' which gathered 650 audience members together to watch 12 student-made films. Oh, and don't get me started on their rocking cocktail party, held just yards from the new World Trade Center site.
With TFI on their side, filmmakers will always find a way to create great work.
Jim Sheridan's '11th Hour'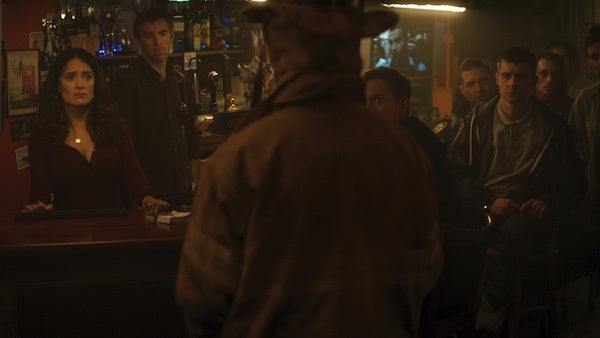 The closing film in a series of shorts titled "New York: Group Therapy", which was kicked off by John Turturro's 'Hair' — more on that later — Jim Sheridan's '11th Hour' starring Salma Hayek and Omar Sharif Jr. (yes, he's the grandson of the Egyptian superstar) finally explained what and how I've been feeling about 9/11 all these years. Exactly how the beloved Irish filmmaker managed to do that in just under 11 minutes of cinema, I'll never know. Yet he cuts deep with the hurt, the anger, the sorrow, the humanity he portrays through his characters, and the emotions he makes his audience experience by closing the film with Bruce Springsteen's rendition of Woody Guthrie's 'This Land Is Your Land' left me speechless.
But not without enough words to write to Mr. Sheridan a short message on a mobile number I had saved from an interview I did with him two years ago, when he presided over the jury at the Dubai International Film Festival. Lo and behold, a couple of hours later as I was window shopping on lower Broadway, I heard my phone vibrate and saw the caller I.D. "Jim Sheridan" come up. "Hello Nina," seeped out from the other side of the world, spoken in his soft, pleasant Irish brogue. Sheridan had called to reply to my message.
Because that's how great humanity begins, with simple, thoughtful, never too-important-to-have-time-for-you kind of heroes. Heroes like Sheridan and his beautifully written cinematic characters.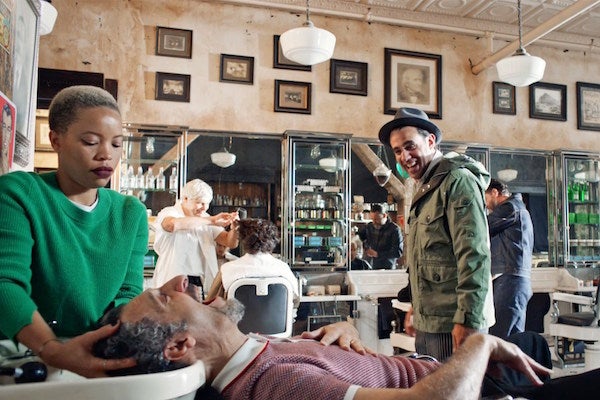 I would pay to hear John Turturro and Bobby Cannavale read the phone book. Do we even have those anymore? Anyway, I find both actors the epitome of handsome, modern, great men. When you take them and put them in a barber shop, as Turturro did for his short 'Hair' and give them ten minutes to improvise a chat between two guys who know and like each other quite obviously, plus dress them in Rag & Bone sportswear and put that at the start of a shorts program in the Tribeca Film Festival, yeah I'll buy a ticket to that. And I'll buy tickets for my friends too!
'Hair' appears to be something that will turn into a stylish ad for Rag & Bone, and these days with filmmakers like Spike Jonze directing perfume "commercials" the world of fashion is quickly blurring the lines once clearly drawn between them and the world of serious cinema. Personally, I'm ecstatic about it, since I love both disciplines and can't even imagine a world without each — both holding hands, side by side is actually my personal Utopia. So kudos to John Turturro for finally turning men into human beings and giving us girls a bit of insight into their own private sanctuaries of beauty.
You just can't attend the Tribeca Film Festival without realizing what an integral, organic part of the event NYC itself is. From NY personalities like Julian Schnabel and Turturro of course, who were spotlit and highlighted during TFF, to the actual encounters with the everyday folks who inhabit the City, I found myself falling in love again.
New York is of course, like an aging grand dame who was once an "It girl" fashionista and now lives off its reputation from days long gone by. She is not growing old gracefully structurally, perhaps because the big developers have convinced the new wave of New Yorkers that rebuilding, taller and more shiny than before is a better choice than restoring some of the great buildings that dot the city, from the East Village to Tribeca, to Chelsea and the Upper West Side.
But NYC is its people and from the Egyptian taxi driver who disclosed that both his sons have moved back to Cairo to enjoy the renaissance of the city under Al Sisi — you don't get that viewpoint on the news folks! — to the handsome-because-he-didn't-know-it man who took off his shoe to show it to me in the elevator of my dermatologist's building, when I asked what kinds of running sneakers he was wearing, I remembered why I've dealt with this city for thirty years. And I never get tired of it. Once you've lived in NYC, it's part of your DNA and having a little bit of it in my bones, running through my veins, makes life that much more interesting.
All images used with permission.
Calling all HuffPost superfans!
Sign up for membership to become a founding member and help shape HuffPost's next chapter
This post was published on the now-closed HuffPost Contributor platform. Contributors control their own work and posted freely to our site. If you need to flag this entry as abusive,
send us an email
.