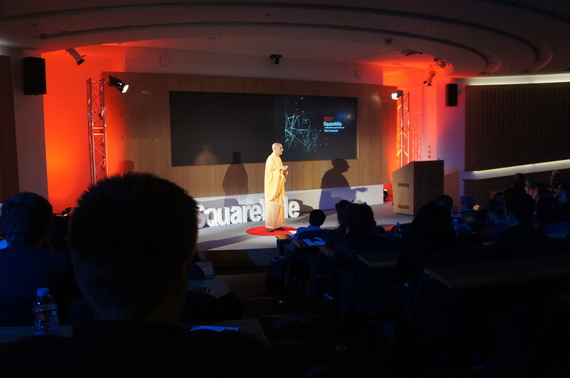 Imagine a day filled with passionate speakers, thought-provoking videos and mind-blowing conversations. If you like hearing ideas worth spreading, you've probably attended a TEDx event, or watched their wisdom-filled videos online. TEDx events are independently planned and coordinated "TED-like" seminars, which inspire ideas and conversation within a community. It's hailed as the new way of learning; it's the sophisticated approach to hearing about the projects and the feats of the extraordinary. The only catch is that the speaker has 18 minutes, and no longer, to wow their audience.
Last year, Radhanath Swami gave his first TEDx talk at London Business School on the chosen topic of magic. This year, he was given the opportunity to open the event: TEDx Square Mile. The theme was "get connected" and so he spoke about the principles of "unity in diversity". Choosing a monk in flowing saffron robes, who hasn't had a bank account since the sixties, to open a technology conference, at a business school is unusual. However, Alexandru Dobre, organiser of TEDxSquareMile, gave his reasoning: "It's always difficult to open an event. It's only at the end of the day that everyone feels like a community. In the morning, it was cold. We needed a powerful start and somebody to break the ice." He paused and then added "And that somebody was the Swami! His demeanour was remarkably calm, not that I'm particularly spiritual, but he did have an aura about him. He changed the room with his presence."
Sharing a message that frequents his talks, Radhanath Swami said "The joy of life is expressing our compassion in all that we do. Seeing every living being with equal vision." This was echoed in an interview with fellow speaker, Craig Twyford, director of Octopus Analytics: "His point about compassion being the key to connection was the perfect message."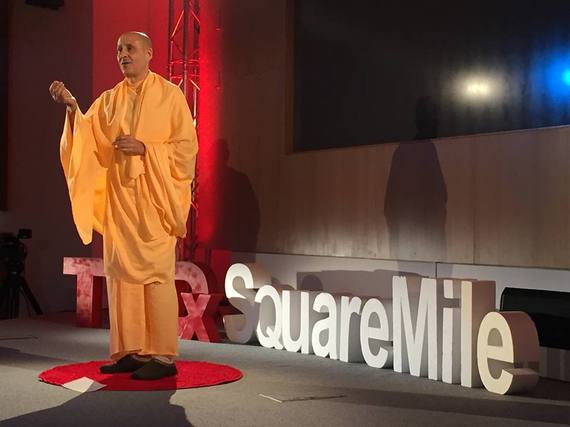 The TEDxSquareMile committee left no stone unturned in organising the event meticulously. They hired a professional visual coach, Bethany Rivett-Carnac, to illustrate the talks live.
Speaking with her after the event, she mentioned her keen interest in meditation and yoga, praising the Swami: "He really speaks to my soul. He completely resonates with everything I stand for and his message of spreading peace through technology was music to my ears. I believe if more people in the world could see each other with equality and as part of them, not in competition with them, the world would just be the most harmonious of places. That's what he makes me feel. Really inspirational." When asked about how he connected with her, she replied "The way in which he spreads his message and connected with everyone is so peaceful. It's beautiful that you can 'see it in motion' within him."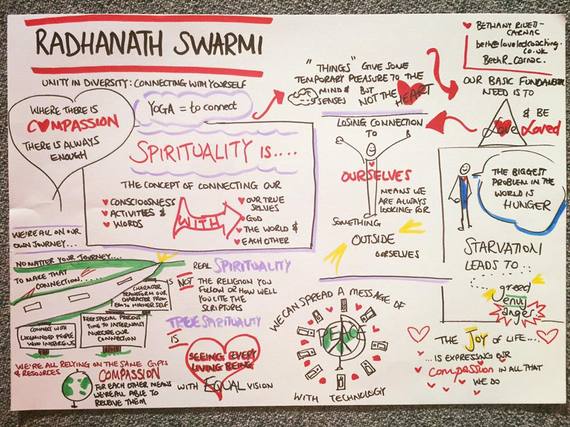 It wasn't only Radhanath Swami who spoke on compassion. Erik Fairbairn, CEO of POD Point (the company behind the electric car chargers popping up in the UK and Europe), also spoke about the same topic. He related compassion to social responsibility and entrepreneurship. "Millennials won't engage with you unless they understand why you're doing something. If your mission is right, they will engage doubly! Entrepreneurs shouldn't just think about making money, they should be responsible for effecting global change; they should leave the world in a better place than they found it." He argued that "Entrepreneurs should build their business around a social mission of helping others. That will drive more business in the future." When asked how his message is similar to the Swami's, he said "I'm not religious at all, but we shared perspectives on society and the environment. His field is well outside my knowledge and comfort zone, but we seem to have the same objectives and destination. It's amazing how there are different ways and mechanisms to tackle the same problems." Erik was also impressed by Radhanath Swami's initiatives to protect the environment.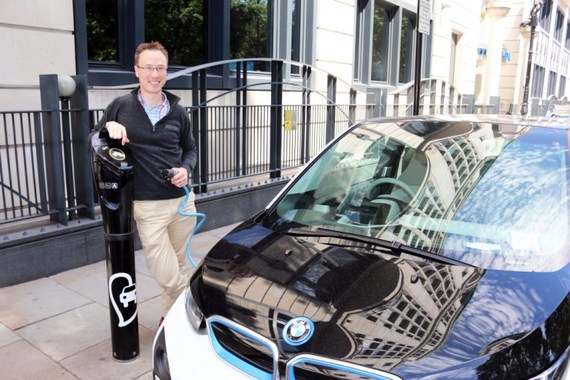 Just two weeks ago, Govardhan Eco Village, a model farm community founded by Radhanath Swami, won the internationally acclaimed Green Apple Environment Award in a campaign to find the greenest companies, councils and communities. They were among 500 other nominations in the Green Apple Awards for Environmental Best Practice and were honoured at a presentation ceremony in the Houses of Parliament, London. You can experience the environmentally-friendly Govardhan Eco Village in their official video.
Radhanath Swami concluded his talk by revealing three principles that can help us develop spiritually: positive association of like-minded people, determined spiritual practice and values-based character. With humility, he folded his hands as the audience applauded. Rahul Ahuja, an investment banker, loved that saying "Towards the end of the talk, he folded his hands, there was this moment of calm. We were all applauding, but you just felt, for me anyway, this calm and serenity. Just to be in the presence of someone like that...that was powerful." He added his dismay of not being able to meet Radhanath Swami: "I wanted to speak to him for a couple of minutes afterwards, but so did everybody else and unfortunately I was last in the queue!"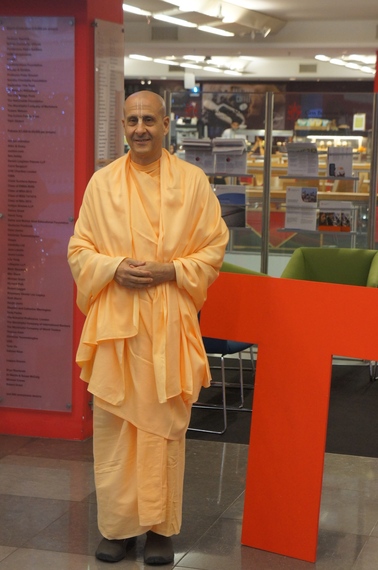 Ending the day, Aurore Hochard, Head of Entrepreneurship at Cass Business School and organiser of TEDxSquareMile, told me "He spoke truth. It was nothing complicated, it was no jargon, he was basically talking about trying to connect with the easy, simple things in life and I thought was a nice way to start the day." Passionate about what TEDx stands for, she said "At the end of the day, there are doctors, there are musicians and even swamis sharing their wisdom. That is the spirit of TEDx. To learn, to share, to be inspired. Starting on a high note with the Swami, people really felt inspired. I love TED talks and this university and school is all about learning and sharing."