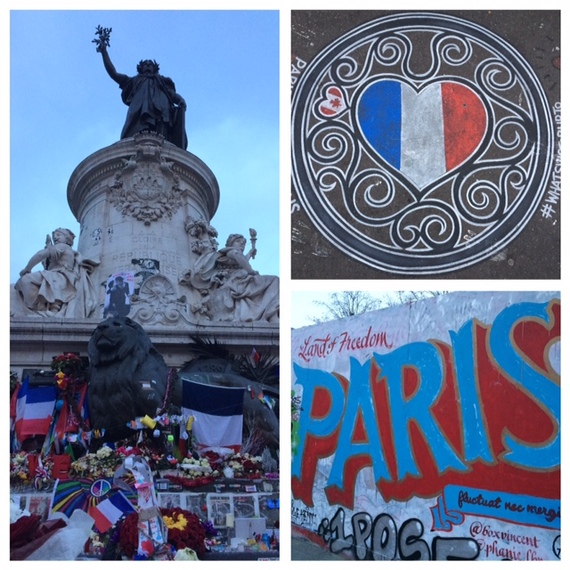 Greetings! It is a great honor to be given the opportunity to represent Denver Public Schools and Climate Generation: A Will Steger Legacy at the UNFCC COP21 Negotiations in Paris, France. Upon arrival, it was apparent that the city has rolled out the "green carpet," as COP21 occupied high visibility in all parts of the city.
I am attending these historic events as a passionate science educator and concerned citizen who is committed to playing a role in addressing our world's climate crisis. Students in my classroom at Compassion Road Academy in Denver have been preparing to participate virtually in these historic negotiations for months, and I cannot wait to share this experience with them as well as with you.
This is my first-ever blog post, and I am excited that you have taken the time to read through my thoughts and experiences. As I write I am enjoying the accommodations at the Generator Hostel after a very long day of traveling, meeting new people and taking in the beauty of the city. I've been reflecting upon all that has lead to this point in time, in addition to thinking through the magnitude of the decisions that will be made by our world leaders gathered in Paris with me.
During my travels, I found myself questioning all of the choices that we are faced with everyday, which have an impact on our global health. It is challenging to be a 21st century citizen, as we are constantly faced with decisions that directly or indirectly impact our world. Ultimately, this is the goal that I have everyday: as soon as I step into my classroom, I strive to help my students think through the choices they make and consider other ways to live their lives that ultimately have a softer impact on our fragile environment.
World leaders at COP21 are tasked with one of the greatest challenges that our world has ever seen. I desperately want to believe that our political leaders and scientists can come to an agreement that will drastically reduce the amount of anthropogenic greenhouse gases that are being released into the atmosphere and are increasing the global average surface temperature.
The time is now -- action must be taken. We can no longer turn our heads away from science. The evidence is clear -- human activity is causing the climate to change on a time scale that has never before been seen. As much as I would like to say that I am optimistic that action will be taken and that our leaders will implement sweeping reforms, I am worried, for multiple reasons.
I believe that our leaders are going to continue to walk the line on climate change, and that true change is going to come only when all the world's communities join together to demand that more serious actions are taken. We are more powerful together, and it is my hope that the UNFCC COP21 negotiations serve as a catalyst to unite our communities in order to demand that the necessary climate actions are taken. But even if the actions that are needed are not taken right now, each step that we take brings us closer to achieving the low-carbon future that we need. We can only hope that we don't set the appropriately ambitious goals once it has become too late.
Sending all of my positive energy and love for a strong agreement at COP21!
Minneapolis-based nonprofit, Climate Generation: A Will Steger Legacy, is leading a delegation of 10 Education Ambassadors to COP21 through their Window Into Paris program, December 5-11. These 10 teachers - representing diverse subject areas, grade levels, and school communities from Denver, Atlanta, upstate New York, western North Carolina and Minnesota - are connecting their students to climate policy in action, helping to build both climate literacy and the relevance of this issue in their students' lives.
Popular in the Community