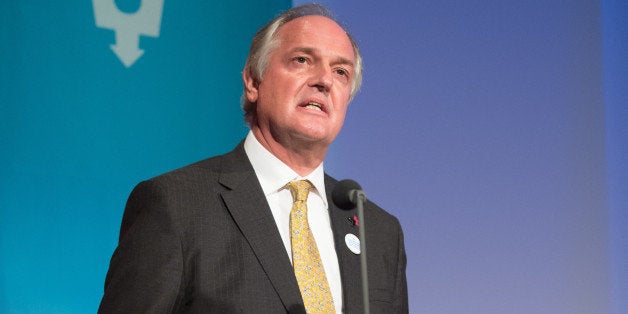 This April will mark the third anniversary of one of the world's worst industrial disasters in history. In 2013, over 1,100 workers were tragically killed during the collapse of the eight-story Rana Plaza garment factory -- a factory built on swampy unstable ground without the required legal inspections.
These cases are not uncommon. Human trafficking, dangerous working conditions, unfair wages; these examples are not just a stain on the reputation of business. They are destroying lives and communities in all corners of the globe. It cannot be right in a world of increasing human progress -- whether in medicine, space exploration or renewable energy -- that so many people are denied the most basic human rights.
Fortunately, there is a growing realization that these issues need to be high on the agenda -- not just in business but across all sectors. It even reached the meeting rooms of the World Economic Forum in Davos. And not a moment too soon. Respect for human rights is absolutely fundamental if we are to deliver on the vast majority of the UN Sustainable Development Goals, adopted by world leaders in September.
As a company operating in over 170 countries, with tens of thousands of suppliers and communities all over the world in our value chain, Unilever is committed to playing its part and ensuring transparency at every step of the way.
In 2014 we launched our own Responsible Sourcing Policy, and just last year we produced a first-of-its-kind Human Rights Report, which sets out our progress in our company and value chain. We are clear on our principles and that it is a journey -- a process of continuous improvement to move our suppliers from mandatory requirements to good and ultimately best practice. The work we are doing in this area has been recognised in Oxfam's 'Behind the Brands' report, which illustrates the critical role of consumer goods brands in helping raise expectations and standards in indirect sourcing. Through our scale, we have the enormous potential to encourage other stakeholders to take action. But we must, and will, go further.
Of course Unilever is not alone in this; other companies are stepping up too, and that gives me optimism. After all, transformational change cannot be achieved by one organization or government alone.
That's why we support the collective response that the WEF Global Agenda Council on Human Rights call "shared responsibility" - a concept that combines systematic approaches, increased visibility and sharing the financing and responsibility for action. It is aimed at tackling the most serious and entrenched human rights challenges and preventing future challenges and tragedies from occurring.
We are also increasingly seeing international organizations shining a light on these issues and accepting a shared responsibility to resolve them. The Consumer Goods Forum also recently announced a new collective approach -- involving retailers and manufacturers -- to eradicating forced labour from extended supply chains.
After all, business can only flourish in societies in which human rights are respected, upheld and advanced. Safe working conditions, fair wages, protection from forced labor, and freedom from harassment and discrimination: these must become standard global operating conditions. Business has a responsibility and opportunity to be the driving force for the advancement of universal human rights.

It all comes down to ensuring dignity and equality -- an enormous task central to many, if not all of the Sustainable Development Goals. A recent Oxfam report on inequality revealed that 1% of the global population own more wealth than the other 99 percent combined. We must reverse this trend if we are to build a better future for all. And human rights are at the heart of the work desperately required to end poverty, reduce inequality and provide decent employment.
But there is no room for complacency. Business must go on reiterating its absolute commitment to embedding human rights in all it does, driving industry change through collaboration with governments, international organizations and each other.
After all, millions of people around the world are relying on us.
Paul Polman is CEO of Unilever and Chairman of the World Business Council for Sustainable Development. You can follow Paul on Twitter @PaulPolman and on LinkedIn.
Related
Popular in the Community