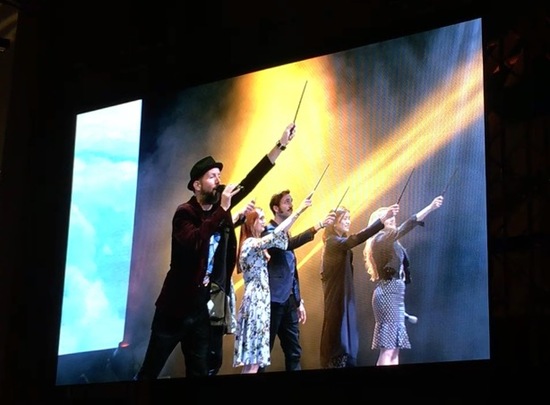 A spell was cast over Orlando last weekend, but apparently none of them were Fidelius, Disillusionment nor Muggle-Repelling charms because thousands of wizards, witches, and wands were seen at Universal Orlando's third Celebration of Harry Potter.
Home to the Hogsmeade and Diagon Alley attractions, the theme park's three-day event dedicated to J.K. Rowling's books and movies included wand demonstrations, house sortings, prop displays, screenings, an expo, exclusive souvenirs, and Q&As. It unveiled further developments for the expanding Potter-verse, and gathered actors Rupert Grint, Matthew Lewis, Bonnie Wright, Evanna Lynch, and Katie Leung for talent panels.
But, above all, what stood out at the event was the love the fans had for Rowling's wizarding world, despite the final book being published nearly nine years ago and the final movie released about five years ago. They showed up in robes, proudly displaying membership in one of Hogwarts houses (that's Gryffindor, Ravenclaw, Hufflepuff, and Slytherin, in case you forgot), as well as dressed as favorite characters. I saw Voldemorts, Dobbys, Malfoys, crossplaying Fred and George Weasleys, Bellatrixs, Tonks. There was even a woman dressed as a human-sized Golden Snitch, a guy who looked like the Flavor Flav of magicians with a giant Time-Turner around his neck, and a Hermione/Little Mermaid mashup.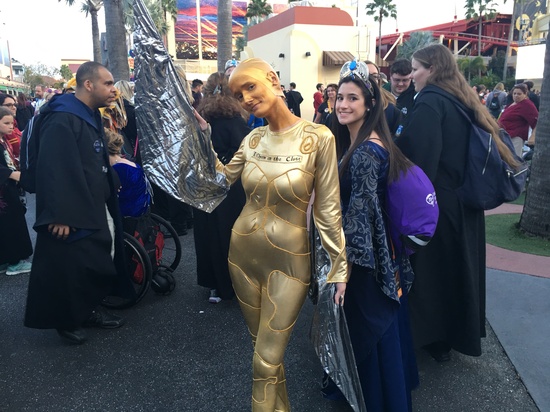 On the newsy side of things, the Harry Potter celebration revealed a behind-the-scenes clip of the Potter prequel/spinoff Fantastic Beasts and Where to Find Them on Saturday night.
Featuring brief interviews with actors Eddie Redmayne ("Newt Scamander"), Katherine Waterston ("Tina Goldstein"), Alison Sudol ("Queenie Goldstein") and Dan Fogler (muggle "Jacob Kowalski"), as well as director David Yates (who helmed the final four Potter movies) and producer David Heyman.
Arriving in 1920s New York City, Redmayne's wizard accidentally releases magical creatures, and runs afoul of America's wizarding authority. The clip doesn't show much new footage, but we learn Queenie and Tina are sisters while Jacob is a Muggle (or "No-Maj") baker. Harry Potter propmaster Pierre Bohanna shared, in a group interview, that Newt's movie wand has lime wood, shell, bone and other elements to reflect his consideration of animals. 
Actor and Potter super-fan Evanna Lynch ("Luna Lovegood") took the stage to read new pages by J.K. Rowling introducing four new wizarding schools in the International Confederation of Wizards: Ilvermorny (North America), Castelobruxo (Brazil), Uagadou (Africa), and Mahoutokoro (Japan).
Rowling, via Lynch, discussed the strengths, locations, and appearances of the other schools, which can be read about at the Harry Potter online destination, Pottermore (with more info and stories to come). I was intrigued by Rowling's words that "smaller and less well-regulated institutions have come and gone, are difficult to keep track of, and are rarely registered with the appropriate Ministry." Perhaps that means there are fringe schools out there we'll hear more about. The revelation not only made fans excited about a larger world of wizards, it could promise the possibility of more books, movies, and merchandise down the road.
Celebration attendees also saw a behind-the-scenes tour of Harry Potter and the Cursed Child, the London stage production announced in October 2015. The two-part play will be the eighth Harry Potter story ("19 years later"), and focus on Harry's son, Albus.
In the video, producers Sonia Friedman and Colin Callender discuss the mysterious gothic Palace Theatre, opened in 1891. Friedman said the venue is "like walking into Hogwarts," and was the only theater right for the May 2016 production. Based on a story by Rowling, Jack Thorne, and John Tiffany - with set design by Christine Jones and composition by Imogen Heap - the two parts will play out in the same day. While no news broke about the show, the message was clear: This is really Harry Potter, and fans can trust this production.
The event offered up a tribute to the recently-deceased Alan Rickman, who played Severus Snape. A video replayed Rickman's best moments as Snape, and offered up a thank you to him in multiple languages. The love for the actor was strong throughout the weekend; I saw his face and his famous "Always" quote emblazoned on at least a half dozen tee shirts.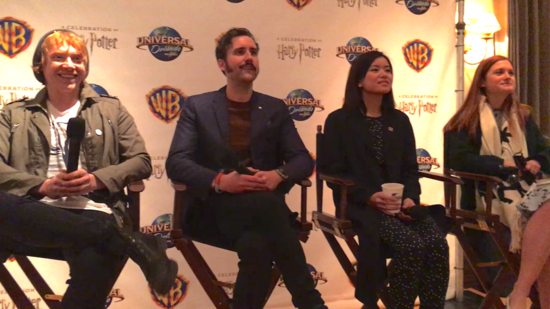 In an interview with press, Grint shared that he once drew a picture of Rickman for a scene in potions class, "and it wasn't the most flattering portrait." He said he remembered feeling Prof. Snape breathing down his neck, watching him draw, and he was "absolutely terrified." Later, Grint learned Rickman had kept the picture. Lewis reflected on the warmth and gravitas the actor carried with him, and Wright said he stayed in the Snape character from the moment he got out of the car in the morning. She said that inspired her to be professional. Adding to that, Lynch said he never underestimated Snape, nor treated the children's book character in a childish way. 
The event additionally featured a Celebration expo, with displays from Scholastic books, MinaLima - the team who created graphic props like the Marauder's Map, and now sell replicas of them - and other vendors.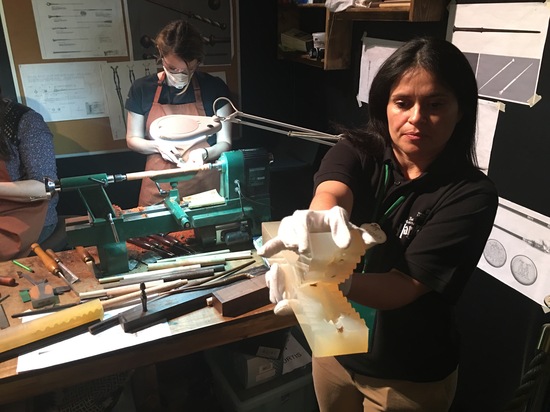 A portion of the Warner Bros. Studio Tour from England was also brought to life in the expo. Included was a wand-making prop shop, costumes, and prosthetics. Two propmakers were busy constantly making wands in person as a guide walked visitors through the process of how these artists created countless wood and rubber wands. They mold for actor Daniel Radcliffe's onscreen wand (shown here) appeared to draw the most excitement. Likewise, Radcliffe's forehead mold, with a signature lightning bold stencil, was of particular interest. I actually preferred checking out the gross mold of Helene Bonham Carter's Bellatrix Lestrange teeth, and the hairy mole application from Wormtail (played by Timothy Spall).
Outside the expo was a decorated tent where, sitting on a stool, was the famous talking sorting hat. Fans lined up for long periods of time to hear the deep, rhyming voice place them into a Hogwarts house. There was a palpable excitement with each round as a wizard helper put the hat on an attendee, and they crossed their fingers, hoping to get sorted into the house of their desire. Luckily, most received what they wanted - and I was rightfully placed into Slytherin (which is good since I'm a pretty fluent Parselmouth).
Of course, no trip to the Wizarding World of Harry Potter would be complete without a flagon (or three, in my case) of the butterscotchy/cream soda drink described by J.K. Rowling in her books, and brought to life at the Universal theme parks. As I walked along Diagon Alley and Hogsmeade, shopping and taking in the sights, I felt like I had truly slipped into a universe where magic exists.
Magical is the right word for the event. In less than 20 years, Harry Potter has spawned a fandom as vibrant and rich as Star Wars and Lord of the Rings. Universal's Wizard World is open year round, and its Universal Hollywood Hogsmeade counterpart opens this April. But while the theme parks, along with the Warner Bros. Studio Tour, offer a destination for fans, the Celebration of Harry Potter is a mecca. It is a place where wizards (and curious Muggles) can gather once a year to nerd out and get caught up in the spells.
Calling all HuffPost superfans!
Sign up for membership to become a founding member and help shape HuffPost's next chapter