With October 31st just a few days away now, millions of people are in the process of putting the finishing touches on their home Halloween displays. All with the hope that they'll then be able to impress the neighbors and/or thrill some trick-or-treaters when they come a-knockin' on All Hallows' Eve.
But what are the exact components of a truly successful seasonal display? To get a definitive answer to this question, I reached out to Mike Aiello, Director of Entertainment - Creative Development for Universal Orlando Resort. This event has been serving up top flight frights during Halloween Horror Nights for 25 years.
And Mike? He's been a part of HHN right from the beginning. Aiello and his father went to Universal Studios Florida back in October of 1991 and experienced the very first edition of this holiday hard ticket.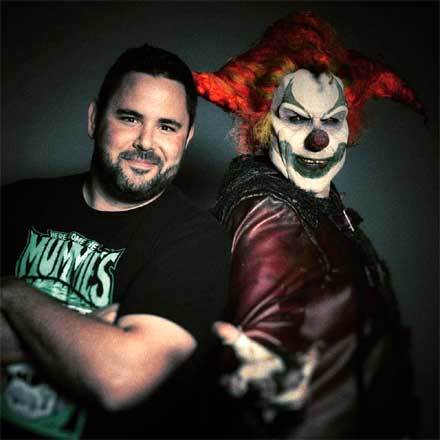 "Then when I was in high school, I actually began working at the park as a scareactor, which is what we call the Universal team members who work inside our mazes and scare zones," Mike stated. "Over time, I rose up through the ranks at Entertainment and was eventually lucky enough to play Jack the evil clown -- who was one of the more memorable characters that we've introduced at Halloween Horror Nights. In fact, our guests so loved the Jack character that we brought him back to serve as host of the 25th anniversary edition of this annual event."
Nowadays, Mike and the Universal Entertainment team work year 'round dreaming up the nightmarish mazes that have made Universal Orlando's Halloween Horror Nights one of the most popular seasonal scare events presented annually in the U.S. Which is why I thought that he'd be the perfect guy to reach out to when I was looking for tips when it came to constructing a truly terrifying home Halloween display.
And Aiello? He did not disappoint. Mike was quick to point out the relatively simple but ingenious things that Universal Orlando does to ratchet up the thrills in its mazes and scare zones.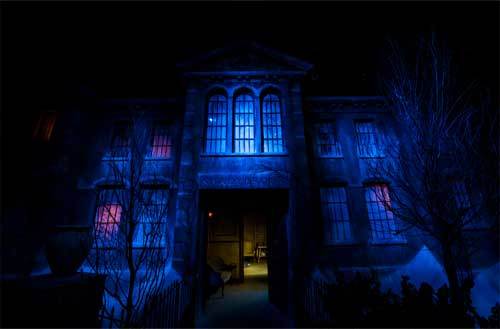 "When building their home Halloween displays, people do tend to concentrate on the visuals. Which are -- obviously -- important. But you also have to remember that -- along with sight -- people have four other senses. And if you really want to give someone a genuinely memorable scare, you then have to try and engage some of those other senses," Aiello explained. "That's the one thing that we like to do here at Universal Orlando with our guests. Attack as many of their senses as possible."
"Take -- for example -- scent. These days, we always take smell into consideration when we're designing something for Halloween Horror Nights. In fact, one of the coolest days during our maze development process is when the team gets to experience what we call smell day," Mike said.
"And what exactly is smell day?" you ask. That's when one of the vendors that Universal Orlando works with on Halloween Horror Nights drops by with a suitcase full of her latest creations.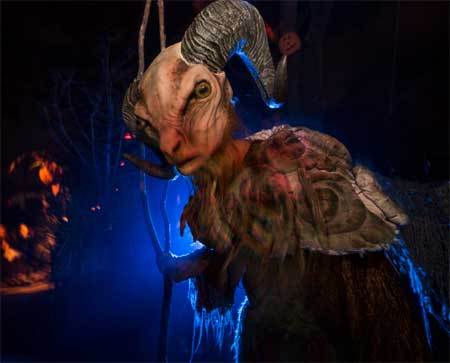 "She's this scientist who creates smells. And when she comes to meet with us, this vendor brings along this suitcase that's filled with all sorts of smells. Pumpkins, cupcake & cookie scents. But then -- from the bowels of this first suitcase -- she pulls out another, smaller suitcase. And there's a reason that I used the word 'bowels.' Because this second suitcase contains some of the most horrifying scents you can possibly think of," Aiello continued.
"And why would someone spend the time to scientifically recreate all of these horrifying odors?," you query. Because -- as it turns out -- this vendor doesn't work for Universal Orlando exclusively. She also works with the military and law enforcement, training them when it comes to certain types of smells. Like -- for example -- rates of decay.
Anyway ... Aiello and the Halloween Horror Nights creative team work closely with this woman to determine just the right order in which to introduce odors within each of their mazes. With the hope being that -- if guests encounter just the right scent combination as they enter a specific space -- they can then be successfully set up for the scare that's soon to follow.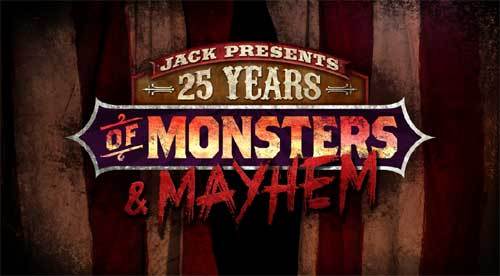 "Take -- for example -- our 25th anniversary maze. As you go through that facade, you're immediately hit over the head with this dirt & root smell, plus a little bit of pumpkin scent in the corridor," Mike said. "And that smell combination was completely intentional. We really wanted -- as soon as the guests came through Jack's facade -- to hit them over the head with that kind of natural smell. And it's really pungent through there. Which is good, because that mixture of scents immediately puts you in a different location than you were just seconds before."
So keeping that in mind, if you're going with a Zombies-rising-from-the-grave theme for your home Halloween display, why not set a pail of freshly turned earth in front of a fan? That way, the air will then be filled with the smell of those graves that the undead just clawed their way out of.
Similarly, Aiello's also a big fan of putting people on edge by using the sense of touch.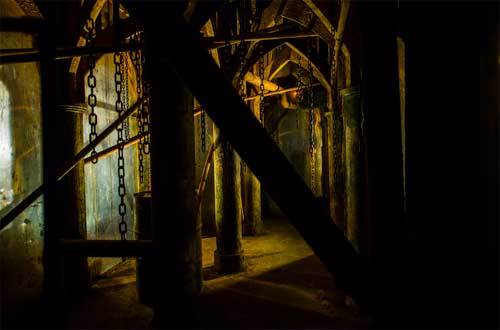 "Mind you, at the Universal theme parks, our scareactors are not ever allowed to touch our guests." Mike shared. "That said, we have figured out a way to give our guests the sensation of touch. And it's honestly one of the simplest scare tactics ever. We're using it this year at Halloween Horror Nights to great effect inside of our Insidious maze," Aiello enthused. "What we've done is hang strands of fishing line in the pathway. And you can't see it as you're walking through the darkened maze. But you can definitely feel that fishing line as it touches your skin. And the way that our brains are wired is that we then misinterpret the sensation of walking into that hanging strand of fishing line that you can't see as a ghostly light touch on our face or our arm. And that simple. easy-to-do thing really does freak out a lot of our guests."
Sound is also a great sense to toy with. Especially if you're looking for new ways to frighten someone. And Mike insisted that there are frights to be found at both ends of the sound spectrum.
"Here at Universal Orlando, we believe that sound is just as important as our scenic. Which is why -- for something like our American Werewolf in London maze -- we built an elaborate sound design that actually made use of the stems that John Landis' team used when they were in the original Pro Tools session for this 1981 film. We even added a lot of low end to that maze's sound design so that you can now actually feel that wolf even before he launches his attack," Aiello stated.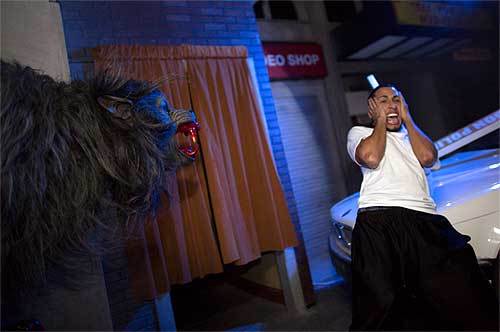 And how do the dark wizards behind Halloween Horror Nights pull off this particular effect? As it turns out, there's this high frequency low decibel audio tone they've deliberately placed on the soundtrack for the American Werewolf maze which kicks in just a few seconds before the actual wolf sound happens. And that high frequency low decibel audio tone -- while it may be hard for the human ear to hear -- is so strong that it literally reverberates the wood in the enclosures where these wolves are positioned in that haunted house.
"That sound effect is totally subliminal. But if it weren't there, the guests would definitely know it. Those wolf-driven scares in the American Werewolf maze wouldn't be nearly as effective," Mike insisted.
Obviously, the average person isn't going to be able to do something that technologically advanced for their home Halloween display. But Aiello maintained that there are equally big scares to be mined by going with a simple sound design.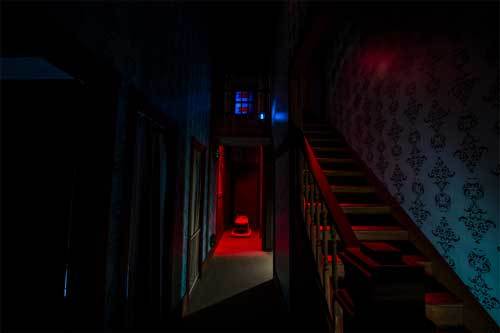 "That's what I love about what we've done with our Insidious maze. Just like the films in this horror series -- which are terrific to watch in full surround sound, by the way -- the house itself is the star of the show. So as you walk through this maze, you can hear the eerie creaks behind you, then in front of you, then off to the side. And that sort of audio texture -- used sparingly -- can really unnerve people," Mike enthused.
Mind you, if you're a Central Florida local and are looking for ideas for your home Halloween display, you can always swing by Universal Studios Florida over the next five nights and then experience HHN25 in person. This hard ticket event continues through November 1st. But don't be surprised if you see some pretty hi-tech stuff being tried out along with the very simple, easy-to-do-at-home scares that Mike mentioned earlier in this article.
"Last year, we did some tests during the very last weekend of the event. We brought out some new technology that we're still investigating," Aiello cryptically commented. "And we're of the mindset here at Universal that we don't want to present an effect officially to the public until we have it perfected-- that we're doing it the very best that we can. And I think that we're actually looking to do some more in-park tests this year. Make use of some new technology that -- I hope -- we can then add to our tool box and then use to build bigger & better mazes and scare zones in the years ahead."
Calling all HuffPost superfans!
Sign up for membership to become a founding member and help shape HuffPost's next chapter