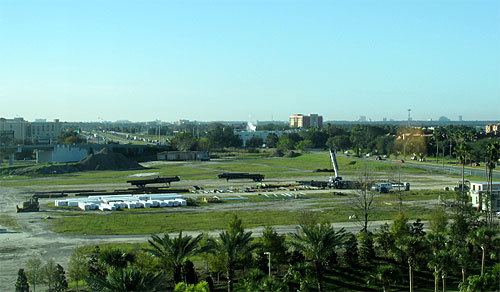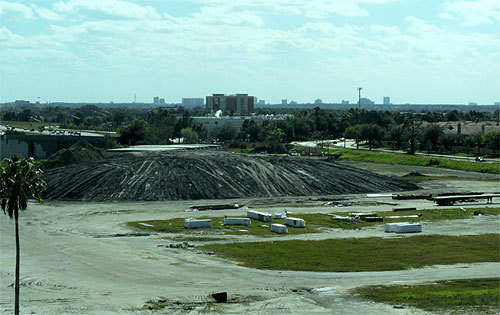 And when Universal Orlando officials were quizzed about what the Resort was building on this triangular piece of property (which is bounded by I-4 to the South, Turkey Lake Road to the West, and Cabana Bay to the North), they'd just say "We're not ready to talk about that project just yet."
Well, today Universal Orlando officials changed their minds. They're finally revealed what they're building right next door to Universal's Cabana Bay Beach. Which will be the Resort's third park, Universal's Volcano Bay.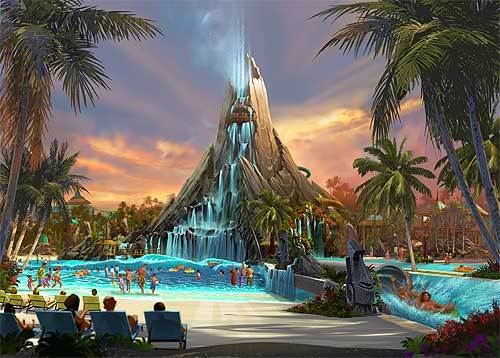 Universal Orlando's going to wait a bit before getting into the nitty-gritty when it come to this ambitious, immersive project, revealing which attractions and experiences they'll actually be offering at Volcano Bay. But right from the get-go, Universal Orlando officials want people to understand that what they're now building at the Resort isn't just a water park. What they're really trying to create here is the world's first water theme park.
To put it bluntly, Universal's Volcano Bay isn't just going to be concrete and slides. When they're finished building Universal Orlando's third park, this will be a lush, tropical setting where -- yes -- there will be thrilling attractions for the entire family. But at the same time, guests will also be able to have these moments where they can stop & relax & really feel like they're in that island environment. What Universal Orlando is trying to do with Volcano Bay is very different from what anyone else in the themed entertainment business has ever done with a water park before. It'll be an entirely new experience.
Now it may seem strange that Universal Orlando is attempting to recreate one of those postcard-perfect tropical islands -- complete with towering volcano -- right next to one of Florida's busiest highways. But let's remember that the people who are designing Universal's Volcano Bay are the exact same folks who did The Wizarding World of Harry Potter - Hogsmeade and Diagon Alley. More to the point, Universal Creative will be trying to give Volcano Bay the exact same level of intricacies and nuances that The Wizarding World has.
Long story short: Universal's Volcano Bay is going to be very different from what people have previously experienced at a water park. Which is why Universal Orlando officials are calling Volcano Bay a water theme park rather than just a water park. When guests finally get to Universal's third park in 2017 and then see how detailed & immersive Volcano Bay is, people will then understand why Universal Orlando is now making a point of making this distinction.
But as to when exactly Universal's Volcano Bay will be opening in 2017, theme park officials weren't ready to say.
So until the next press release about this project arrives, I guess that all theme park enthusiasts can do is gaze out the windows of Universal's Cabana Bay Beach Resort ...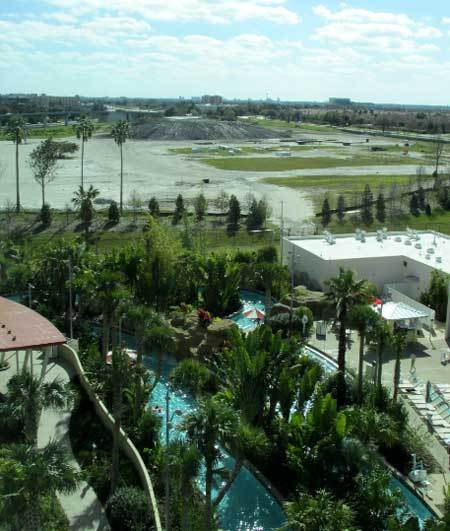 ... and watch as Universal's Volcano Bay slowly begins to rises up out of that bulldozed pile of dirt.