When it came to creating authentic live entertainment for the Wizarding World of Harry Potter: Diagon Alley, the folks at Universal Orlando Entertainment really went by the book.
"Which book?" you ask. Harry Potter and the Chamber of Secrets -- a single sentence from that 1998 J.K. Rowling novel, to be exact. As the Boy Who Lived is exploring the Burrow (i.e., the Weasley family home), he notices that "the old radio next to the sink had just announced that coming up was 'Witching Hour, with the popular singing sorceress Celestina Warbeck.'"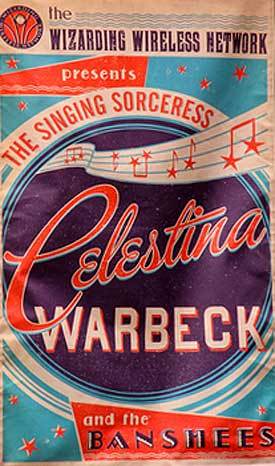 And with that one line of text, Universal Entertainment finally found a solution for a challenge that had been plaguing the Diagon Alley project, which was how to naturalistically add a live-entertainment element to this ambitious expansion of Universal Orlando's Wizarding World of Harry Potter.
"Whenever we're developing new lands for our theme parks, we always look for ways to turn streets into stages, give our guests the chance to come around a corner and suddenly stumble upon this seemingly spontaneous moment of entertainment," Michael Aiello, Director of Entertainment, Creative Development, for Universal Orlando Resort, explained during a recent interview. "That's why Jake and Elwood regularly roll through Universal Studios Florida in their Bluesmobile, so that the Blues Brothers can then be seen presenting a live street show out on our New York backlot. Or why the Whos carol around Seuss Landing whenever we're celebrating Grinchmas at Universal's Islands of Adventure."
But when it came to Diagon Alley, Aiello and the Universal Entertainment team were presented with a unique challenge. Given that this expansion of the Wizarding World was supposed to authentically recreate what had previously been seen in the Harry Potter films and described in J.K. Rowling's fiction, they were now dealing with a full-scale environment that was going to be so rich and hyper-detailed that it could potentially upstage any attempts at live entertainment.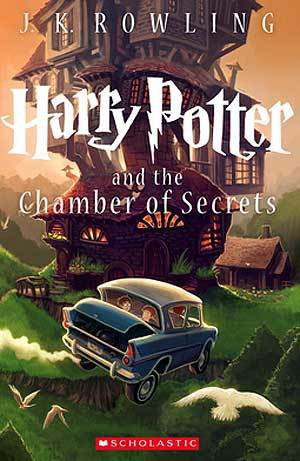 "But once we came across that line in Chamber of Secrets, which revealed that Molly Weasley was a Celestina Warbeck fan, that was our get-out-of-jail-free card," Aiello continued. "Here was a character that J.K. herself had dreamed up, this famous singing sorceress. And wouldn't it make sense that, at some point in her fabled career, that Celestina would drop by Diagon Alley, the place where all of the witches and wizards of London went to do their shopping? So we took this idea to J.K., and she was so supportive of this idea that she actually provided us with the titles of several songs that Celestina could possibly perform while she was doing a live remote from Diagon Alley for the Wizarding Wireless Network."
Mind you, once Rowling had provided Aiello and the team with titles like "You Stole My Cauldron, but You Can't Have My Heart" and "Beat Back Those Bludgers, Boys, and Chuck That Quaffle Here," it was then up to Universal Entertainment to turn these Potter-centric concepts into musical numbers that singers could actually perform, which is why they then turned to Michael Weiner and Alan Zachary, the talented team behind Broadway's First Date.
"And from the moment we told Michael and Alan that J.K. saw Celestina as this Shirley Bassey-like performer who worked with three back-up singers, they immediately knew what to do with the songs for this character," Patrick Braillard, Diagon Alley's show director, recalled. "They wrote us these great jazz-fusion numbers that only a true diva like Lena Horne or Bette Midler could pull off, which is why, when people are wandering around Diagon Alley and then happen upon Celestina performing with her Banshees, they're completely blown away. This show just knocks their socks off."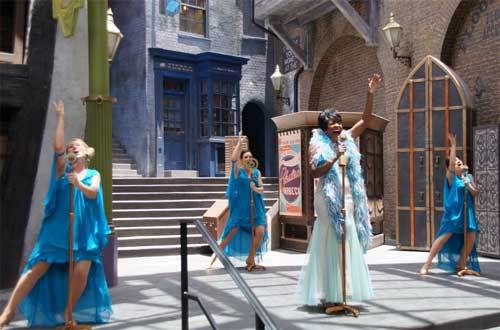 Of course, if you're looking to wow an audience with a seemingly impromptu live show, you first need a proper stage for your performers to appear on, which is why, as Universal Creative was initially designing Diagon Alley, they deliberately created a corner in Carkitt Market where Celestina and her Banshees could make a dramatic entrance by coming down this long staircase.
"That space really serves this Wizarding Wireless Network broadcast well, which is kind of ironic, given that Celestina and her Banshees wasn't actually the first live show that Universal Entertainment wrote for Diagon Alley," Aiello said. "We had this concept that we'd originally pitched for Hogsmeade, one where we wanted to establish this troupe of tale tellers who would wander about the Wizarding World and tell Universal Orlando visitors about the Boy Who Lived. But since there were no characters like this in either the Potter books or movies, it just didn't seem authentic to go ahead with this particular entertainment idea, which is why this creative concept kind of fell off the table for Hogsmeade."
Ah, but all that changed in 2007 with the publication of The Tales of Beedle the Bard, for in the foreword of this collection of fairy tales from the wizarding world, Rowling revealed that there was a Wizarding Academy of Dramatic Arts.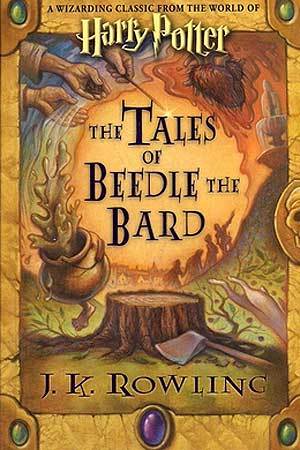 "And once we came across that reference in Beedle the Bard, we were like, 'Aha! Let's latch onto that. Let's figure out how we can expand upon this idea and then somehow make it work for Diagon Alley,'" Michael continued. "And in the end, what we decided to do was invent this traveling troupe of players who had trained at the Wizarding Academy of Dramatic Arts who now do street theater. And to then connect this new piece of Diagon Alley entertainment with the book that had inspired it, we decided to have these traveling players perform selected stories from The Tales of Beedle the Bard, which is kind of the wizarding world's version of Grimm's fairy tales or Aesop's fables."
What made this particular entertainment concept somewhat hard to pull off was that most Universal Orlando visitors only knew The Tales of Beedle the Bard from the film Harry Potter and the Deathly Hallows (Part 1), which had featured a stylized animated version of one of this book's stories, "The Tale of the Three Brothers."
"And since -- whenever possible -- we want to create some sort of visual continuity between the Harry Potter films and our theme-park version of the wizarding world, we decided to have those visiting members of the Wizarding Academy of Dramatic Arts present a troubadour version of 'The Tale of the Three Brothers' using puppets that looked just like the animated characters had in Deathly Hallows (Part 1)," Aiello explained. "Thankfully, Michael Currey Design was up to the specific design challenges of this project. They created these terrific-looking, lightweight, hand-sculpted puppets that the performers could just pull out of a trunk and then manipulate right there in front of the audience."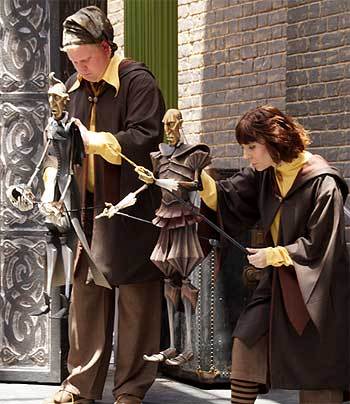 And to insure that this group of traveling players would have a selection of tales to tell whenever they next appeared in Diagon Alley, Universal Entertainment decided to turn another story from The Tales of Beedle the Bard into a piece of street theater. And this performance piece, "The Fountain of Fair Fortune," also features some beautifully detailed, Michael Curry-designed puppets.
"This is what we've tried to do with the entire Wizarding World project: find these kernels of content that J.K. has written that we can then expand in full-sized pieces of entertainment that are just as rich and vivid as the fiction she created," Aiello concluded. "That, in a nutshell, is what I think the Universal difference is, that when we work with other people's intellectual property, we're just as passionate, enthusiastic and dedicated to these characters and their stories as the original creators are. Universal Orlando always strives to put these IPs we've been entrusted with in the best possible light."
And speaking of dedication: Tomorrow, the most dedicated Wizarding World fans in the world will be descending on Universal Orlando for the second annual Celebration of Harry Potter. Hosted by Universal Orlando Resort and Warner Bros., this three-day-long event will feature Q-and-A sessions with Robbie Coltrane (Rubeus Hagrid), Michael Gambon (Albus Dumbledore) and other stars of the Harry Potter films, not to mention a live dueling demonstration led by the world's only "wand combat" choreographer, Paul Harris, plus the Celebration of Harry Potter Expo, which features interactive exhibits from Warner Bros., Pottermore, Harry Potter: The Exhibition and Warner Bros. Studio Tour London, where Universal Orlando guests will then have the opportunity to try on the Sorting Hat.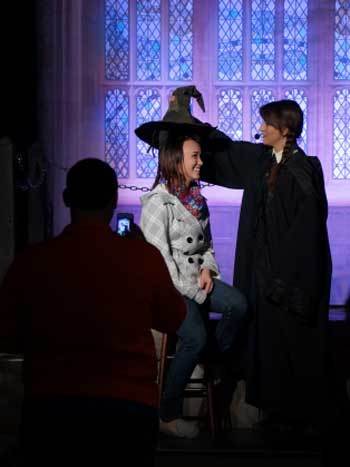 But given that this will be the first time that many Harry Potter fans will have the chance to experience the Wizarding World of Harry Potter: Diagon Alley (which officially opened to the public back on July 8, 2014), just be aware that there will probably be record crowds in Carkitt Market all weekend long as these J.K. Rowling fans check out the live stage shows that Universal Entertainment built around Celestina Warbeck and her Banshees and the Wizarding Academy of Dramatic Arts.
Calling all HuffPost superfans!
Sign up for membership to become a founding member and help shape HuffPost's next chapter