It seems kind of counter-intuitive to use a plane to promote a train.
But then again, James & Oliver weren't talking up just any locomotive. This was the Hogwarts Express experience that the Phelps brothers were helping to hype. An authentic recreation of the train that Harry Potter & his friends used whenever they traveled from London to the Hogwarts School of Witchcraft and Wizardry.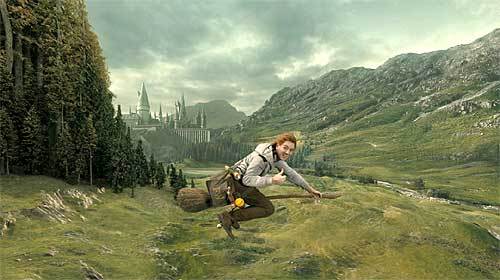 Starting later this summer, visitors to the Universal Orlando Resort will be able to do just what that boy wizard did in all of those books & movies. They'll first enter a replica of King's Cross Station. Where -- after passing through what appears to be a solid brick wall -- these folks will then find themselves standing on Platform 9 3/4. Where they'll then watch as the Hogwarts Express rolls into the station with steam billowing & its familiar whistle blowing.
At that point, it's time to walk past all of the loaded-down luggage carts & trolleys piled high with cages full of magical creatures and then board the train itself. Guests in groups of eight will enter one of the train's cabins.
From there, after the Hogwarts Express actually pulls out of the station, Universal Orlando visitors will be able to look out their cabin window and see the British countryside rolling by. Though -- if they're watching closely -- these people will also be able to catch glimpses of some very familiar things from the Harry Potter world. Items like Rubeus Hagrid, Hogwarts' gamekeeper zooming by on his flying motorcycle or a swarm of dementors swooping in to menace the train.
Mind you, what's really wild about this soon-to-open transportation system is that -- if you climb aboard the Hogwarts Express at Hogsmeade Station to make the trip back to Platform 9 3/4 & King's Cross Station -- you'll then get an entirely different ride experience. As you look your cabin window, you'll see that Hagrid has come down to the station to see you off. Better yet, as the train rolls around Black Lake and Hogwarts Castle fades in the distance, Buckbeak the hippogriff flies into view. And then -- as you roll through the Scottish countryside -- Fred & George Weasley fly by your cabin window and set off a firework display. And as a special final treat, just before you pull into King's Cross Station, you get to see the Knight Bus magically weaves its way through London traffic.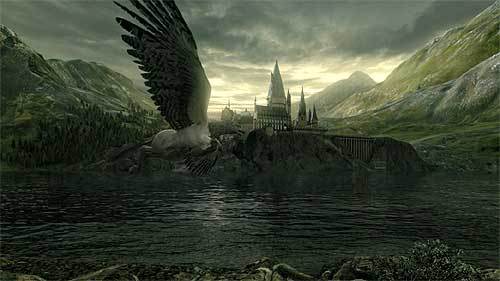 And the best part of the Hogwarts Express experience is that it's not just a transportation system. It actually provides connective narrative tissue between the Wizarding World of Harry Potter - Diagon Alley at Universal Studios Florida and the Wizarding World of Harry Potter - Hogsmeade over at Universal's Islands of Adventure. Thereby creating something that's truly unique in theme park circles: a two park, one story, truly authentic experience that will then immerse Guests in a highly detailed world that celebrates this much-beloved series of books & films.
As you might expect, getting all of the details right on the Hogwarts Express experience took some doing. Members of Universal Creative (i.e. the arm of NBCUniversal which actually designs all of the rides, shows and attractions for the Universal theme parks) spent months over in the UK riding around on that country's rail system in their effort to replicate Harry's journey.
They even went so far as to chase down the company that distributed the fabric which was used to make seat cushions for trains similar to the Hogwarts Express. All with the thought that -- when Universal Orlando visitors climb into that train cabin -- everything around them, right down to the bolts in the walls, tells these people that they're now in the world of Harry Potter.
Which -- I know -- makes it sound like Universal Creative is going completely going over-the-top when it comes to attention to detail. But to hear Mark Woodbury -- the president of Universal Creative -- talk, this is just the sort of thing that Harry Potter fans have now come to expect from the Universal Orlando Resort.
"When we opened the original Wizarding World back in 2010, the Harry Potter fans really came out in force. But we also created a whole new bunch of fans for the Universal Orlando Resort in the process because we executed Hogsmeade Village & Hogwarts Castle at such a high level," Woodbury explained. "And with what we've been about to do with our Hogwarts Express experience -- not to mention Diagon Alley & the Gringotts ride & Nocturn Alley -- I think that we're well on our way to doing that again."
Just so you now though: All Universal Orlando visitors who are looking to board the Hogwarts Express and then travel between Diagon Alley & Hogsmeade Village (or visa versa) will need a park-to-park ticket. Which would then allow these people to visit both of Universal's Central Florida theme parks.
Also, it's important to note here that Universal Orlando guests will not be able to stay on the Hogwarts Express once it rolls into Hogsmeade Station or King Cross Station. If they wish to experience what the other half of this journey is like with its live special effects & lifelike animation, these Central Florida visitors will just have to get off the train, exit the station and then get back in line. The Hogwarts Express experience will not feature a round-trip option.
It's also worth noting that Universal Orlando guests who are exploring The Wizarding World of Harry Potter - Diagon Alley and then wish to take the train over to Hogsmeade Village & Hogwarts Castle are going to first have to exit Diagon Alley and then walk past USF's London facade area before entering King's Cross Station. Likewise Central Florida visitors who are traveling from IOA's Hogsmeade Station to Platform 9 3/4 will not be able to walk straight off the train into Diagon Alley. They must first exit King's Cross Station, walk past the London facade area before entering the Leaky Cauldron.
"And why is that?," you ask. Because "Harry Potter" author J.K. Rowling insisted that Universal Orlando guests had to have the exact same experience that Harry did when he first visited Diagon Alley. And that involves having the back brick wall of this centuries-old pub magically fold in on itself to then reveal this secret wizard shopping district hidden away from Muggle eyes right in the heart of London.
"J.K. Rowling has been a great partner since we did the original Potter -- Hogsmeade & Hogwarts," Woodbury continued. "So when we went to her with this idea that we could not only build Diagon Alley and bring that experience to life with the same level of detail & authenticity which she now had great confidence in our ability to do, but that we would connect the two with the Hogwarts Express and do it in this very innovative, immersive way, I think that she was thrilled with that. More to the point, Jo was always there for us when it came time to evolve this concept and refine it along the way."
So when should you plan on hopping a plane to Orlando so that you can then experience the Hogwarts Express? Universal Orlando officials aren't willing to go on the record just yet as when the Wizarding World of Harry Potter - Diagon Alley will officially be opening. While they hope to make a formal announcement of a specific opening date sometime over the next few weeks, as of right now, all Universal Orlando will say right now is that look for the magic to begin this summer.
Popular in the Community