For almost 40 years now, there have been King Kong-themed attractions at the Universal theme parks. Whether it was the King Kong Encounter which was added to Universal Studios Hollywood's tram tour back in 1986...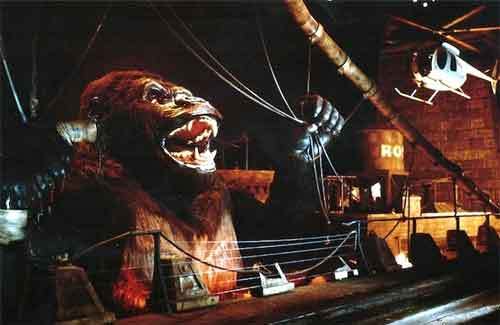 ...or the King Kongfrontation ride, which was one of the opening day attractions at the Universal Studios Florida.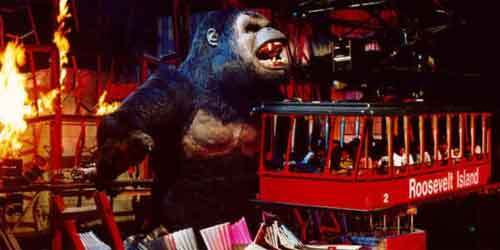 ... Kong has always been a big part of the thrills found at the Universal theme parks.
But up until now, it's all been about what happens when King Kong comes into our world. What sort of havoc this big ape can create when he's set loose in the human world.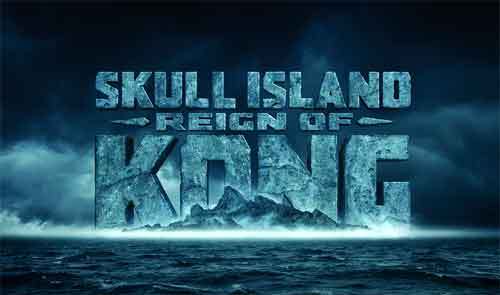 Well, come the summer of 2016, Universal Orlando is looking to invert this formula with their brand-new "Skull Island: Reign of Kong" attraction. This time around, it's us humans who will be set loose in Kong's world. And our basic challenge then is to just survive.
"With this attraction, we'll be taking guests into the physical environment of Skull Island, which isn't just full-scale, it's larger-than-life scale," explained Mike West, Executive Producer at Universal Creative, during a recent phone interview.
Take -- for example -- our Great Wall. It's 72 feet high in the front with these massive gates that open. And your expedition vehicle approaches, these cauldrons, these flames flare up. Then this giant set of doors open and your vehicle enters this highly themed series of caverns and chasms. Where you first encounter some creatures that you can't even imagine and then ultimately find yourself face-to-face with the big guy himself.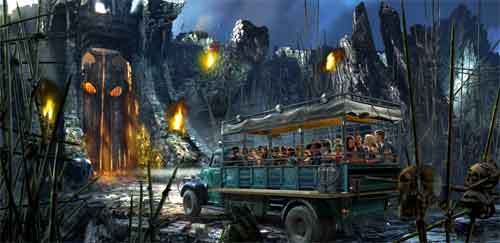 West has spent the past year and a half working on this project which will then transform a previously undeveloped corner of Universal's Islands of Adventure into the rough terrain that moviegoers first encountered with Peter Jackson's 2005 version of King Kong.
"Your adventure actually begins as you enter the queue for 'Skull Island: Reign of Kong.' I mean, people who are familiar with the Universal theme parks will acknowledge that we're pretty well known now for creating these wonderful immersive worlds. But the queue for 'Skull Island' is going to be just amazing," West enthused.
In order to get to your expedition vehicle, you're first going to have to make your way through this dense jungle. And as you get further in, you'll have to maneuver through these temple ruins. You'll also encounter some hostile natives along the way. Not to mention stumbling upon some cryptic messages that hint at some of the dangers you'll encounter on this ride.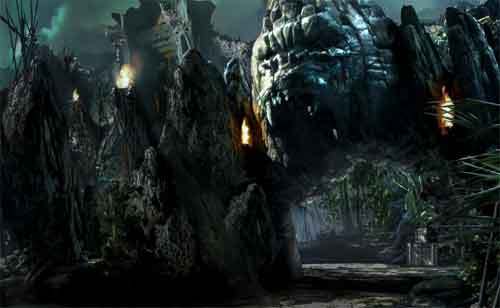 As for your expedition vehicle, Mike promises that it will fit right in with the epic scale of this new Islands of Adventure attraction.
"It's a really big ride vehicle. One of the largest we've ever created. But it has to be, because the scale of this entire attraction is enormous," West said. "Not to mention that this ride vehicle has to be big enough to handle the rough terrain of Skull Island as well as protect our guests from some of the creatures that they'll encounter there."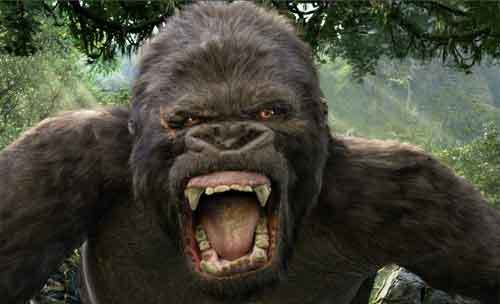 Of course, film fans and theme park enthusiasts are sure to have questions about this new Universal Orlando attraction. Is "Skull Island: Reign of Kong" specifically set in the world of Peter Jackson's King Kong or will this ride key off of the characters and events to be seen in Skull Island, the soon-to-begin-shooting-in-Kauai prequel to that 2005 Universal Pictures release? According to Mike, it's neither.
'Skull Island: Reign of Kong' is really a new story unto itself. We've worked closely with Peter on this attraction to help develop some of the storytelling and the looks of certain things. But it's not really based on any specific film. It's really a whole new generation of storytelling for our guests.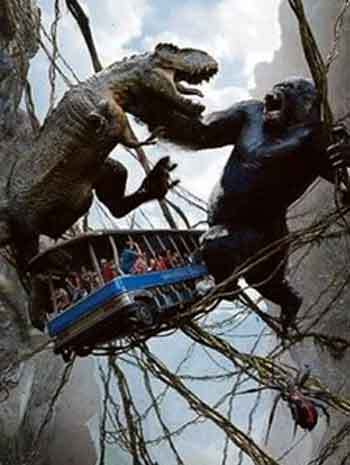 Mind you, this isn't the first time that Universal Creative has used Jackson's take on King Kong as the jumping-off for an attraction. "King Kong 360 3-D" -- which was added to the Universal Studios Hollywood tram tour back in July of 2010 -- has been wowing Southern California tourists for quite a while now by briefly inserting them in a battle between Kong and three V-rexes. But Mike promises that "Skull Island: Reign of Kong" will be an entirely different experience.
"Don't get me wrong. Our ride will also feature incredible 3D imagery, which -- of course -- Universal is really well known for these days. But 'Skull Island: Reign of Kong' is really going to be more multi-experiential than it is multi-dimensional because of the many different ways we're going to immerse our guests into the world of Kong," West stated.
That -- in the end -- is what most excites me about working on the 'Skull Island: Reign of Kong' project. King Kong has been such an iconic part of Universal. We've had him involved in movies and other theme park attractions for nearly 40 years now. And to now be able to use immersive storytelling techniques and state-of-the-art technology as a way to bring this character to life and give our guests a whole new way to get involved with Kong has been just a thrill. When 'Skull Island: Reign of Kong' opens at Universal's Islands of Adventure in the Summer of 2016, it'll be something that our guests have never ever seen before. It's a whole new adventure. The next generation of Kong, if you will.
REAL LIFE. REAL NEWS. REAL VOICES.
Help us tell more of the stories that matter from voices that too often remain unheard.