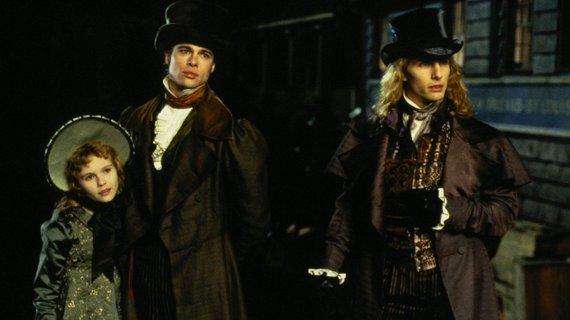 Vampires are my life and Anne Rice is, in my opinion, the undisputed Vampire Queen of the late 20th and early 21st century. A few minutes ago I saw a post by my right hand, Victor Magnus, on the Vampire World Facebook Group regarding the release of the finished edition of the new script for the remake of Interview with the Vampire.
Josh Boone, who wrote Stuck in Love and directed the film The Fault in Our Stars, has finished the script and posted its cover to his Instagram a few days ago. In summer of 2014 Universal pictures acquired the rights to Anne Rice's works and now it looks like they are merging two completely different books, Interview with the Vampire and The Vampire Lestat, into one film.
Honestly, I am disappointed. When I found out about this and heard Anne Rice's son, Chris Rice was writing the screen play for Tale of the Body Thief. It looked like a good place to start in that they should have done Vampire Chronicles I: Interview, Vampire Chronicles II: Lestat and Vampire Chronicles III: Queen as a trilogy. Following in the franchise style model of the Twilight series, Harry Potter and the Hunger Games. This potentially would revive the fanbase and make a glorious return of the vampire genre after the Twilight and True Blood years (which I call Vampire Generation T) to a new generation. However, only an hour after I read this news, I am loosing hope. However until we find out more on casting I will hold my breath.
In my opinion this approach to a remake is a mistake. Can they honestly not see how Anne has a truly devoted fan base and that her works appeal to many generations of vampire fans? They should have watched the trends and made this a multi-film franchise. Vampires are a multi-billion dollar industry and like Disney galvanizing the fans of Star Wars and Marvel by listening to them and having them fall in love again with their newly acquired franchise, so should Universal.
Since the Twilight and True Blood era we have been waiting for Anne's characters to bring us back home into the eternal night; to rebirth the genre again. The Vampire genre goes in waves, in cycles and it is like its mythical subjects: immortal. I hope someday we get a mini-series of the Vampire Chronicles like HBO's Game of Thrones or Penny Dreadful. This will allow our Vampire Queen to experience, with her fans, the legacy of her work during her lifetime in a way which will give time and depth to our beloved characters.
Hell, I moved to Paris for Lestat and tonight I will walk in the footsteps of my most beloved rockstar vampire.
Universal please put the people in charge who love the genre. Disney knew this and Star Wars and Marvel are now the highest grossing films of all time. Give us a shot; perhaps give our Queen a shot and you will see a return in your lifetime, not just in financial rewards but in a long lasting and loyal fan base.
I hope I am wrong and this movie turns out to be a success for Anne Rice devotees and the next generation of vampire fans alike. We were wrong about Tom Cruise as Lestat, he did a great job. Thank the vampire gods it is just a script for now.
Follow me on Instagram and on my Facebook for more about the Vampire World. I would love to hear what you think!
Calling all HuffPost superfans!
Sign up for membership to become a founding member and help shape HuffPost's next chapter