They can climb aboard the Terror Tram (which is presented by horror auteur Eli Roth & his digital network Crypt TV) and have a far-too-close encounter with "Hollywood Harry," the serial killer clown. Or – if these USH visitors prefer -- they can explore the more public portions of this theme park, which is where iconic scenes from Universal Pictures' The Purge trilogy will be recreated.
There'll also be seven brand-new mazes celebrating some of the most frightening films & television shows of all time. And then there's The Walking Dead Attraction. Which differs from everything else at Halloween Horror Nights 2016 in that this recent addition to Universal Studios Hollywood (it officially opened back on July 4th) is a permanent installation.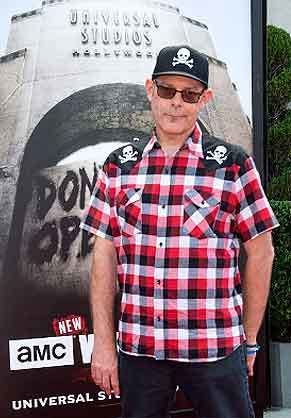 So what makes this immersive celebration of that hit AMC series different from all of the other Walking Dead-themed mazes that USH has presented at HHN since 2012? I'll let John Murdy (i.e., the Creative Director of Entertainment at Universal Studios Hollywood) explain.
"Everything inside of our Walking Dead Attraction is at a much higher level of quality & sophistication," Murdy stated during a recent phone interview. "Not to take anything away from Halloween Horror Nights, but that's a temporary event. And when you're staging mazes inside of tents … Well, that then limits the level of special effects you can present in a particular maze."
Whereas with USH's Walking Dead Attraction … Because of the permanent nature of this installation, John and his Entertainment team were able to really pile on the effects. Given fans of this AMC series the sense that they are actually entering the world of the Walkers.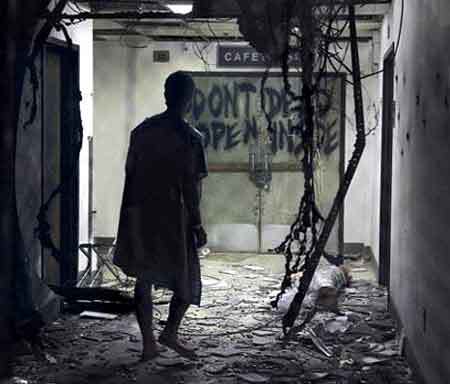 "Take – for example -- the 'Dead Inside' doors. This is one of the more iconic elements from 'The Walking Dead.' It's from the pilot. Rick Grimes wakes up in the hospital and discovers this door that's been barricaded with a chain and a 2 by 4. There's also this message that's been painted on the door which reads 'Don't open. Dead inside,' " Murdy explained. "And as Rick is standing there, that door begins rattling, shaking back & forth. When he then sees walker hands coming through the crack in that door … Well, that's the first time that Rick realizes that the world has changed and the dead have somehow come back to life."
"We included this scene in the very first Walking Dead maze that we did back for Halloween Horror Nights back in 2012," John continued. "But the way that we did it back then was incredibly low tech. There was this lone performer on the other side of that door. And he had a video monitor which was connected to this camera that then allows that performer to watch Guests as they approached this part of the maze. And as soon as he saw people in front of the 'Don't Open. Dead Inside' doors, that performer would then trigger a sound effect and manually shake that door."
"And that worked fine for a temporary attraction. But when it came time to recreate that moment from the pilot inside of our permanent Walking Dead Attraction, we decided to go with this piece of extremely sophisticated show action equipment that has 12 individually animated walker hands and a door that moves & rattles & shakes & bangs all on its own," Murdy said. "Because it had a ton of functions, this piece of show action equipment took forever to program. I personally spent almost an entire week working on that thing. But the end result is a custom built effect that's head & shoulders above anything that we've ever done before for Halloween Horror Nights."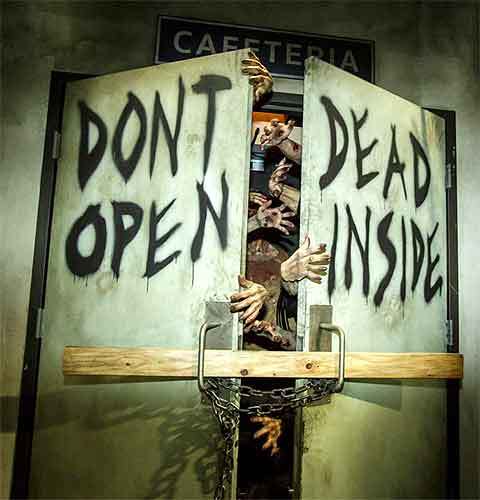 Universal Studios Hollywood applied this same level of attention-to-detail to the exterior of its new Walking Dead Attraction. Which – given that John's team had to find a way to make this post-apocalyptic structure fit in with the "Hollywood-of-your-imagination" look of USH's Upper Lot – was a huge design challenge.
"Over the past five years, our Upper Lot has undergone this epic transformation. We've just finished expanding Universal Boulevard -- which is our Main Street from the time you enter the park right up until you reach Universal Plaza. And then all of the facades facing into Universal Plaza from that corner down to Baker Street are new too," John pointed out. "And since our Walking Dead show building was right in the middle of all that … Well, it was really challenging to make all of that tell one coherent visual story. Have contemporary Atlanta fit in seamlessly with all that Georgian architecture."
"But what really helped us here was that – when Rick leaves Harrison Memorial Hospital in the 'Walking Dead' pilot – he exits through the back of that building," Murdy continued. "And since you never see the front of the hospital, we were then free to do whatever we wanted with that part of this structure. And since – in America – it's a fairly common practice for hospitals to add modern wings onto buildings that were built back in the 1800s and then turn the original part of the hospital into an administration building … That's what we decided had happened with Harrison Memorial. Which then made it far easier for this hospital's administration building to blend in with the rest of the architecture in this part of Universal's Upper Lot."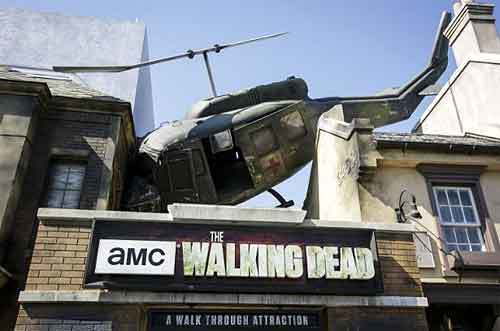 Even so, because this massive show building housed USH's new permanent The Walking Dead Attraction, its exterior still had to hint at the post-apocalyptic experience that could be found inside. Which is why – if Guests look closely – they'll notice that the exterior of Harrison Memorial Hospital is charred. Which is probably because a military helicopter has smashed into the side of this building.
"Given that -- when Rick gets to Atlanta in the very first episode of this AMC series, he looks up and sees a helicopter flying in-between the buildings – we thought that this might be a fun nod to the show," John enthused. "So we had this full-sized military helicopter custom-built out of fiberglass. And then we positioned it in such a way that everyone who enters this attraction first has to walk underneath where this helicopter has crashed into the side of the building and left all of these scorch marks. Which is what – I think, anyway – gives the exterior of this show building a true 'Walking Dead' flavor."
"That's the real differentiator between what we've done previously for our 'Walking Dead' mazes at Halloween Horror Nights and our Walking Dead permanent attraction. Because this show building is built out of steel and not some sort of temporary attraction that's housed in a tent, we can then do things like have animatronic walkers," Murdy said. "Better than that, we can use special effects technology that then puts 'Walking Dead' fans right in the middle of some of the more memorable moments from the show."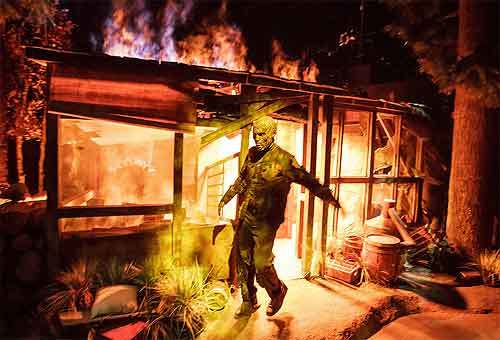 "Take – for example – this scene we have in the attraction where you come upon this cabin in the woods that's on fire. And the technology that we use in this part of The Walking Dead permanent attraction – it's called faux fire – is visually amazing. But you need steam & you need boilers to pull off a complicated effect like faux fire off … Well, it's nothing that we could have done in a temporary attraction."
If you're headed to Halloween Horror Nights at Universal Studios Hollywood this year, be sure and check out this new permanent installation. Just don't make the mistake of calling The Walking Dead Attraction a maze.
Popular in the Community