People who have previously visited Central Florida already know that it can sometimes get a trifle warm in this section of the Sunshine State.
Well, come May 25th, Orlando's about to get a whole lot hotter. That's when Volcano Bay – Universal Orlando's water theme park – officially opens for business. More to the point, that's when Vol – the trickster fire spirit – begins interacting with visitors to Krakatua. Which is the 200 foot-tall water and fire volcano that stands at the very center of this 30-acre immersive environment.
"And who exactly is Vol?," you ask. Well, according to Dale Mason (i.e., vice president and executive art director for Universal Creative, that division of NBCUniversal which rides herd on Universal Parks & Resorts), he's a key component of the backstory that then drove & informed the distinctive look of Universal Orlando's third theme park.
"According to a creation myth that the Waturi people have – they're the adventurous souls who journeyed across the entire South Pacific before they then finally found a home at the foot of this water & fire volcano – there was once this fiery god called Krakatau," Mason explained during a recent phone call. "He existed long before the world was even formed. And Krakatua had this beautiful, intelligent, headstrong daughter called Tai Nui who was the apple of his eyes."
Anyway, one day while Tai Nui was out walking, she came across Kala, a young native youth. And these two quickly fell in love. But Tai Nui was afraid to tell her father about their relationship, out of fear what Krakatua might do to Kala.
"And Tai Nui was right to be frightened. For once Krakatua learned about her love for Kala, this fire god became so angry that he hurled this native youth into the sky. Where Kala was then transformed into the moon," Dale continued. "And Tai Nui was so upset by the loss of her love that her tears then became the sea."
So picture this: Krakatau is sitting on the beach, very satisfied with what he has just done. But then – as the waves (i.e., the tears of his daughter) begin to lap at this fiery god's feet – he begins to have pangs of remorse.
"Seeing the error of his ways, Krakatua reaches deep into the ground, grabbing the earth and then pulling it into the sky. By doing so, this fiery god not only reconnects the two lovers but he also connects sea and sky. Not to mention creating the water and fire volcano that now towers over Volcano Bay," Mason said. r
"And where does the trickster fire spirit Vol enter into this tale?," you query. Well, you have to understand that Krakatua still felt much remorse for destroying his daughter's happiness. Which is why – to prevent something like this from ever happening again – this fiery god then decided to take all of the anger, jealousy & frustration that he felt and pull it out of his body.
"And Krakatua used all of that to form Vol, a fire spirit. Who he then imprisoned inside of this water and fire volcano," Dale stated.
Now it's one thing to hear a creation myth like that. To understand the elaborate backstory that powers the design & development of a highly detailed water theme park like Volcano Bay. But the folks at Universal Creative wanted to take things even further. They wanted to give visitors to Universal Orlando's third park the chance to actually meet & interact with this myth.
"Which is why – as you explore that series of caves that cut through Krakatau – you'll eventually come face-to-face with this trickster fire spirit. Here, you can actually have a conversation with Vol. Play games with him," Mason enthused.
And how exactly is this supposed to work? Understandably, given that Volcano Bay's grand opening is still more than two months away, Dale didn't want to give away too much about the elaborate interior chamber where this fire spirit has been imprisoned.
"All I can say is that he'll have control over a great many things. But you always need to keep in mind that this guy is a trickster. So be careful when it comes to what questions you ask of Vol. For you may not always like his answers," Mason said.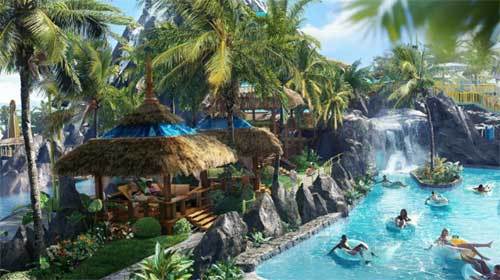 Mind you, getting the chance to interact with Vol isn't the only aspect of Universal's Volcano Bay that harkens back to / touches on Krakatua's creation myth. Take – for example – the Kala & Tai Nui Serpentine Body Slides.
"These are two trap door drop slides that face one another. They're positioned high up on the side of Krakatua where the sea meets the sky. And given that the trap doors on this attraction open simultaneously, guests can then experience what Kala & Tai Nui felt. That fear when her father tore them apart," Dale said.
Of course, if you're looking to recreate a more peaceful portion this creation myth, you may want to seek out the Kopiko Wai Winding River. Which – as it slowly winds its way through Volcano Bay's lush landscape – this "Lazy River" -like attraction eventually takes Universal Orlando visitors through Stargazer's Cavern.
"For this portion of the Kopiko Wai Winding River, we took our inspiration from the glow worm caves of New Zealand. Which are these spectacular places that you can float through while visiting that country," Mason explained. "So as Volcano Bay visitors enter Stargazer's Cavern, we're basically showing them how the story of Krakatau ended after that fiery god connected sky and sea. Now that these two places have been linked, Kala & Tai Nui are finally reunited. So they now spend their nights together on the moon. And then – when morning comes – Kala & Tai Nui fall back into the ocean. So in Stargazer's Cavern, what with all those glow worms above being reflected in the water below, it's like you're now floating through the nighttime sky surrounded by starlight."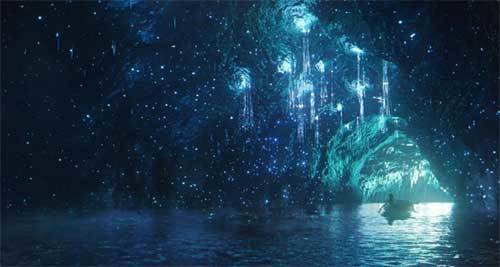 And just so you know: New Zealand isn't the only part of Polynesian that heavily influenced the look & design of Universal's Volcano Bay.
"As you wander through the three villages that make up our third theme park – the Wave Village, the River Village and the Rainforest Village – you're going to see samples & tributes to many of the cultures that the Waturi people supposedly encountered as they were traveling across the South Pacific searching for their new home," Dale enthused. "Which is why many of the buildings in Volcano Bay are these sort of lantern-like structures that are made up of Thai stilt houses on the bottom but the thatch details are all from Bali. And the roofs are from Japan or from Thailand."
"It's this collision of cultures that allowed us to create a fantasy environment. When you get right down to it, what we were really trying to do with Volcano Bay was create an immersive resort experience. This place is far more than just slides. That's why we did things like give our guests the chance to interact with Vol. Engage this imprisoned fire spirit in conversation, have this trickster tell you stories?," Mason concluded. "But the only way that you can encounter Vol is if you explore this environment, wander through those villages. If people do that, I think they're really going to be surprised by the spectacular amount of detail that we've designed into this place."
Related
Popular in the Community