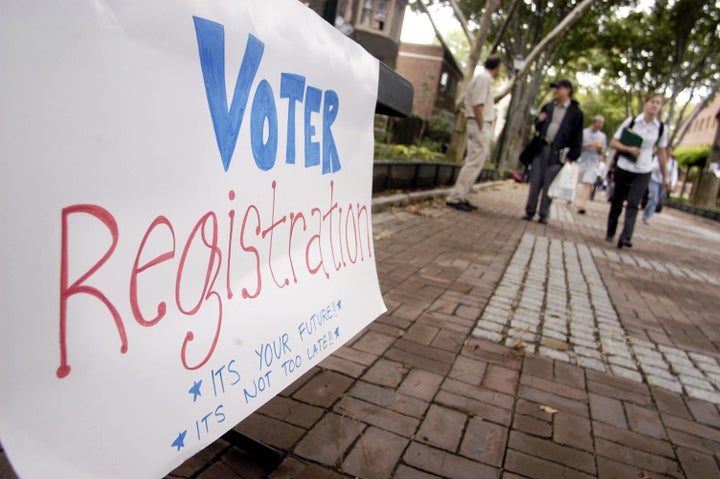 Young adults under the age of 30 will make up at least 24% of the voting age population in 2012. However, their vote is underrepresented compared to older voters. In 2010, just 22.8% of eligible under-30's voted, compared to an estimated 40.8% of all voters. The reason young people vote at a lower rate than older voters is not that they are more disinterested in the election or in politics, but because of impediments to registration, such as registration deadlines and not knowing where or how to register, at higher rates than older voters.
That is why the University Of Colorado Board Of Regents should be applauded for passing a measure, sponsored by CU Regent Joe Neguse, D-Boulder, requesting that all University of Colorado campus administrators, by the fall of 2012, allow students to register to vote in Colorado through their online student portal. It also directs administrators to work with local election officials to explore hosting polling places on university campuses. And, according to students, it will make it more convenient for them to get to the polls.
The commitment to engaging young adults is an important role for college and university administrators and one the CU Regents recognize by passing this proposal.
The Fair Elections Legal Network (FELN) recognizes that under-voting among youth has been a chronic problem, even in 2008 when young voters turned out at a higher rate than previous elections. FELN, through its new Campus Vote Project, is working with campus administrators, election officials, and national and local organizations to do exactly what the University of Colorado system is attempting to do - institutionalize practices to further educate, register and mobilize students to participate in elections.
This past week, FELN senior attorney Ben Hovland led a webinar for college registrars on how they can play a major role in helping students get registered and making their campuses student voter friendly.
This past year, FELN released a summary of barriers that students and young people face to register and vote as well as solutions that include activating colleges and universities as voter registration centers - which CU campuses will now be implementing many of these practices. There are many more examples of colleges and universities taking steps to educate and register students to vote.
These efforts are even more important in light of laws passed this year that will make it harder for students to vote - including voter ID laws that do not allow for student IDs to serve as photo ID at the polls and attempts to disenfranchise voters through legislation or intimidation. Many of these laws exclude student IDs from the list of acceptable forms of photo ID which young voters are less likely to have. Next year, a new law in Wisconsin will take effect requiring photo ID in order to vote. College administrators at Wisconsin schools can play a big role in helping students overcome this obstacle well in advance of the law taking effect and many are.
After last week's decision by the Wisconsin Government Accountability Board to reverse an earlier decision to not allow technical college student IDs to be an acceptable form of ID, Mid-State Technical College announced they would change their student ID cards to comply with the voter ID law. The Board also decided to stick with their original decision to allow schools who have already issued their students IDs to issue stickers for those IDs with the information needed to comply with the law. Many Wisconsin colleges and universities plan to change their student IDs or provide stickers that will make their IDs comply with the new law.
These bits of good news coming out of Colorado and Wisconsin illustrate how schools can make voting more accessible to their students. With interest in voting rising as we enter a presidential election year, FELN will work with students, college administrators and election officials to bring these types of practices to colleges and universities to help students reach the ballot box.

Calling all HuffPost superfans!
Sign up for membership to become a founding member and help shape HuffPost's next chapter