Earlier this year, University of California President Janet Napolitano invited deans and department heads to a seminar on inclusivity on campus. A large theme was how the university could better address microaggressions, the subtle comments, "slights" or "snubs" that signal bias against someone's race, background or identity.
UC officials declined to make anyone available for an interview, but insisted no one in the university system is "prohibited from making statements such as 'America is a melting pot,' 'America is the land of opportunity,' or any other such statement," phrases listed among the microaggression examples.
Yet for all the criticism, the University of California didn't come up with the list -- a Columbia University researcher named Derald W. Sue did in 2007, along with several colleagues. And versions of it have been used in college diversity trainings nationwide for at least the past few years.
"I'm not sure they are advocating for banning speech," Sue told The Huffington Post on Tuesday about the institutions that have adopted the table. "I think it's much more educational. In other words, what are microaggressions? How do they harm individuals of color or marginalized groups? And what can we do to avoid creating misunderstandings?"
The University of Missouri used an almost identical list at a 2012 summit on diversity, part of a biannual effort by the school to improve the campus climate. A version was handed out at a professional development program at Texas A&M University by a guest speaker. A PowerPoint presentation during a student affairs symposium in 2012 at the University of Arizona laid out several examples of microaggressions as well, some from Sue and John Jay College researcher Kevin Nadal, and a few from students on their own campus. The University of Richmond and Virginia Commonwealth University co-organized a workshop in January 2014 to recognize and diffuse microaggressions in the classroom.

A key component of microaggressions, Sue said, is that they frequently are uttered without any malice on the speaker's part.
"When I'm complimented for speaking good English -- and this happens to me frequently -- the person complimenting me, they are not a mean, evil person," Sue elaborated. "They mean to compliment me but they don't see what message it sends -- that I am a perpetual alien in my own country, I am not a true American. When you try to tell them you feel insulted, they get defensive and they don't understand it. They begin to perceive I am oversensitive. This is the power of microaggressions."
Sue's example appears to be reflected by reactions outside of academia to campus educational efforts.
Shortly after the University of California version made the rounds online, it was discovered that a similar copy was shared at the University of Wisconsin-Stevens Point. Similar criticism ensued from Bloomberg View, but UW-Stevens Point Provost Greg Summers noted to HuffPost it was merely a page ripped out of Sue's 2007 article, and said they've used it in new faculty and staff seminars for a few years.
"Few people have seemed to notice that it's not our material," Summers said, noting there's been academic literature on microaggressions "for at least the past decade, so it's not surprising that other universities are discussing similar lists."
"The term 'microaggression' is really professional jargon that has arisen from research on the subject, and it obviously doesn't translate well to a popular audience," he added.
The reason schools are doing this, according to University of Illinois urban planning professor Stacy Anne Harwood, is because students are demanding it. Students in recent years have engaged in activism around campus climate issues tied to race and treatment of minorities.
Students at the University of Illinois staged the Being Black at Illinois campaign in March 2014, and later met with school officials to explain their grievances on campus. A year later, in May, a group of faculty and students produced a report after surveying 4,800 students of color at the Urbana campus, showing that over half had experienced stereotyping in the classroom. The report went on to detail places minority students felt uncomfortable, examples of microaggressions they faced and recommendations for how the university could improve.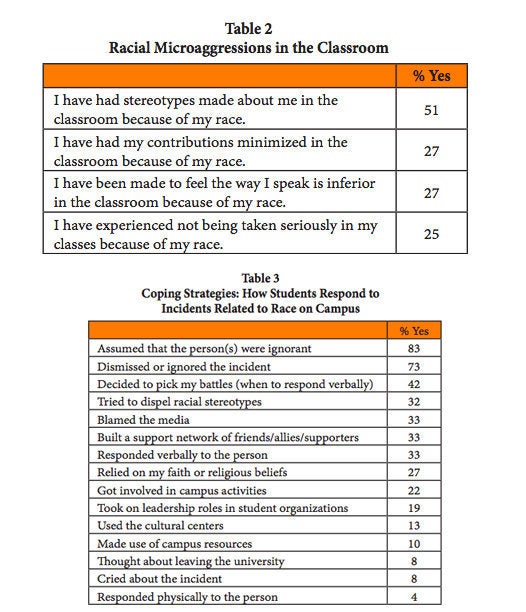 The top recommendation from the report was that the administration should train faculty and staff about microaggressions and provide them with "tools to address racial microaggressions, such as how to facilitate dialogue in the classroom." Beyond that, it recommended creating an education requirement that students take a class about race, white privilege and inequality in the United States.
"The reaction is more like, 'Oh, we have to be [politically correct] and 'thought police,' without thinking about well, if your words are harming people and limiting access and contributing to students dropping out and not succeeding," Harwood said. "There is this disconnect."
Harwood doesn't think new rules banning certain phrases or disciplining people at school for committing microaggressions would be helpful. Instead, she and her colleague Ruby Mendenhall, a sociology professor, hope reports like theirs can get people to simply think more critically about what they say to one another.
"Since the civil rights era, all of us have been socialized in some way to believe we're in this post-racial society, that it's colorblind, that race does not play a role in the U.S.," explained Mendenhall, "and I think that's some of what's behind the backlash. We aren't really taught or feel comfortable talking about about race relations."
Harwood knows people may write off microaggressions as "just a few words," and insist "it's not a big deal.
"Yeah, but have you heard that 20 times this week?" she asks rhetorically. "I'm sure everyone can relate in some way, maybe because of your weight, your religion, your sexuality."
Sue doesn't want to ban microaggressions either -- though favors banning overt racial slurs -- because the people committing them don't realize they're doing it. He'd rather get more people to recognize what they are.
"It's not a political issue," Sue said, "It's an educational issue here."
"If we are to have a society that really allows for equal opportunities," he continued, "we have to begin talking with one another."
Support HuffPost
The Stakes Have Never Been Higher
Related
Popular in the Community