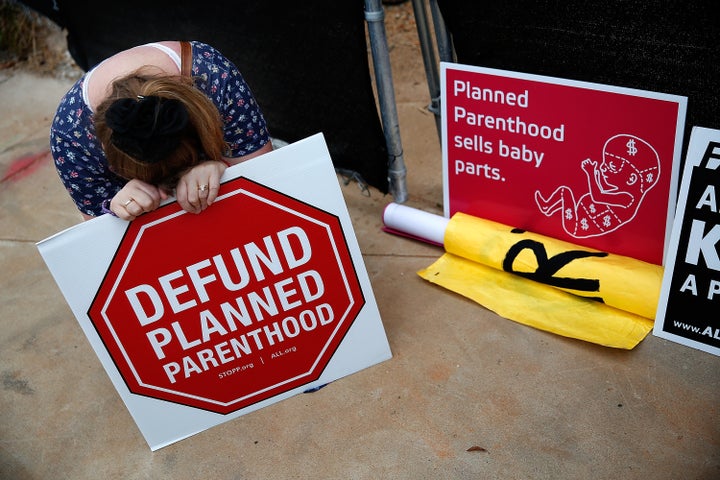 A conservative religious group in Colorado is suing Colorado State University and a local Planned Parenthood, claiming the two are in a "conspiracy" to get around a state law forbidding the use of taxpayer dollars to subsidize abortions. 
The Faith & Freedom Coalition of Colorado filed a lawsuit last week saying that Colorado State University, a public institution, was paying the family planning provider with taxpayer dollars. The suit argues that this violates Colorado's constitution, which prohibits the use of state money to fund abortions. 
CSU said it paid Planned Parenthood of the Rocky Mountains for placenta tissue and the California-based company Advanced Bioscience Resources for fetal tissue to carry out scientific research, but denies that it did anything illegal.
"In accordance with state and federal law, CSU obtained placental tissue from Rocky Mountain Planned Parenthood for research into healthy pregnancies and also properly obtained fetal tissue from other providers for important research into curing disease," university spokesman Mike Hooker said in a statement. "CSU denies any wrongdoing and otherwise declines to comment on pending litigation."
The Colorado lawsuit is the most recent attempt by conservatives this year to limit Planned Parenthood's ability to operate by going after universities. 
Ever since an anti-abortion group released a series of heavily edited undercover videos in July that supposedly showed Planned Parenthood employees selling fetal tissue for profit, lawmakers and conservative activists have taken aim at the family planning organization and its ties to research universities.
In some cases, anti-abortion activists have succeeded -- but not because any independent agency determined Planned Parenthood actually did something wrong. 
After Mizzou decided it wouldn't change its mind about blocking Planned Parenthood's doctor, a judge temporarily blocked the state this week from stripping the Columbia, Missouri, clinic's license while it searches for a doctor who can obtain privileges with a local hospital. Yet without ever passing a law or any court order, the university's decision regarding Planned Parenthood could eventually leave only one location in the state where women can receive legal abortions -- in St. Louis.
Conservative blogs this year also went after Catholic universities over the "shocking" revelation, contained in a 2011 report by The Cardinal Newman Society, that dozens of Catholic colleges had relationships with Planned Parenthood. 
For example, the group Illinois Right To Life attacked DePaul University because its health college listed Planned Parenthood as a place to volunteer. The school then deleted references to Planned Parenthood from its websites.
Oregon Right to Life and Oregon Republicans have suggested that Oregon Health & Science University's research using fetal tissue violates state or federal law. OHSU worked with Advanced Bioscience Resources, the same company that CSU partnered with for its fetal tissue research. The university told lawmakers recently the only money it spent for the research covered administrative costs, supplies and the use of facilities. 
In Colorado, the Faith & Freedom Coalition wants a judge to declare that there's no real division between Planned Parenthood of the Rocky Mountains and the Planned Parenthood of the Rocky Mountains Services Corporation, an entity the lawsuit claims was used by the family planning provider to shield how abortions were funded.
However, the Services Corporation's most recent tax documents were filed in 2007, when the organization reported $0 in expenditures, $0 in salaries, and $0 in income. Previous filings also show the entity had no activity during 2002, 2003, 2004, 2005 or 2006.  
The lawsuit also says that CSU paid Advanced Bioscience Resources more than $96,000 on over 200 invoices for fetal tissue delivery in the past five years. The suit further claims that CSU paid the local Planned Parenthood more than it should have for fetal tissue, which allegedly helped subsidize abortion services. However, PPRM said it hasn't been involved in any exchange of fetal tissue for research. 
Marie Logsden, spokeswoman for Planned Parenthood of the Rocky Mountains, told HuffPost on Wednesday that she expects the lawsuit to fail. 
"PPRM is not presently, and has not previously been, involved in any program of fetal tissue research," Logsden said. "That said, PPRM supports the use of fetal tissue in research that advances medical science. The lawsuit is a frivolous effort to advance a political agenda aimed at restricting women's access to abortion care."
The Faith & Freedom Coalition of Colorado did not respond to multiple requests for comment on Wednesday. 
PHOTO GALLERY
Planned Parenthood Shooting
Calling all HuffPost superfans!
Sign up for membership to become a founding member and help shape HuffPost's next chapter