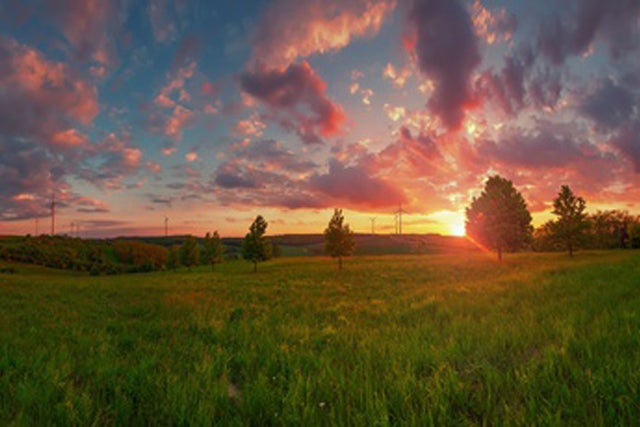 In tweets heard 'round the world, President Trump has sought to upend traditional thinking about complex, urgent issues of our time. Undaunted by conventional assumptions — and convincing and alarming scientific evidence — about climate change, the president has decided to "cancel" the Paris Climate Accord of which the United States was an early and influential sponsor.
The outcry from American allies and even some foes — North Korea opportunistically weighed in on Trump's "shortsighted and silly" decision to withdraw the United States from the agreement — was swift, concerned and angry. Yet climate-skeptical political emissions from Washington may prove ultimately beneficial in controlling the greenhouse version.
In late 2015, more than 190 nations answered the voluntary call outlined in the Paris Climate Accord to accept responsibility for reducing emissions of carbon dioxide and other gases that contribute to global warming. The signatories were challenged to set targets for reducing the emissions while implementing other strategies for clean, renewable energy and conservation.
Financial incentives, offered by developed nations, were designed to spur action. Overall, the Paris Climate Accord represented a rare and happily realized opportunity for nearly all nations to agree on the hazards of global warming and the need for realistic courses of action to ameliorate its effects.
In higher education, concerns about climate change and Trump's decision united at least 180 college and university presidents, along with leaders in public service and business, by June 5 to sign a pledge that "We Are Still In" to the commitment to reduce the carbon footprint. The latest pledge reaffirms an earlier commitment by campuses "to exercise leadership in their communities and throughout society by providing the knowledge, research, practice, and informed graduates to create a positive and sustainable future."
The Presidents' Climate Leadership Commitments state that "along with other aspects of sustainability, campuses that address the climate challenge by reducing greenhouse gas emissions and by integrating resilience into their curriculum, research, and campus operations will better serve their students and meet their social mandate to help create a vital, ethical, and prosperous civil society."
Today the Presidents' Climate Commitment has demonstrated real progress in achieving clean technology, energy conservation and campus activism.
As the Trump administration has opted to "represent the citizens of Pittsburgh, not Paris," America's leadership and reliability are being called into question on a topic of urgent global significance and security. Although media commentary has warned of our country's increasing isolation from other nations on this and other issues, many of my fellow educators and I remain convinced of opportunities for global unity.
Americans love grassroots activism. Earth Day remains a citizens' response to industrialization; we took to the streets in the 1970s to protest the pollution that we perceived was sponsored in the nation's corridors of power and influence. Ultimately, however, we came to understand that we were guilty, too — of wasteful consumerism, littering, rampant development and arrogant disregard for the ecosystems that sustain us. As we took stock of ourselves, the politicians and titans of industry took notice.
Ironically, many corporate leaders and politicians of all persuasions are taking the lead this time, resisting President Trump's disdain for the Paris Climate Accord. We citizens will take notice of what is happening in the same corridors of national power and influence. We should follow by adding our voices to those of many around the world in carrying forward the fight to save the planet. The U.S. might be destined to withdraw from the Paris Accord, but we as global citizens are fundamentally in accord with its principles and defenders.
Here in Coastal Virginia, we have a special alliance with the environment. Not just because of the real issues associated with sea rise, but also because of our density and restricted open spaces, we guard and value water, wetlands and wildlife. It's true that we are highly developed, and certainly congested. But also, as a resident now of nearly two years, I see many expressions of hope for the environment. The good work of the Chesapeake Bay Foundation/Brock Environmental Center, the Virginia Aquarium and Marine Science Center, the Virginia Institute of Marine Science and other organizations is instructive and inspiring.
At Virginia Wesleyan University, we look forward to joining forces with such groups through our new Greer Environmental Sciences Center, now nearly complete and scheduled for opening this summer. While a highly symbolic and politically valuable (to the president) decision was made to withdraw from an international climate agreement, the environmental and economic decisions we make here and in communities throughout America will have more far-reaching importance to our children and grandchildren.
It's embarrassing that we pulled out of Paris, but in Pittsburgh and Hampton Roads and throughout the world, real progress has been made. We should stay committed to getting it right, even if Washington got it wrong.
Dr. Scott D. Miller is President of Virginia Wesleyan University in Virginia Beach, Virginia. Previously, he served as President at Bethany College in West Virginia (2007-15), Wesley College in Delaware (1997-2007) and Lincoln Memorial University in Tennessee (1991-97).
He wrote this for the June 18 issue of The Virginian-Pilot (Norfolk, VA)
Calling all HuffPost superfans!
Sign up for membership to become a founding member and help shape HuffPost's next chapter
This post was published on the now-closed HuffPost Contributor platform. Contributors control their own work and posted freely to our site. If you need to flag this entry as abusive,
send us an email
.