Officials from dozens of major American colleges and universities have expressed alarm that President Donald Trump's travel and immigration ban could imperil students, faculty and the core ideals of higher education.
Trump's executive order, signed on Friday, blocks refugees and citizens of seven Muslim-majority countries from entering the United States. Academic officials are now advising international students and professors to avoid leaving the country because they may be unable to return, and protests are erupting across campuses like the University of South Florida and the University of Virginia.
On Saturday, a federal judge in Brooklyn, New York, temporarily blocked parts of Trump's executive order as crowds swarmed airports to oppose the ban. With public resentment swelling over the weekend, Trump has claimed that his order was necessary to safeguard against terrorists and was "not about religion."
Yet school officials have voiced their frustration with the uncertainty and chaos Trump's order has provoked. Officials from Duke University called Trump's action "confusing and disturbing," and Yale University officials said they were "alarmed."
Immediate Risks To Students And Staff
While uncertainty remains over how Trump's order will be enforced, college officials are warning people with valid visas permitting them to study and work in the U.S. that they may still be detained.
Indeed, students from Iran, Iraq, Libya, Somalia, Sudan, Syria and Yemen ― the seven countries whose citizens are banned from entering the United States ― are already facing detention and other hardships. A Stanford University student from Sudan with a valid green card was handcuffed and detained for hours at John F. Kennedy International Airport in New York after returning from a research trip, according to the San Jose Mercury-News.
The University of Texas has 110 "students, faculty members and scholars" from the seven countries whose citizens are banned. University president Gregory Fenves said he "strongly encourage[d] them to refrain from international travel at this time," and said that people overseas should "exercise caution."
University of Oregon President Michael Schill and Provost Scott Coltrane said they were "troubled" by the ban and vowed to support those on campus who are worried.
"If you feel vulnerable and unwanted because of the US President's actions, please know that you are welcome and appreciated at the UO," they said. "You are part of our community, and we stand with you in defense of our shared values of inclusion, equity, curiosity about the world, and global engagement as core to academic excellence."
Effects On American Research And Innovation
The tightened immigration restrictions could also hinder field work, research and travel for other academic purposes, critics said.
Universities may lose their standing if they're unable to recruit talented students and instructors from around the world, according to Mary Sue Coleman, president of the Association of American Universities, which represents 62 public and private institutions, such as Ohio State University, Cornell University and the University of Arizona.
"It is vital to our economy and the national interest that we continue to attract the best students, scientists, engineers, and scholars," Coleman said in a statement this weekend.
"Other countries have set the goal of surpassing the United States as the global leader in higher education, research, and innovation," she added. "Allowing them to replace this country as the prime destination for the most talented students and researchers would cause irreparable damage, and help them to achieve their goal of global leadership."
Harm To American Ideals
Finally, many university officials are denouncing Trump's ban as a direct threat to American values.
Nicholas Dirks, the chancellor of the University of California, Berkeley, said "there is a far larger story at play" than the ban's effect on campus. "Our country itself is at an historic crossroads, in debate not simply over a particular immigration policy, but over the very ideals that define our nation," Dirks said.
Other schools have made similar statements. "If [the ban] stands, it will over time diminish the scope and strength of the educational and research efforts of American universities, which have been the source not only of intellectual discovery but of economic innovation for the United States and international understanding for our world," Notre Dame's president, the Rev. John Jenkins, said in a statement.
"Above all, it will demean our nation," Jenkins added, "whose true greatness has been its guiding ideals of fairness, welcome to immigrants, compassion for refugees, respect for religious faith and the courageous refusal to compromise its principles in the face of threats."
How will Trump's first 100 days impact you? Sign up for our weekly newsletter and get breaking updates on Trump's presidency by messaging us here.
Before You Go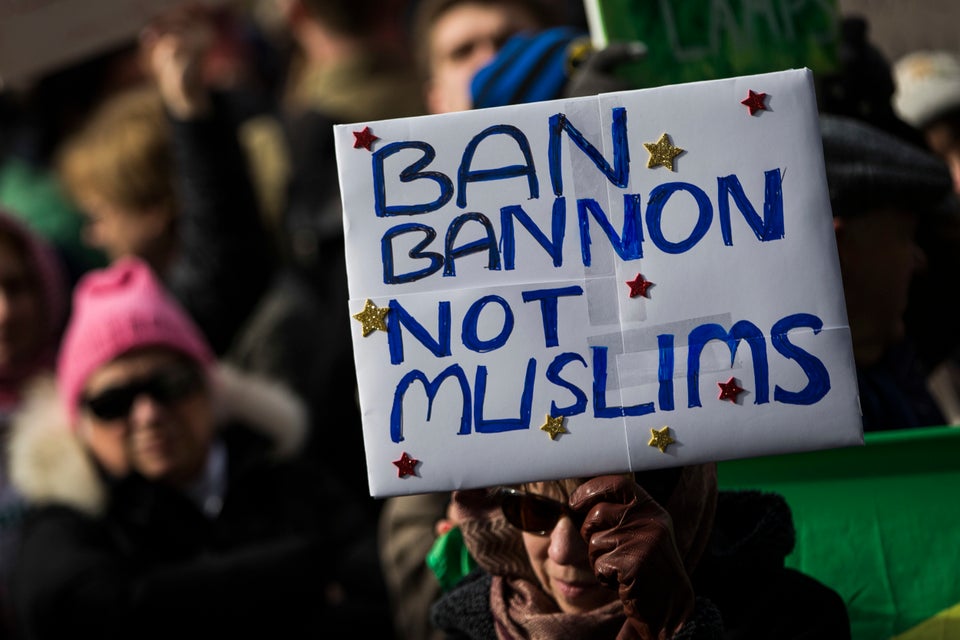 Nationwide Protests Against Trump's Executive Order
Popular in the Community