High school students protesting gun violence have found an ally in university admissions officials.
A growing number of universities are showing their support to applicants in high school who are disciplined by their administrators for participating in gun violence protests.
Support for these students came this week after school administrators threatened to punish students who participated in the ongoing protests motivated by last week's horrific school shooting at Marjory Stoneman Douglas High School in Parkland, Florida, that left 17 dead.
Fed up with the violence, droves of students have spoken out in support of stricter gun laws and staged nationwide campus walkouts on Wednesday to demand that lawmakers implement common-sense gun control.
Their rallying cry against Florida's shooting? "Never again!"
Individual admissions officials on Twitter reassured peaceful protesters that they wouldn't let any negative marks from the demonstrations affect their college acceptance decisions. Some universities even issued official statements on the matter.
Stu Schmill, the dean of admissions at Massachusetts Institute of Technology, said in a Thursday statement that any student records of applicants attending peaceful protests would not "negatively impact" MIT's admissions outcome.
"We have long held that students should not make decisions based on what they think will get them into college, but instead based on values and interests that are important to them," Schmill wrote.
"We always encourage students to undertake whatever course of action in life is most meaningful to, and consistent with, their own principles, and not prioritize how it might impact their college applications."
Other institutions who are taking a stand with the students include the University of Connecticut, Worcester Polytechnic Institute, the California Institute of Technology, the University of Massachusetts at Amherst and others.
Curtis Rhodes, the superintendent of Needville Independent School District in Houston, Texas, was one of the first school officials to warn students against participating in peaceful protests during school hours. The administrator said any demonstrators would receive a three-day suspension.
"Please be advised that the Needville ISD will not allow a student demonstration during school hours for any type of protest or awareness," Rhodes wrote in a statement reportedly sent to parents. "Should students choose to do so, they will be suspended from school for 3 days and face all the consequences that come along with an out of school suspension."
Some students who have tried to protest gun violence at school have faced pushback from schools.
Ben Gamla Preparatory Academy in Hollywood, Florida, reportedly agreed to let their students protest during school hours for 17 minutes in the school parking lot, but when students tried to start the demonstration, they found that the school's gates were locked. Security personnel brought students who tried to jump the fence back to class, according to local ABC affiliate WPLG-TV.
The American Civil Liberties Union of Texas responded to Rhodes on Wednesday with a reminder that school administrators are barred from censoring political speech and that punishing students "more harshly" for protesting is illegal.
The ACLU's national headquarters issued similar notices to students.
Related
Before You Go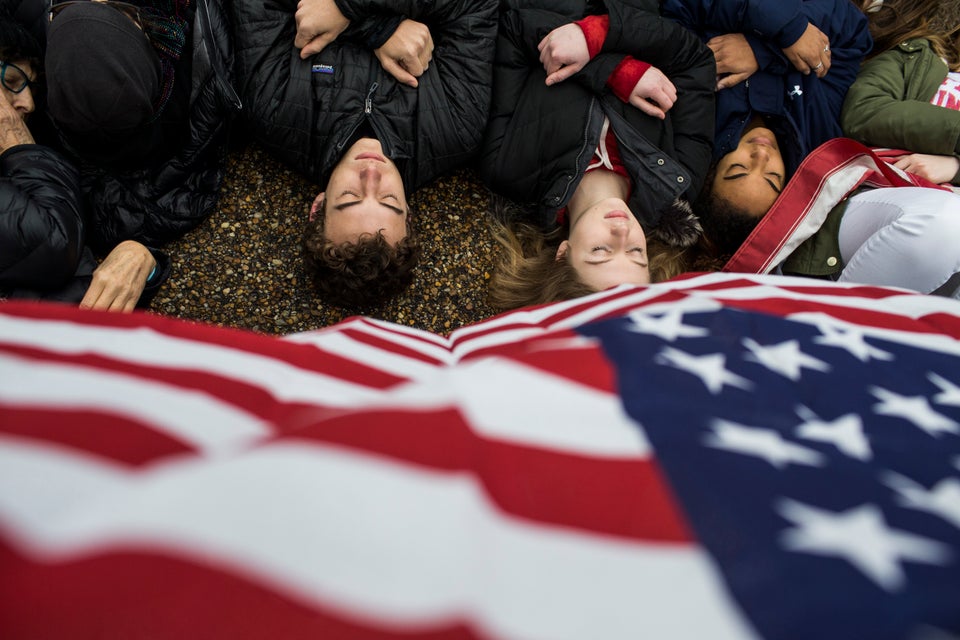 Students Protest Gun Violence At White House
Popular in the Community