Two people have been killed in a shooting at the University of North Carolina campus in Charlotte.

Four people were injured in the campus shooting Tuesday night, with three listed in critical condition.

Police identified a suspect who's been taken into custody, and a lockdown on the campus has ended.
Two people have died in a shooting on the campus of the University of North Carolina at Charlotte on Tuesday evening, campus police confirmed.
In addition, four people are being treated for injuries, with three of them reported to be in critical condition.
"I can't tell you the sadness of the entire community to know a situation like this has occurred," UNC Charlotte Police Chief Jeff Baker said in a press briefing. "We're all pretty much devastated."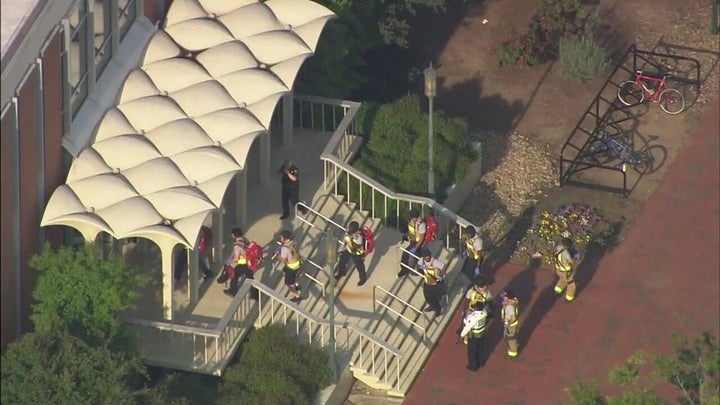 The Charlotte-Mecklenburg Police Department has identified the lone suspect as 22-year-old Trystan Andrew Terrell, who they said is in custody with charges pending against him. Baker said the campus gunman had a pistol and was disarmed inside of a building.
No information about the victims will be released until all the families have been notified, officials said.
CMPD also confirmed about two hours after the shooting that the campus was secured and that they did not believe anyone else was involved. There were no reports of a motive in the shooting as of Tuesday evening.
Gov. Roy Cooper said in a news briefing Tuesday night that the state of North Carolina will provide any resources necessary to help the community, such as mental health services.
"We know that the coming days and weeks and months will be very difficult for students and families," Cooper said. "We know that for many people here, this will be the worst day of their lives, so we want to be here for them."
The Democratic governor also told reporters that it's important "to provide more resources to keep guns off of campuses and out of our schools."
"One thing I do know is that a student shouldn't have to fear for his or her life when they're on our campuses. Parents should not have to worry about their students when they send them off to school. I know this violence has to stop," he said. "As we deal with the aftermath in the coming days, we will take a hard look at all of this to see what we need to do going forward."
UNC Board of Governors Chair Harry Smith and UNC System Interim President Bill Roper released a joint statement Tuesday night, saying the system is "ready with assistance for the students, faculty, and staff affected."
Charlotte Mayor Vi Lyles tweeted out her condolences to the families of the victims.
Cooper had said earlier Tuesday evening that he was being briefed on the situation.
Though it was the last day of classes at UNCC, students told local news outlets that the campus was crowded at the time of the shooting because rapper Waka Flocka Flame was scheduled to perform at the university's football stadium. He tweeted that he was safe and the concert had been canceled.
The university said all final exams are now canceled through Sunday. UNC Charlotte Provost Joan Lorden said Tuesday night that the school has not discussed potentially delaying graduation.
"We're very close to graduation, so we're going to have to think about how we can make sure that the students who are planning to graduate can still do that," she said at a press briefing.
Baker said he expected the preliminary investigation into the shooting to continue at least through the rest of the night. He said late Tuesday that police were allowing people to leave campus.
HuffPost's Sarah Ruiz-Grossman, Antonia Blumberg and Sanjana Karanth contributed reporting.
This article has been updated with the identity of the suspected gunman.
Popular in the Community