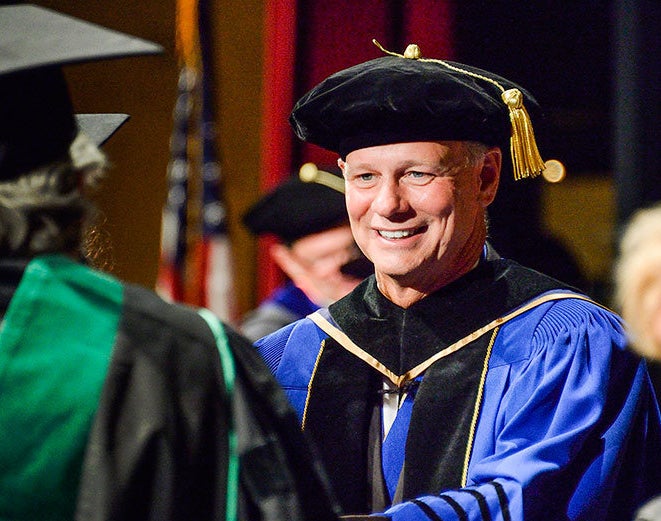 University of Akron President Scott L. Scarborough plans to resign on Tuesday, following a number of controversies regarding financial decisions he made while leading the Ohio school.
"The Board is charged with ensuring the effective governance, leadership and management of the University and, along with Dr. Scarborough, determined that new leadership is needed for the University to move forward and achieve sustained success in the future," the trustees said.
Scarborough took over in 2014, as the school faced a $60 million deficit.
"I am honored to have had the opportunity to serve this great University and work not only to address the challenges that were before it when I arrived, but also to begin the process of change that is necessary for the University to succeed in the rapidly changing environment of higher education," Scarborough said in a statement.
Many people, including university employees, disagreed with financial decisions Scarborough made during his tenure. A spring survey found that 89 percent of faculty members disapproved of the president's performance, and that nearly the same amount felt the school was worse off than it was two years ago.
Those expenditures prompted student activist group Graduates Over Greed to make a video mocking administrators and depicting them as puppets made out of paper bags.
Organization members later uncovered newspaper clips from 1985 that revealed Scarborough had made several anti-gay remarks while serving on the student government at the University of Texas at Austin. Scarborough said his views have evolved, and that he sincerely regretted his past comments.
The Akron chapter of the American Association of University Professors said it "welcomes the opportunity" to "turn the page and move forward" following Scarborough's resignation.
The university's provost, Rex Ramsier, will take over the president's duties until a permanent replacement is named.
Related
Popular in the Community