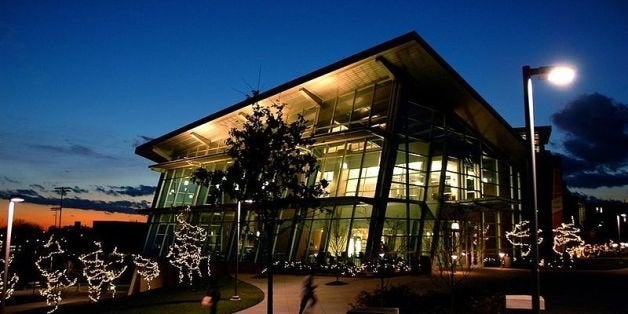 University of Akron officials discouraged a student from filing a sexual assault report and came close to calling a reported rape victim a liar, according to a federal complaint filed Tuesday.
Two women -- one a senior, the other a 2011 graduate -- complained to the U.S. Department of Education that the university in Akron, Ohio, failed to properly handle their reports of being sexually assaulted in campus dorms. The current senior, who is not named in the complaint and asked not to be identified, said a campus police officer closed her case after a two-week investigation and told her: "I'm not in the business of calling people liars, but in your case it doesn't look so good." The graduate, Julia Dixon, said a school official pressured her not to file charges, saying "it would be really, really hard for me to get a conviction, so I shouldn't attempt it."
The complaint says the school's actions in both cases violated the Clery Act, a federal campus security law. If the Department of Education decides to investigate and finds the school violated the law, it could impose fines of up to $35,000 per violation. The department does not disclose to the public whether it is investigating Clery Act compliance.
The current senior reported to campus police in September 2010 that an acquaintance had sexually assaulted her less than two days earlier, according to the police report. Campus police closed the case after a two-week investigation, citing a lack of evidence, she said.
"When they told me they were closing my case, the male officer looked me right in the eye and said, 'I'm not in the business of calling people liars, but in your case it doesn't look so good,'" the student told The Huffington Post.
Hospital workers, using what's called a rape kit, examined her body and collected evidence of the assault a day after the attack, the woman said.
The student said she had been drinking the night of the assault. Ohio law stipulates that intoxication impairs an individual's ability to give consent.
But campus police painted a different picture, according to the student.
"That gets me so fired up because I was intoxicated when that happened, and one of the things I was told by the university police was that my case would've looked a little more convincing had I not been drinking the night of the attack," the student said.
The university declined to comment, saying it had not seen the Clery Act complaint.
"I felt incredibly defeated and silenced -- like nobody would believe me," the woman said. "I felt like I was being told by the people who were protecting me it wasn't worth it trying to get justice."
Julia Dixon, the 2011 graduate, told campus police less than an hour after she said she was raped in her dorm, according to a September 2008 police report.
Neither she nor her assailant had been drinking, said Dixon. She didn't shower after the attack and went to the local hospital for a rape kit examination within hours, she said. She also invoked the university judicial process in an attempt to have the man she accused in the attack removed from campus.
"I thought it would be successful for me because in my mind, I had done all the right steps," Dixon said. "But when I went to the judicial affairs, ­they told me it would be really, really hard for me to get a conviction, so I shouldn't attempt it."
Dixon decided to wait for results of her rape kit testing before pursuing university discipline.
"At the time, I thought I'd be waiting 6 to 8, to maybe 10 weeks," Dixon said. "Instead I waited 20 months."
In the meantime, Dixon struggled with having her assailant still on campus, living in a dorm a courtyard away from her. Her grades slipped, causing her to lose a scholarship, she said. She moved off campus and got a job to make up for it.
The rape kit test results were finished in May 2010. That summer, the assailant pleaded guilty to two misdemeanor charges of sexual imposition and assault. His punishment was three days in jail and two years' probation.
When the fall 2010 semester began, Dixon got her scholarship reinstated after proving she had been a victim of a sex crime. By then, the assailant had dropped out of school, so there was nothing the university could do to punish him.
"That's where I really have a problem," Dixon said, "because they did know and they could've done something about it. ... If there is a possibility that someone that dangerous is on campus, you have a moral obligation to investigate that and make sure your students are safe."
The rape kit backlog is a statewide problem in Ohio. The Attorney General's Office said Tuesday that the state has more than 5,000 untested kits, many from 10 years to 20 years old. Schools frequently adjudicate sexual violence cases without rape kit evidence.
Both women say in the Education Department complaint that the university also failed to provide academic help.
By the time Dixon lost her scholarship, a university psychiatrist had already diagnosed her with post-traumatic stress disorder, she said. She was never informed of any possible academic accommodations.
"The only thing offered to me as a victim was I could change my dorm room if I wanted to," Dixon said.