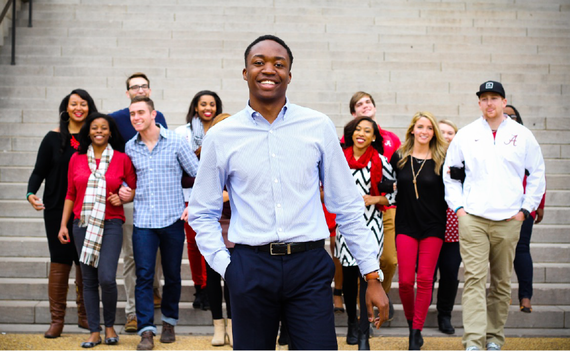 On March 10, Elliot Spillers was elected the first African American SGA president at the University of Alabama in nearly 40 years. Prior to Spillers' victory, Cleo Thomas was elected in 1976 as the first African American SGA president at the University of Alabama. Both Spillers and Thomas ran as independent candidates in opposition to "The Machine," which was described in a 1992 Esquire cover story as "a secret society that for eighty years has controlled student politics at the University of Alabama... it acts as the political arm of twenty‐seven leading fraternities and sororities at the school." Spillers is the first non-Machine candidate to win the SGA presidency since John Merrill in 1986, and Spillers credits a portion of his victory to dissenters within the Machine.
"The entire Machine is not a bad organization," Spillers says. "It took members within that organization to stand beside me and go against the grain and get me elected to this office. Just like the rest of us on campus, they're ready for change. They're ready for an inclusive environment on campus."
Spillers' campaign aimed to create such an environment, with Spillers reaching out to Greek, non-Greek, and minority organizations on campus and publicizing the diversity of his platform on his campaign Facebook page. In total, 14,931 votes were cast on Election Day at the university, with Spillers earning 8,602 votes. Spillers received the highest number of votes of any other SGA candidate in the university's history, and on a campus that has historically been plagued by voter apathy in response to the Machine, this year's election featured the highest voter turnout in the history of the University of Alabama.
However, Spillers' road to the presidency was not always an easy one. After Alpha Tau Omega publicly endorsed Spillers by hanging a campaign sign in front of their fraternity house, two unidentified males were captured on video breaking into the ATO house's balcony and stealing the sign several hours later. Additionally, although neither Spillers nor anyone on his campaign team was able to recount any instances of overt racism directed toward Spillers, Vel Lewis, Spillers' volunteer and outreach director and an African American member of a Panhellenic sorority, acknowledged that opposition toward Spillers because of his ethnicity was conducted privately or on social media.
"I was made aware of things that were said on social media, private GroupMe [a messaging app] conversations, as well as anonymously on Yik Yak," Lewis said. "I didn't see anyone post any racist things on their personal Facebook pages, but many things were said that Elliot would be elected or not elected because he was black -- that people would vote because of race. I don't think that was the case in this election."
Spillers' campaign manager Mark Hammontree agrees. "To my knowledge, our team received no threats or messages of an overtly racist nature." However, Hammontree believes that racial issues continue to exist on a larger scale on campus. "At this University here in the heart of the Heart of Dixie, race and racism have been in many ways the basis for the divisions on this campus and the organizations that exist to keep that division in place. People in places of privilege and power get uncomfortable when you try to threaten the status quo."
In 2009, Kendra Key, who is currently a law student at Vanderbilt University Law School, also sought the SGA presidency as an African American woman. Key lost the election by less than three hundred votes, and many students credited her loss to the influence of the Machine and racial attitudes on campus. In a 2009 interview with AL.com, Key stated that the University of Alabama is "deeply rooted in tradition, and traditionally, the vast majority of the student population has not seen the importance of voting and the role that the SGA plays or can play in their collegiate careers."
However, in the wake of Spillers' election to the presidency, changes to this commitment to tradition may come very soon.
"When someone tells you who to vote for, people don't want to do that. They want to make their own decisions," said a student on campus who chose to remain anonymous. "So many people feel that the Machine's presence on campus isn't right. It isn't fair to have certain backed candidates for SGA. SGA is something for all students, not twenty percent of Greeks. It's something for everyone."
In 1976, Thomas secured the SGA presidency by forming a coalition with Panhellenic sororities who were denied access to the Machine. After the conclusion of his tenure as SGA president, Thomas went on to earn degrees from the University of Oxford and Harvard Law School, as well as serve on the University of Alabama board of trustees until 2003. Thomas has also continued to give support and advice to students such as Spillers and Key in their pursuit of the SGA presidency.

"This could not have been possible without the help of Cleophus Thomas," Spillers said. "He's been a mentor to me throughout this entire process. It's because of him and men like him that I can stand here as the second black SGA president at the University of Alabama."
In the wake of several years of racial issues on campus that resulted in the official integration of the university's eighteen Panhellenic sororities, as well as a series of scandals that featured members of Chi Omega sorority posting Snapchat images with racially derogatory captions, Spillers' victory is significant. It can be perceived as a reinforcement of the fact that change at the University of Alabama and other universities across the country is inevitable.