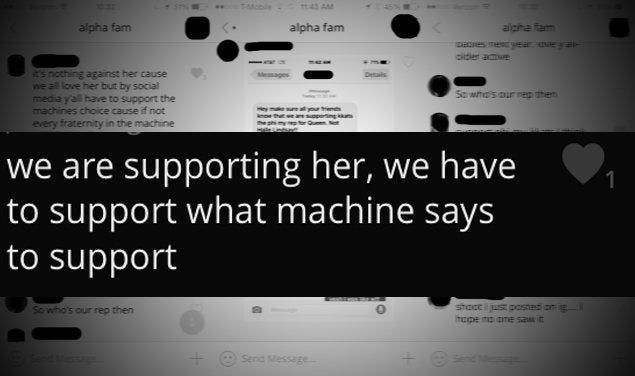 Members of a secret but well-known society at the University of Alabama known as "the Machine" pressured the Alpha Gamma Delta sorority not to support one of its own sisters as a candidate for homecoming queen in elections this week.
Homecoming queen candidate and Alpha Gamma Delta sister Halle Lindsay was one of the first four black women ever to receive and accept a bid to join one of the university's historically white sororities in 2013. However, over the last week, some upperclassmen in Lindsay's own sorority have actively discouraged other members from voicing public support for her candidacy.
The Machine is an underground group of select fraternities and sororities at the University of Alabama -- including Alpha Gamma Delta -- that exerts tremendous influence on the student government and decisions that campus Greek organizations make, according to both local and national media reports. The names of the individuals who make up the group are not public, but each member house has representatives who participate in the Machine.
The homecoming queen race sometimes matters more than student government elections at the University of Alabama, said Meghan Dorn, president of Blend, a student group that aims to embrace diversity on campus and desegregate the sororities, which Lindsay helped start. "With Panhellenics, it's the main prize they compete for," she explained.
To become a candidate for homecoming queen at the school, a sorority or recognized campus organization has to nominate a student, and then that student has roughly a week to campaign. The election for homecoming queen took place on Tuesday night, and the winner will be announced on Friday.
This year, Alpha Gamma Delta decided to publicly support the Machine-backed candidate, Katelyn Katsafanas, or "KKats," an honors student at the school and member of another sorority, Phi Mu. They also hung a banner supporting Katsafanas outside their house. Without a nomination from her own sorority, Lindsay was instead nominated by Blend.
Over the past week, members of Alpha Gamma Delta warned each other on GroupMe and through text messages not to publicly support Lindsay and to support Katsafanas instead.
Lindsay declined to be interviewed for this article. Katsafanas did not respond to an email requesting comment on Tuesday afternoon.
Screenshots of messages that members of Alpha Gamma Delta exchanged with each other, obtained by The Huffington Post, indicate that sorority sisters worried about the social consequences of not following the wishes of members of the Machine. A message one sister sent through the group messaging app GroupMe speculated that because some Alpha Gamma Delta members publicly supported Spillers for president the previous semester, the Machine's members declined to back their sorority's candidate for homecoming.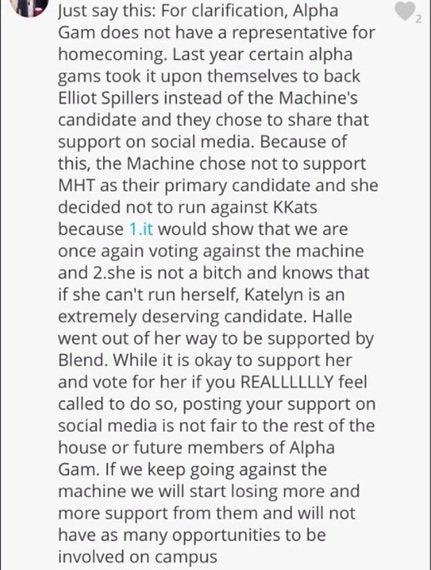 Referring to Lindsay, one Alpha Gamma Delta member's message reads: "It's nothing against her cause we all love her but by social y'all have to support the machines choice cause if not every fraternity in the machine will black ball us. so say goodbye to swaps. like we just really can't do that to our new freshmen next year."
Swaps are parties that pair a sorority with a fraternity. Another sister named Rae wrote, "machine will tell us what to do later on[.]"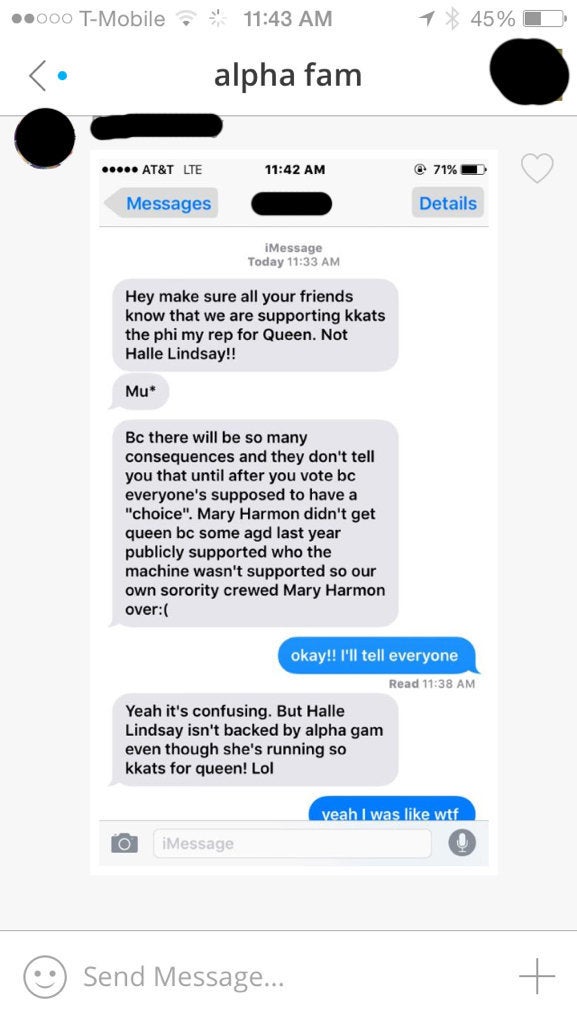 Alpha Gamma Delta Screenshots
Students at the University of Alabama say this sort of pressure from the Machine's members has existed for decades, but this year, there is proof.
"The issue here is that if you read the messages, [they're] basically intimidating people about their vote," said Joshua Shumate, deputy executive director of the United Alabama Project, a student group working for campus election reforms. The UAP believes these messages constitute evidence of student code of conduct and elections manual violations.
"Both of the women running are qualified and well-liked," Shumate said. "The problem is we can't allow a group of students to violate the rules all over the place that no one else is allowed to violate."
The student government election board is currently reviewing a formal complaint from the UAP alleging sorority members broke campaign rules in the homecoming queen race. The board has so far told UAP that they would like more information, and has requested to speak with the person or people who took the screenshots.
The Alpha Gamma Delta sisters who sent the messages in the screenshots, as well as the University of Alabama chapters of Alpha Gamma Delta and the school's Panhellenic Council, did not reply to a request for comment from HuffPost. Jackson Britton, speaker of the student senate and president of Kappa Alpha Order, one of the fraternities said to be part of the Machine, also did not respond to phone calls or emails.
A spokeswoman for the national office for Alpha Gamma Delta said in a statement that the organization "encourages our sisters to live the values on which our Fraternity was founded. It is our expectation that each member will let her voice be heard and express her opinion without influence from others."
"It is completely unacceptable for any organization to engage in intimidation and coercion in any fashion," said Chris Bryant, assistant director of media relations for the University of Alabama, in a statement on Tuesday. "We have worked hard to help ensure the integrity of elections held on our campus and will continue to take allegations of improper activities seriously."
Amanda Bennett contributed reporting.
This story has been updated to clarify that a specific sorority member who texted a message about swap parties was actually relaying a message from another, unnamed member, according to a family member.
Related
Popular in the Community