Students protesting at the University of Alabama on Thursday issued a series of demands their school could address to better serve marginalized individuals on campus. And one of the biggest things the school could do, they said, was finally start working to eradicate a secret society that exists solely to control as much of campus politics as it can. 
The Machine, or Theta Nu Epsilon, is a secret society made up of members from certain fraternities and sororities that dictates how other members of Greek life should vote in the Student Government Association and campus elections.
Students protesting Thursday at the Tuscaloosa campus called themselves "We Are Done," with the "o-n-e" designed to resemble the Greek letters for Theta Nu Epsilon. 
Theta Nu Epsilon has existed for several decades, and most recently encouraged Greek life members to vote against Elliot Spillers, who became the first black SGA president in four decades, and against Halle Lindsay, a homecoming queen candidate who was one of the first black women ever accepted to traditionally white sororities. The Machine also blocked Spillers from picking members of his own cabinet, some students allege. 
Some of the issues raised by University of Alabama activists are similar to demands at other schools, like hiring more black faculty and requiring diversity training. But students at Alabama say one of the most important steps that must be taken to improve diversity is rooting out the Machine. 
"They want it their way and their way only," said A.J. Lockett, a senior at UA. "I don't know who told them they get to be the ones to make the decisions."
Lockett served on First Year Council, which represents freshmen, and hoped to move on to the SGA. He said he campaigned without Machine support and was often told the student senate "is not place for you." 
"That was a culture shock for me," said Lockett, who is black. "It'd be ignorant of me to say it's solely based off of race, but I think race plays a huge factor in their decisions."
The Machine chooses two representatives for each fraternity and sorority house included in the group, according to multiple sources on campus with knowledge of how the system operates. Those representatives then meet to determine which candidates to back and what the Machine would prefer student senators vote for or against in the SGA. Their power largely lies in exerting social pressure on the Greek houses -- for example, if a sorority's members don't support a certain candidate, that entire sorority may be excluded for social events.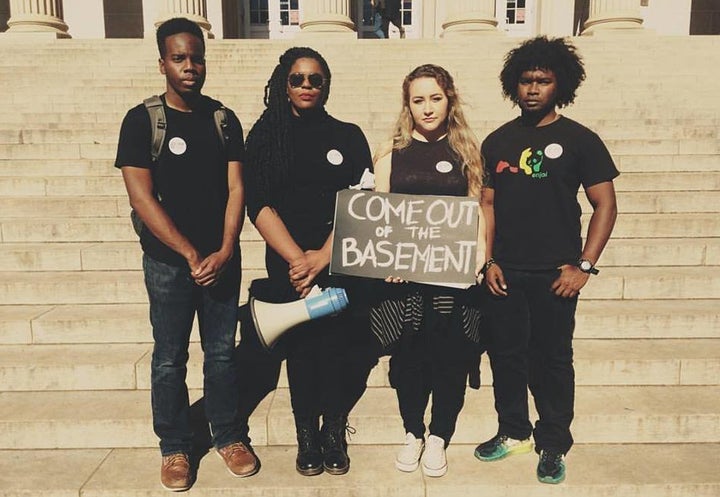 Last month, Machine-backed senators again largely voted against a resolution to endorse recommendations from a faculty task force that called for the Machine to come above ground.
Several Machine-backed senators who voted against the resolution did not respond to requests for interviews.
The task force also recommended the university prohibit student organizations from coercing students to participate in local and national elections and from punishing students who don't participate, and recommended student groups be blocked from collecting proof that a member participated in an election. 
Following multiple emails and phone calls Thursday from The Huffington Post, a University of Alabama spokesman declined to acknowledge the Machine exists. Instead, the university said in an email, "We are working hard to provide a positive environment for all of our students. As we develop our strategic plan, we will have many conversations with the campus community that are centered on diversity and inclusion."
 This story has been updated to include comment from the University of Alabama.
Calling all HuffPost superfans!
Sign up for membership to become a founding member and help shape HuffPost's next chapter