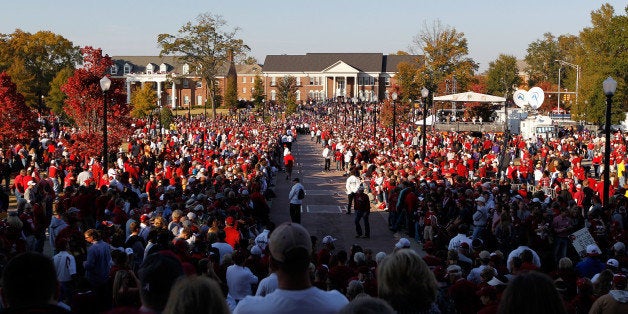 University of Alabama's Student Government Association Senate voted Tuesday against appointing Chisolm Allenlundy to be chief of staff to the newly elected student president. A student group focused on reforming on-campus politics alleges that the Machine, a secret society that controls much of the school's student government, influenced the decision.
In a 32-13 vote, Senate members blocked Allenlundy from taking the highest position in SGA President Elliot Spillers' cabinet. Virtually all of the votes opposing Allenlundy were from Machine-backed senators, the student group, United Alabama Project, claims.
Because SGA rules stipulate that no other appointments can happen until the Senate has confirmed a chief of staff, voting down Allenlundy has temporarily stalled Spillers' ability to assemble a cabinet. Spillers has not said who he will submit in his next attempt to confirm a chief of staff.
Allenlundy has served as a student senator for a year and as the executive director of UAP for another year, but senators who voted against him argued that he didn't have enough experience to be chief of staff.
"This specific job of chief of staff is one of the most important roles in the SGA," student senator Jackson Britton told The Crimson White, the campus newspaper. "You have to have certain experiences, not something like the senate, but true exec experience."
Britton initially agreed to speak with The Huffington Post, but did not respond Thursday to subsequent inquiries for comment. HuffPost contacted three other senators who voted against the appointment, but none of them responded to requests for comment.
"It does make sense why [the appointment] would need to be confirmed by the Senate," Allenlundy told HuffPost, noting that the chief of staff is able to vote on some issues through his role on the SGA executive council.
But he also said he considered the argument that he lacks experience to be "a little bit bogus."
Patrick Fitzgerald, a UA student senator backing Allenlundy, said the vote failed due to "petty politics."
"They have more people in their delegation than us and they just want to make sure we know that early," Fitzgerald said. "I feel this will not work well for them. They are shooting themselves in the foot. Saying Chisholm isn't qualified is like saying two plus two equals seven."
The Machine has operated underground for a century without interference from university administration, although UA student government rules do not permit political parties. This year, UAP introduced a proposal to allowed them, with hopes that it would force the Machine to go public. The student Senate -- again, allegedly due to influence from the Machine -- voted it down last month.
CORRECTION: A previous version of this article incorrectly referred to Elliot Spillers as Elliot Spears.

Related
Popular in the Community