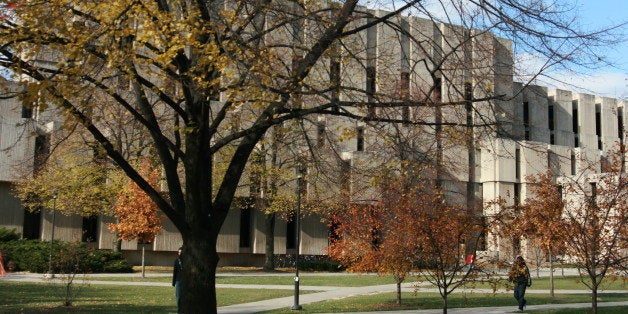 CHICAGO -- Students at the University of Chicago say a recent controversy surrounding a racially insensitive Halloween costume is only a small part of the school's larger "culture of intolerance."
Federal authorities are reportedly investigating the Facebook post, but students say the school is not doing enough to address the broader concern that its campus is unsafe for students of color.
"I don't feel comfortable being on this campus and I'm not comfortable with the response from the administration," Perez told The Huffington Post. "There have been no clear ideas on actions that will happen."
In response to the inflammatory Facebook posting, University of Chicago President Robert Zimmer and Provost Eric Isaacs issued a statement Wednesday, saying the Facebook post was "unacceptable and violates our core values." The university is partnering with "federal law enforcement agencies and third-party website providers" to determine the source of the message and plans to pursue criminal prosecution and -- if the poster turns out to be a student or faculty member -- disciplinary action.
In a separate statement, issued later on Thursday, two more University of Chicago officials -- John Boyer, dean of the college, and Karen Warren Coleman, vice president for campus life and student services -- described the students' concerns outlined in their initial letter and their Change.org petition as "serious and important" and acknowledged that the Facebook incident was "part of a larger pattern" the university is working to address.
"We know that members of the University community have experienced bias, insensitivity, and outright threats and discrimination," the statement continued. "These situations are especially painful and frightening when they attack one's identity. These events require our serious attention, both immediately and over time."
Perez told HuffPost on Thursday that he is unimpressed with the administrators' statements. Other students who spoke to HuffPost agreed, saying the school could do more.
Fourth-year Jaime Sanchez, who created the Change.org petition, also criticized administrators for focusing primarily on the alleged Facebook hacking incident and not the other concerns that students of color have communicated.
"It shouldn't be the case where we have to talk about these cases of extreme racism and bigotry … for the university to step up," Sanchez told HuffPost.
A growing coalition of student and faculty groups are speaking out on the recent incident. A group of 41 faculty members signed a letter expressing solidarity with students critical of the university's campus climate, saying that they "find the lack of a serious response [to racial incidents on campus] by the administration to be problematic."
On Thursday, the school's Organization of Black Students also issued a statement of solidarity with "all victims of intolerance, marginalization, and targeted personal attacks" at the campus.
"While some may be inclined to perceive this most recent event as an isolated incident, this is instead the latest iteration of a historical trend of antagonism, symptomatic of a broader culture of intolerance," the statement continued.
On Wednesday, Perez, Sanchez and other students of color held a demonstration inside the campus' busy Harper Reading Room. Sanchez said participants chanted "We are here, we are here" before reading from students' comments posted on the Change.org petition.
Apparently it's not enough to say "your institution isn't serving us and our specific needs and we are suffering" #liabilityofthemind

— Patty Fernandez (@PattyFerpi) November 21, 2014
Sanchez told The Huffington Post he is hopeful their activism will result in substantive change at the university.
"I think we're kind of making headway and showing administrators we're not joking around, that this is a real problem that is not just present in these cases of extreme bigotry, but also present everyday in and out of the classroom," he said.
Perez is feeling less confident.
"It's disheartening that it took a very violent threat for people to care about what's been happening to me and other students of color on this campus for years," he said. "It shouldn't take that for people to listen to our lived experiences. Until the university stops being reactionary in their response, these things will continue to happen."
A University of Chicago spokesman declined to comment for this story.
UPDATE -- Nov. 24: In a campuswide message sent Monday, University of Chicago Vice President for Campus Life and Student Services Karen Warren Coleman cast doubt over a threatening Facebook update which was posted on an allegedly hacked student account. Coleman's email said the school will "continue to pursue the facts of the case" but had already determined "that the Facebook posting was not created by a hacker." The university's investigation into the incident is ongoing.
"That conclusion does not erase the seriousness of this episode, the harm it has caused to individuals and our broader community, or the consequences for those responsible," Coleman's statement continued.
Related