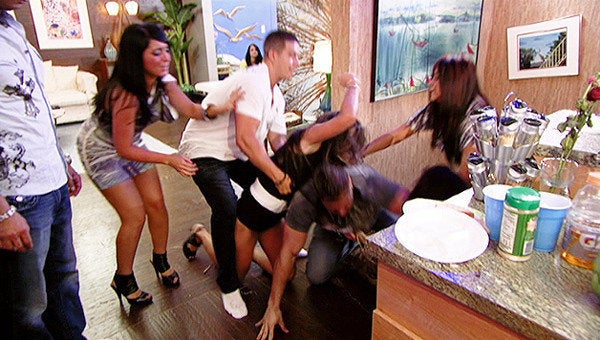 For many, the "Jersey Shore" is a guilty pleasure, but for University of Chicago student and reality television enthusiast David Showalter, it is a social experiment worthy of critical analysis.
Earlier this month, Showalter used JoinStart to raise money for the one-day conference, saying it "should be of interest to scholars in the fields of media and cultural studies, sociology, anthropology, race, ethnicity, and gender studies, and the social sciences more generally." The funding came through, and the conference will be held on October 28 at the University of Chicago.
Showalter, an Oklahoma native and third year undergraduate student at U of C, told HuffPost Chicago he has been an "avid and unabashed Jersey Shore fan since the beginning of Season 1," and explained why he decided to organize the conference.
"I think it's very important for academics not to restrict their work to so-called "high culture," but to seriously engage with popular culture as well," Showalter said via email. "The images and sounds of pop culture surround us and entertain us, and for those reasons alone they are deserving of study. With regards to 'Jersey Shore' specifically, I believe the show is both a fascinating and innovative example of reality television, as well as a useful lens through which to examine many of the issues that animate contemporary life: problems around gender roles, ethnic identity, celebrity, the influence of mass media, the notion of 'reality' itself, and so on."
The response on campus has been positive overall, according to Showalter, who said the conference part of the "uncommon" tradition U of C prides itself on. So far, the conference will include talks from University of Michigan Professor Candace Moore, University of Western Ontario Professor Alison Hearn and Gawker's Brian Moylan.
Though the conference is one-day only, Showalter said he has already seen professors in Chicago and elsewhere incorporating the show into some of their courses. He said U of C English Prof. Lawrence Rothfield used the show in a session he was teaching on "the social scene," and an online Jersey Shore course is being offered at the University of Oklahoma this year.
"Numerous television shows, from 'The Wire' to 'Judge Judy', are already used as course material in departments across disciplines and across the country, and I anticipate Jersey Shore will be used similarly in the future," Showalter said. ..."television studies is a thriving academic discipline, and ... a rich scholarly literature on reality TV has developed over the past decade, without which this conference would be impossible."
The event is open to the public, and Showalter hopes there will be something for everyone.
"I hope the conference attendees gain a new appreciation for Jersey Shore as a cultural document, realize that even shows that are derided as vulgar or lowbrow have important things to tell us, and learn to be more thoughtful consumers of pop culture themselves. I hope the conference inspires other students to fully pursue their academic interests, no matter how unusual they may seem to others."
Oh, and for the record, Snooki is Showalter's favorite cast member, though he said Pauly D. always has the best lines.
Related
Popular in the Community