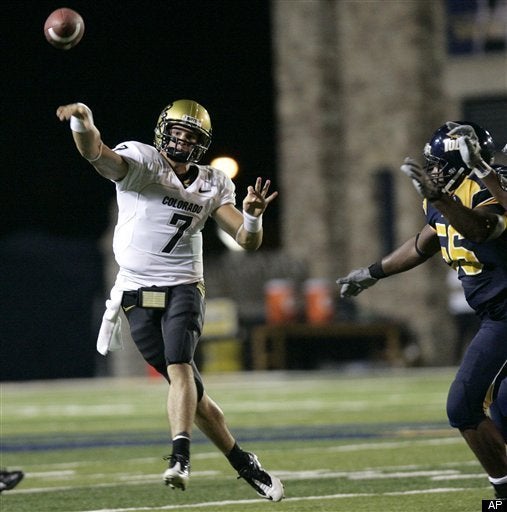 As the Pac-10 conference finalizes it's plans to shake up the NCAA by annexing a major part of the Big 12, the battle between CU and Baylor University for the final invitation has taken on a vitriolic tone.
The Pac-10 hopes take on 6 teams from the Big 12 conference: Texas, Texas A&M, Texas Tech, Oklahoma, Oklahoma State and either Colorado or Baylor.
While the conference hasn't issued formal invitations yet, Pac-10 sources have told the Denver Post that Colorado, which would bring with it the lucrative Denver media market, has the edge over Baylor for the final spot.
Baylor, however, is not giving up without a fight. One of the college's regents, Buddy Jones, is also a lobbyist, and has utilized his skills to make the case that the Waco, Texas school should be given the 6th invitation by virtue of it's bond with the three other Texas schools that are reportedly locks to receive invitations.
While much of Jones's rhetoric has hyped Baylor as the logical candidate to enter the Pac-10, he's also spent a good deal of time trashing CU.
Reports have quoted Jones as knocking everything about the University of Colorado from its athletic facilities to its academic reputation to its fan base, which Jones says is limited to because CU--unlike Baylor, which is affiliated with the Baptist Church--has no national group to which it can attach.
In a column for the Boulder Daily Camera, Tony Woelk refutes many of the Baylor lobbyist's claims about CU, but grants Jones one point: Baylor University, the state of Texas, and its fans seem to care more about Baylor athletics than their counterparts in Colorado.
The issue has captured the attention of the Texas Legislature, which has issued a statement supporting Baylor.
As Woelk points out, the state of Colorado has remained silent on the issue and, as the Daily Camera reports, has no intention of publicly engaging in the expansion talks.
"I think the fact that our Board of Regents is meeting... and having discussions about this shows that the university is engaged," spokesman Ken McConnellogue told the paper.
If CU does not receive an invitation to the Pac-10, they would likely join a smaller conference, which would result in reduced TV revenue for the university.
Popular in the Community