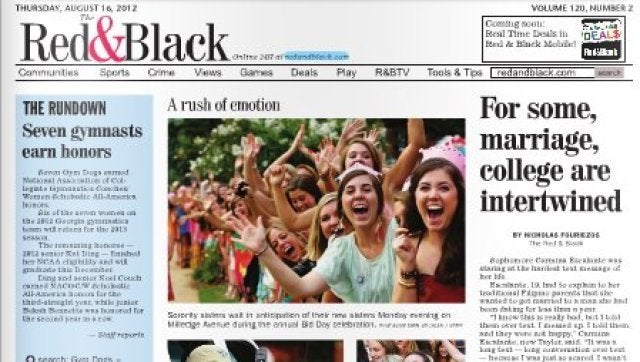 A central tenet of college student newspapers is that they are run by students, but that's not the case at the University of Georgia. Or not anymore, at least.
In addition to a non-student having the final say on editorial decisions for the newspaper, the Board of Directors of the paper outlined a new set of rules in an emailed memo, which has since gone very public with Gawker republishing several of the highlights.
Among the new rules? There are to be no sarcastic comments directed at the school's audience in non-opinion sections. That includes, according to the memo, not writing things such as, "It's been a solid Lilly Pulitzered week..."
The memo goes on to explain the rationale behind the decision by arguing, "We wouldn't say it's been a solid yarmulke topped week at the Jewish Community Center. Or a solid burr-headed week at the African American studies conference. Or a solid boy pierced day at the Red and Black. Stop this now."
Content that catches people or organizations doing bad things. I think we are aligned on Crime and "who started off the year with a police record". And that the freshman class lacks some minority demographics".

If in question, have more GOOD than BAD.
Poynter also reports that the students who've left the paper have since started publishing content on a new site they're calling the Red and Dead.
"For years, students have had final approval of the paper followed by a critique by the adviser only after articles were published. However, from now on, that will not be the case. Recently, editors have felt pressure to assign stories they didn't agree with, take "grip and grin" photos and compromise the design of the paper," she wrote.
UPDATE 4:30 pm
According to the Associated Press, the school newspaper board has issued an apology to students for what they called a misunderstanding. The Associated Press is reporting that the board's vice chair, Melita Easters, said the final say regarding the editorial content of the paper has always belonged to the student editor, and that it still does.
Calling all HuffPost superfans!
Sign up for membership to become a founding member and help shape HuffPost's next chapter