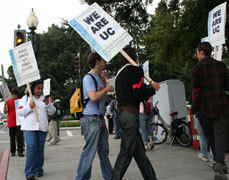 It has been a difficult year at the University of Illinois. Faculty were forced to take mandatory furlough days (a nice way of saying that there was a 5 per cent pay cut) and students will have to pay higher tuition in September. But today Crain's Chicago Business tells us that the University of Illinois system is actually in the black, being a comfy $16 million under budget. In addition to Illinois faculty and students, California and other state university systems have faced and are facing similar difficulties.
What's a professor to do? Faculty do the work of the university, but often have only advisory input into the decisions of the administrators who run the institution. When a financial crisis arises, real or not, the administration tends to balance the budget by cutting salaries or new hires and raising student tuition. Rarely will the administration cut its own excess, and even rarer will it dramatically reorganize the university to cut costs and improve efficiency. When faculty salaries are cut, faculty has no recourse. So the obvious answer to the problem is that faculty need to unionize.
But things aren't so obvious in academia. University professors are notoriously unwilling to organize. Seeing themselves as professionals rather than workers (or worse, mere "teachers"), they don't want to be associated with trade unions like the teamsters or autoworkers. The New York state and city universities are unionized along with California state universities and Rutgers in New Jersey, but the overwhelming majority of top-tier research institutions are not. In universities with unions in Illinois there have been no enforced furloughs, no pay cuts, and consistent cost-of-living raises. In places like the University of Illinois at Chicago where I teach, all of the above has happened.
Without unionization there can be only the appearance of faculty representation in major decisions affecting faculty and students. My university used town-hall meetings to hear faculty and student complaints, said they felt our pain, and then went on to make the decisions they deemed necessary. It's obvious now that the pay cuts and tuition raises imposed on my system were not necessary, at least for now. In fact, faculty commissioned an independent audit analysis that predicted exactly what Crains reported today. If faculty could have been involved, we might have prevented these kinds of errors of judgment.
After all, who rules the university? Hired administrators or the teachers and students whose lives and thoughts make up the daily work of each institution?
REAL LIFE. REAL NEWS. REAL VOICES.
Help us tell more of the stories that matter from voices that too often remain unheard.